---
Why So Many Multi-Billion-Dollar Manufacturing Giants Are Teaming with Jason Industries Inc. (NASDAQ:JASN)
---
According to analysts at The Leuthold Group, a firm that diligently follows the S&P 500, we may right now be in the midst of "the longest bull market in history [that] is also the best ever."[i]
This claim isn't from the beginning of the year… it's from within the past month.
And yet doom and gloom has been causing strange things to happen in the market, that can feasibly be attributed to excessive fear baiting and over corrections.
Take for instance the peculiar case of Jason Industries Inc. (NASDAQ:JASN) —an established company currently trading at a mkt cap of 6% its cash position, and 5% its overall liquidity.
Rare is it to see a legacy B2B manufacturer with solid client relationships dating back multiple decades, leading in many of its sectors, with liquidity and revenues in the hundreds of millions…
… with a current market cap of just over US$6 million, and a share price trading around US$0.21.
What to make of this?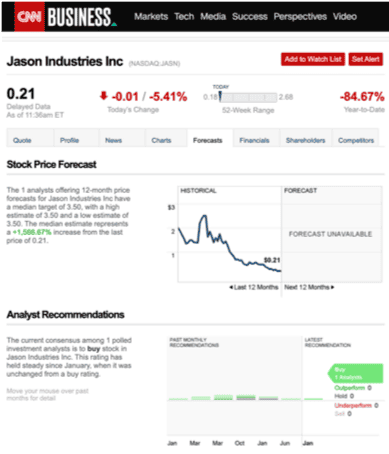 Why are analysts referenced at CNN Business still recommending JASN as a Buy, and are forecasting the company to have a median target of $3.50[ii]—representing a whopping +1,566.67% increase from the current price?
It's a curious case indeed, and one that requires a more in-depth look as to what the market might be missing about this company, despite what this year's stock chart on it seems to be saying.
Following a major sale of their Fiber Solutions division, the company is currently reporting $97.2 million in cash on hand, and an additional $17.9 million of availability on revolving loan facilities globally.
That's a liquidity of US$111 million, while the market is valuing it at US$6 million—or roughly 5% of that.
Let us now look at how Jason Industries Inc. (NASDAQ:JASN) may have received an overcorrection, and why investors may want to look at the company with a new set of eyes.

Meet the REAL Jason Industries Inc. (NASDAQ:JASN)
ANALYST OVERVIEW:
Company – Jason Industries Inc.
Rating – BUY
Price Target – $3.50 USD / Share
Increase +/- = +1,500% (approx. from current price)
Source: View the price target directly on MONEY.CNN.COM here
---
Tracing its roots back to the Industrial Revolution, Jason Industries Inc. (NASDAQ:JASN) is a diverse machinery industrial supplier that has grown into its current state through a series of tuck-in acquisitions and organic growth initiatives.
They make a wide variety of products that are integral to manufacturers around the globe, ranging from brushes and abrasives for machinery and other important needs,
Across each of its businesses, Jason has fostered and developed deep connections with its key partners. The average client of Jason Industries Inc.'s subsidiaries have been buying from the company for over twenty years.
Over the last few years, the company has used this experience with its customers to drive an organization-wide Lean Manufacturing transformation.
This means they've enhanced their offerings, performance, and have evolved their entire approach to manufacturing operations and product and customer management by creating the value stream for their customer, and continuously improving.
Jason's three main businesses are:
Osborn – Global industrial leader in metal preparation, polishing and finishing, with offices and manufacturing facilities around the world.
Milsco – Leading seating systems provider for wide range of niche products, including motorcycle seats, operator seats for construction, agriculture, lawn and turf care and other industrial equipment markets; and seating for the power sports market.
Metalex – The industry-leading largest producer of expanded metal in North America, and recognized specialist company in the perforated metal market
In all three of these sectors, Jason Industries Inc. (NASDAQ:JASN) subsidiaries are among their respective industries' elite.
ESTABLISHED INDUSTRY LEADER IN THREE BUSINESSES
As a group of three distinct companies, each of Jason's businesses is poised to benefit from others' experience and access to global markets. They've all developed leading positions across various niche markets that enhance end user's comfort, safety, and productivity.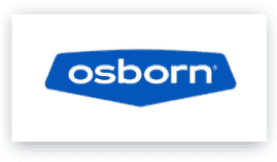 Osborn – Industrial
2018 Net Sales: US$208 million
Adjusted EBITDA Margin: 14%

Leading the way among all of Jason's subsidiaries, Osborn generated the largest percentage of the company's overall revenue in 2018, and will likely the main focus for growth in the near future.
Osborn's product lines are comprised of industrial brushes, polishing buffs and compounds, and abrasives used primarily in the metalworking, welding, construction and manufacturing industries.
Its extensive product breadth, global footprint and long history with blue-chip customers served through multiple channels is VERY difficult to replicate.
"We believe we are the only market participant that reaches all regions of the world."
– 2018 Annual Report
In fact, it's plausible to say that no single competitor directly competes with Jason/Osborn on all of their product lines.
The fact that their products are used in a variety of applications with no single customer or industry accounting for a significant portion of business revenue, acts as a form of a hedge against volatility and cyclicality.
Osborn has representatives who reach more than 30,000 customers in approximately 130 countries worldwide—through US facilities in Indiana and Ohio and 12 foreign countries, including joint ventures in China and Taiwan.
In addition, the company has invested in state-of-the-art laboratories in Richmond, Indiana, and Burgwald, Germany to provide further technical design, testing, and support capabilities for their customers.
Earlier this year, Jason Industries Inc. (NASDAQ:JASN) also added to the Osborn line, by acquiring and integrating in another group called Schaffner, which the company is expecting to incorporate another $3 million in annual cost synergies by mid-2020.
The Milsco brand has provided high-quality seats since 1934, cited as the first company to put padded seating on tractors and farm equipment.
Today, the company provides static and suspension seating solutions for a variety of applications, including motorcycle, agricultural, construction, industrial, lawn and turf care, and power sports—and in 2018 represented 26.2% of Jason's revenue.
"By far and away the most innovative and highest quality seats."
The market for seating products is dominated by several large domestic and international participants, who are often awarded contracts as the sole supplier for a particular motorcycle, riding lawn mower or other construction, agriculture or material handling platform.
The construction market is closely tied to overall growth in industrial production, which Jason Industries Inc. (NASDAQ:JASN) believes has long-term growth potential.
Metalex is the provider of components that are used in a broad array of products, including railcars, air and liquid filtration, hardware, off-road equipment and security fencing.
Within each of the components business product categories, their strategy is to have engineers work alongside customers to create value-added components and solutions for various end products.
Their engineering resources, manufacturing capabilities and low cost production availability through their operation in Mexico provide opportunities to deliver value to customers.
Among their customers are several multi-billion-dollar corporations, including:
Parker-Hannifin Corporation (NYSE:PH) – US$25.25 billion
Trinity Industries, Inc. (NYSE:TRN) – US$2.58 billion
Donaldson Company, Inc. (NYSE: DCI) – US$6.91 billion
Cummins Inc. (NYSE:CMI) – US$28.11 billion
A central Midwest location allows the company to offer cost-effective, proximity-based manufacturing to customers throughout North America
End users of component products are diversified across various sectors of the economy.
Demand in the components market is influenced by the broader industrial manufacturing market, as well as trends in the perforated and expanded metal, rail and commercial equipment industries.
… and the best gauge of domestic industrial production is the US Industrial Production Index, which measures monthly output arising from the manufacturing, mining and gas sectors.
COMPETITIVE STRENGTHS
ESTABLISHED INDUSTY LEADER ACROSS THEIR THREE BUSINESSES
Jason Industries Inc. (NASDAQ:JASN) has built up their market share positions to create a stable platform upon which to grow.
For example, their turf care seats and polishing product lines, are believed to be more than twice the size of the next largest direct competitor.
They've managed to do this while maintaining relationships with their many customers, of which several they've had over 25 years.
Their market share positions are significantly sustained by their products' brand recognition.
Jason's products are often viewed as a brand of choice for quality, dependability, value and continuous innovation.
SUPERIOR DESIGN & MANUFACTURING SOLUTIONS
Jason Industries Inc. (NASDAQ:JASN) has a track record of providing customers with innovative, customized solutions through production flexibility and collaboration with their design and manufacturing teams.
Over the last few years, the company has consistently refined its manufacturing processes to incorporate design technologies that improve design, product offerings and quality, as well as manufacturing efficiency.
Across their businesses, they maintain teams of designers and a diverse product selection in numerous geographic regions, which allow them to respond quickly to real-time customer needs.
Jason's diverse product offerings and customized design and manufacturing capabilities have made them a preferred choice within many industries and an entrenched key solutions provider to customers.
SCALABLE BUSINESS PHILOSOPHY
Jason Industries Inc. (NASDAQ:JASN) focuses its strategy to deploy capital and resources across their businesses to projects with the highest returns on invested capital.
They annually assess their three-year outlook and goals, by using a policy deployment matrix disseminated throughout the organization. This helps them to develop an annual budget and profit plan and monitor progress towards long-term strategic goals.
If a business doesn't fit with the long-term strategy, then it's either shut down or divested—like that of the sale of the company's acoustics division during late summer 2019 for approximately US$85 million.
Through the divestment of its acoustics business, Jason ultimately reduced its automotive OEM market exposure, and increased the company's liquidity to ~US$111 million.
With the proceeds of the sale, significant funds are available for reinvestment in the business and acquisitions through 3Q20.
DIVERSE, GLOBAL FOOTPRINT WITH GROWING PRESENCE IN EMERGING MARKETS
Jason Industries Inc. (NASDAQ:JASN) maintains a strong international presence, spaced out over dozens of global manufacturing locations, including 11 in the US and 17 in foreign countries
Approximately 30% of the company's 2018 revenue was generated from products manufactured outside of the United States.
In addition, their global presence enables them to take advantage of low-cost manufacturing at their facilities in China, India, Portugal, Romania, and Mexico and to meet the needs of local customers with operations in those regions.
Jason continues to build upon its established presence in low-cost production locations through the expansion of owned operations and the development of joint ventures and sourcing relationships in Asia, Eastern Europe and Mexico.
MOVING FORWARD
Jason Industries Inc. (NASDAQ:JASN) continues to have the potential to increase its market share, due to the highly-fragmented nature of their end markets.
As the market as a whole comes out of a down-dip period, there is plenty to still be optimistic about.
Billionaire investor Paul Tudor Jones believes "we've got an explosive combination of monetary and fiscal policy right now"[iii]—which he thinks could propel the market further into record territory.
There's reason to believe that the market slumber could very well be temporary, and that once it awakes, groups like Jason Industries could make a big comeback—as its current $0.21 share price and $6 million market cap (worth 5% of the company's current liquidity) potentially makes a swing towards the $3.50 share price target given by analysts recognized by CNN Business.
—
7 IMPORTANT POINTS TO KEEP IN MIND FOR
Jason Industries Inc. (NASDAQ:JASN)
Jason Industries Inc. has been given a median target price of $3.50 per share by analyst cover at CNN Business—a more than 1,500% increase over today's price.
Jason's current market cap of US$6 million is equal to just 6% of the company's cash on hand, and 5% of their overall liquidity.
After the sale of their acoustics business, Jason Industries currently has $110.6 million in total liquidity, including $92.7 million in cash, which is available for reinvestment in the business and acquisitions through 3Q20.
Established industry veterans with long-standing customer relationships with most averaging more than 25 years
Osborn has representatives that reach more than 30,000 customers in approximately 130 countries worldwide
Milsco is known as a high-quality seat manufacturer, with its turf care seats line believed to be more than twice the size of the next largest direct competitor
Analysts and Billionaire Investors believe the market is in the right position to propel even further into record territory.
Analyst Review Team
Equity Insider

---
[i] https://www.cnbc.com/2019/11/14/the-markets-10-year-run-became-the-best-bull-market-ever-this-month.html
[ii] https://money.cnn.com/quote/forecast/forecast.html?symb=JASN
[iii] https://www.cnbc.com/2019/11/13/paul-tudor-jones-says-there-is-an-explosive-combination-of-forces-driving-the-market-higher.html
---
Nothing in this publication should be considered as personalized financial advice. We are not licensed under securities laws to address your particular financial situation. No communication by our employees to you should be deemed as personalized financial advice. Please consult a licensed financial advisor before making any investment decision. This report is neither an offer nor recommendation to buy or sell any security. We hold no investment licenses and are thus neither licensed nor qualified to provide investment advice. The content in this report or email is not provided to any individual with a view toward their individual circumstances. Equity Insider is a wholly-owned subsidiary of Market IQ Media Group, Inc. ("MIQ"). MIQ has NOT been paid a fee for Jason Industries advertising and digital media. There may be 3rd parties who may have shares of Jason Industries, and may liquidate their shares which could have a negative effect on the price of the stock. Please note, we own shares of Jason Industries and will sell these shares in the open market at any point, even if this report is still being distributed. Because we own shares, this constitutes a conflict of interest as to our ability to remain objective in our communication regarding the profiled company. Because of this conflict, individuals are strongly encouraged to not use this publication as the basis for any investment decision. Once again, the owner/operator of MIQ own shares of Jason Industries which were purchased in the open market, we will sell these shares in the open market and reserve the right to buy and sell, and will buy and sell shares of Jason Industries at any time hereafter without any further notice. Let this disclaimer serve as notice that all material disseminated by MIQ have not been approved by the above mentioned company; we have not been compensated by the above mentioned company, and we own shares of the mentioned company that we will sell, and we also reserve the right to buy shares of the company in the open market, or through further private placements.
While all information is believed to be reliable, it is not guaranteed by us to be accurate. Individuals should assume that all information contained in our newsletter is not trustworthy unless verified by their own independent research. Also, because events and circumstances frequently do not occur as expected, there will likely be differences between the any predictions and actual results. Always consult a licensed investment professional before making any investment decision. Be extremely careful, investing in securities carries a high degree of risk; you may likely lose some or all of the investment.