Playgon Games Inc. (TSX.V:DEAL / OTC: PLGNF) is Targeting the Fastest Growing Segment of the Online Casino Gaming Market
Over the last year, we've seen not only the utter decimation of revenues and activity within the doors of land-based casinos, but also a mass exodus of players towards online gaming to fulfil their desires.
People are still playing their favourite casino games… except now they no longer need to be in the casino to do it.
According to Martin Calesund, CEO of the +$22B company Evolution Gaming:
"(The) online evolution has just started."
According to recent industry metrics, the global online gambling market is expected to reach more than US$92.9 billion in 2023—nearly double the ~US$52.9 billion it is currently. [1]
Back in June of 2020 (when the global health crisis was still in its earlier stages), Calesund added to this thought, boldly stating:
"In the future to come, I think 50-70% of casino will be online." [2]
The shift has been swift and very significant, as online gambling thrived and land-based casinos struggled mightily through 2020 to today. Mobile gaming made significant strides in 2020, notching $79.5 billion, and accounting for a whopping 71% of all app revenues on both the Google Play and Apple App Store combined. [3]
In Atlantic City, all but one casino (which we'll get to in a second), lost significant revenue. The biggest dropoff came for Harrah's, which declined 46.8% over the year. [4]
Resorts, Caesars, Tropicana, Borgata, Hard Rock, and Ocean… ALL saw their revenues drop by double-digit percentages.
The one casino that emerged from the bunch was Golden Nugget—it saw its revenues increase nearly 10% over their 2019 numbers.
How did Golden Nugget beat the odds?
The answer is right there in the full name of the stock is Golden Nugget Online Gaming (NASDAQ:GNOG).
That's right… Golden Nugget is focused on online casino and sports betting.
It wasn't just in Atlantic City that the company took wins. When they released their Q3 earnings in late October, they showed that their Net revenue was up 92% year-over-year (YoY) to $25.9 million, while Operating income was also increased 92% YoY to $8.2 million.
Since prior to the COVID-19 lockdowns taking full effect, GNOG stock has gone from a low of $9.26 per share to a high of $26.24 in late December—a rise of 183% in just over 9 months. Market researchers have pegged the global online gambling market to grow from $53.7 billion in 2019 to +$95 billion by the end of 2025 at a CAGR of 13.2%. [5]
The industry can no longer afford to deny that Evolution Gaming's Martin Calesund is right.
The online evolution has begun!
We've identified the best equipped provider of a proprietary market-ready and device-agnostic platform that's perfectly designed to facilitate the transition of these massive casinos into the online age…
One that's succeeded in developing not only one of the fastest, most-convenient ways to play, but has done so with the World's ONLY Live-Dealer mobile app gaming experience with LIVE video streaming of their dealers from a studio in Las Vegas.
Meet Playgon Games Inc. (TSX.V:DEAL / OTC: PLGNF) an innovator focused on developing digital content for the iGaming market, through a mobile-first philosophy with live dealer technology.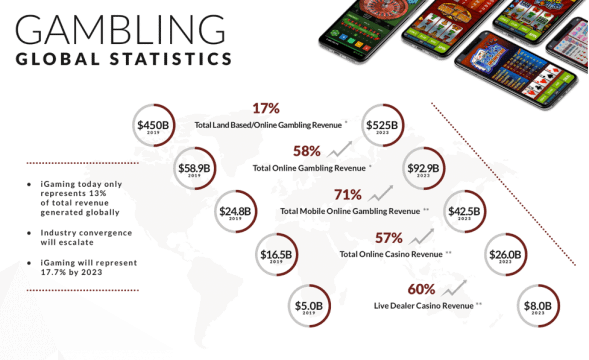 Platinum Profile: Playgon Games Inc. (TSX.V:DEAL / OTC: PLGNF)
Playgon provides a multi-tenant gateway that allows online operators the ability to offer their customers innovative iGaming software solutions.
What makes Playgon's platform most unique for players is its design and feel.
CEO Darcy Krogh recently stated: "We are bringing a very unique mobile live dealer product to the market. We anticipate our business will scale quickly once we receive the final approvals to service our customers."
Not only does the company provide the World's ONLY Live Dealer mobile-app experience, but it does so vertically, meaning that players can comfortably play one-handed.
It's also VERY fast. As a core feature of the design the software was geared towards speed as an integral part of the extremely popular table games of baccarat, roulette and blackjack (NOTE: More on the game of baccarat below).
Through the Playgon platform, hands can be played extremely fast, with up to 8 tables playing at once on one screen.
AN ALLURING BUSINESS MODEL
Playgon's current software platform involves Live Dealer Casino and E-Table games which through a seamless integration at the operator level allows customer access without having to share or compromise any sensitive customer data.
And the business model is ideal for garnering more and more clients to onboard the software.
This turnkey solution is FREE to incorporate into an established casino's offerings. Playgon has very wisely made this available, with the upside coming through revenue percentages of player loss on every game played.
As players bounce between casino operators, they are still playing re-skinned Playgon games. By providing the software, Playgon spends next to nothing on marketing, while capitalizing on the upside from newly acquired players.
As a true business to business (B2B) digital content provider, Playgon's products are ideal turn-key solutions for online casinos, sportsbook operators, land-based operators, media groups, and big database companies.
Its cutting-edge technology and operational best practices make Playgon the best possible partner for online casinos looking to the future. Playgon also employs a global strategy, uniquely positioning it to take advantage of the sizable market in Europe and Asia.
BOOSTING BACCARAT'S BANKROLL POTENTIAL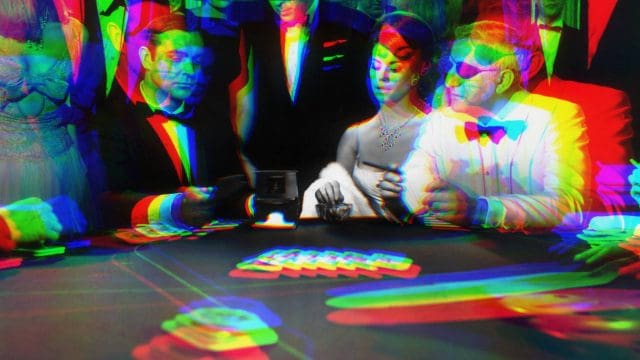 While the popularity of baccarat continues to grow in the west, it's common knowledge within the industry that James Bond's favourite card game is the most profitable casino card game on the planet. This is because in Asian markets, players mostly stay away from slot machines, while VIP baccarat accounts for roughly 70% of casino revenue shares, followed by mass-market baccarat. [6]
Today's casino gaming market is steadily growing in Asia, with industry experts in the region estimating the Asian live casino market to be 10x the size of its European counterpart.
Playgon's team knows this, and has wisely designed itself towards this trend— and has developed a way to unlock baccarat's enormous potential—having the game played online.
Why? Because in a traditional casino setting, games such as Baccarat and Roulette are not scalable because they can only serve a fixed number of players at a time.
In contrast, the majority of games can support a limitless number of players betting at the same time, while bearing none of the other overhead costs a traditional casino would have to bear (i.e. free drinks to players, casino maintenance expense, etc.).
Under Playgon's business model, the Live Dealer salary becomes a fixed cost which can be leveraged across hundreds of potential concurrent players instead of just a few players at a traditional casino table.
Given the speed at which hands of baccarat are played is already a significant bonus to casino profitability. Now when the hands are dealt, bets are handled, payouts are paid and all other actions are done electronically. It's fast, smooth, and profitable.
With their ability to maintain a whopping 8 tables on one screen at the same time, brick-and-mortar casinos just can't compete with the speed of play of the Playgon Games Inc. (TSX.V:DEAL / OTC: PLGNF) baccarat experience.
And baccarat is a game that's VERY familiar to those within the company. Playgon Interactive Founder, Guido Ganschow wrote the first live dealer software used in Asia—leading software sales to over 200 different casinos, many of which still use the software today.
LIVE DEALER GAMING—LIVE FROM VEGASTM!
Playgon Games Inc. (TSX.V:DEAL / OTC: PLGNF) is looking to capitalize on the Live Dealer Casino market, which represented 30% of the total online casino gaming market in 2019—or $5 billion. [7]
The company'sscalability results in a far more attractive business model than any land-based casino can offer. By integrating augmented reality, tactically adjusting bonuses and payouts, and optimizing player- dealer communication, Playgon's offering is more immersive than the experience at a brick & mortar casino.
The platform's Live Casino offering brings the brick & mortar casino experience to a user's phone, computer, or other streaming device. Contrary to typical digital casino games which feature no physical human interaction, Live Casino is 100% focused on seamless interaction between gamblers playing from all over the world.
Live Casino is the fastest growing segment within online casino, with an annual growth rate of 32% between 2014 and 2018 and is expected to reach $8 billion by 2023. [8]
Mobile online gaming continues to be a key factor in the development of the global iGaming market. Currently, over 70% of Live Dealer casino revenues stem from mobile devices.
Playgon's Live Dealers are streamed live from a studio in Las Vegas—click here for an example video
Players can interact in real time with the dealers and other players in real time 24 hours a day, 7 days a week—all complimented by augmented reality that further enhances the experience.
And, due to the overwhelmingly positive feedback from Operators, Playgon has already increased the size of their Live from Vegas studio and doubled their table capacity.
Playgon is taking live-dealer casino games to the next level, bringing cutting-edge handheld features and functionality to the mobile generation of gambling enthusiasts who have long been demanding a world-class gambling experience on their phone.
THE PLAYGON ADVANTAGE
Playgon has centralized its offerings to be as convenient and comfortable as possible to play.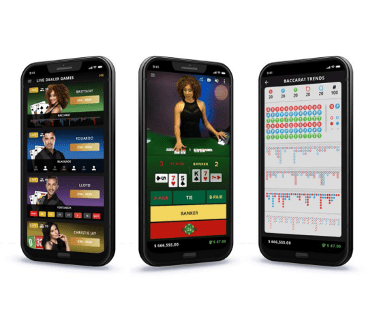 Its advantages are unique, including
One Touch + One handed play.
Currently over 70% of Live Dealer casino revenues stem from mobile devices. Based on analytics provided by ScientiaMobile.com [9], Playgon has determined its focus solely on a Portrait-first orientation of its platforms.
Mobile users predominantly prefer this orientation by significant numbers:
In fact, according to ScientiaMobile, only 22% of people flip their smartphone from portrait to landscape orientation.
HD Streaming
The Playgon experience is driven by High Definition content from a streaming studio Live from Las Vegas—delivering the user a truly live feel and presence.
Mobile First Approach
Most legacy technology is developed for desktop and not for mobile, making it inefficient for user interface (UI) and user experience (UX).
Playgon's platform has been designed with a mobile first approach in mind. This focus enhances player UI and UX.
But despite having portrait-orientated mobile as its flagship offering, Playgon's platforms entail Progressive Web App (PWA) technology, that's device agnostic, and designed to handle every type of user, every browser, and play on every device.
It's this portability that works to Playgon's advantage, in particular when it comes to the potential for white labeling the service to work in conjunction with competitors; Operators don't need to displace other providers to integrate Playgon's Live Dealer games.
Playgon offers proprietary technology, which is cloud based and built for robustness, scalability, speed of play, to derive the maximum bets per hour that equates to more revenue. Ultimately, the platform and games are designed to attract the most sought-after player; the discerning, higher-value, returning player to maximize life time value.
Management & Board with Exceptional Experience
Darcy Krogh – President, Chief Executive Officer & Director of Playgon Games Inc
Involved the space for 21 years, Krogh began in iGaming by co-founding Chartwell Technology in 1999, a publicly traded technology company specializing in the development of games, gaming systems, and entertainment content focused in Europe. He served as a Director and was a key member of the management team, staying on after the company was sold to Amaya in 2011 for CAD$25 million. He served as VP Business Development with Amaya until July 2015 where he assisted with the divestiture of its B2B asset portfolio for $150m to Nyx Gaming Group. In April 2016 he exited NYX Gaming to start up a new venture, Playgon Games Inc.
Guido Ganschow – President & Director of Playgon Interactive
Playgon Interactive Founder Ganschow has created real-time Live-Dealer platforms for 12+ years, having served as Co-Founder and Creative Director for a Macau Casino Consortium, and successfully creating and establishing Live Dealer platform businesses in Asia and Europe between 2008 and 2014. In 2016 he started Playgon Interactive with a mandate to develop a next generation live dealer product for real money and social applications. Over his career, Ganschow has executed commercial partnerships, sales, and integration of the Live-Dealer solutions with major global gaming brands including Ho Gaming Group, Chartwell Technology and Amaya Gaming Group.
James Penturn – Executive Chairman of the Board
Penturn has decades of experience providing strategic advice and leadership to management teams of knowledge based businesses to successfully market and sell their services, to structure and syndicate investments, and to raise equity and debt instruments. He is the President of SpectraLegal Limited in the United Kingdom, a specialist provider of funding solutions for law firms. He is also a member of the strategic advisory committee of Generation Three Family Partners, an international multifamily office that he co-founded. He has been a director of several Canadian publicly listed companies where he sat on executive, audit, governance and compensation committees. Penturn has over 30 years' experience in merchant banking, real property and strategic advisory services as both a principal and agent.
Steve Baker – Chief Operating Officer
Baker is the former VP Operations for Shaw Communications and has been involved in a number of major growth products including video streaming and home entertainment. He has helped the company grow sales revenue from $300 million to $2.8 billion. He's also overseen new product rollouts and M&A activities.
7 Key Highlights to Remember for Playgon Games Inc. (TSX.V:DEAL / OTC: PLGNF)
Fully Developed Platform ready to launch with multiple tier-1 operators
Mobile Driven Strategy drastically improves user experience relative to competitors' desktop-first approach
Diversified Risk through leveraging technology across real money and social gaming markets
Live Dealer is the fastest-growing vertical within the online casino business
Global Industry Growth in iGaming has been projected to increase at a yearly CAGR between 10-15%
Experienced Management team in technology and iGaming industries
Industry Convergence terrestrial gaming industry's movement to digital has been super-charged with the recent global health crisis.
---
[1] https://www.msn.com/en-us/money/topstocks/golden-nugget-online-gaming-stock-may-see-2420-before-2440/ar-BB1d0pEu
[2] https://www.gamblinginsider.com/news/9366/evolution-gaming-ceo-50-70-of-casino-revenue-will-be-online-in-the-future
[3] https://www.tweaktown.com/news/77100/mobile-gaming-made-79-5-billion-in-2020-71-of-total-app-revenues/index.html
[4] https://journalstar.com/news/national/a-record-year-for-nj-sports-betting-casinos-not-so-much/article_498a2a09-3e72-53ae-9a39-931c99dcc9ca.html
[5] https://www.globenewswire.com/news-release/2020/04/13/2015187/0/en/The-Global-Online-Gambling-Market-is-expected-to-grow-from-USD-53-686-56-Million-in-2019-to-USD-95-023-13-Million-by-the-end-of-2025-at-a-Compound-Annual-Growth-Rate-CAGR-of-9-98.html
[6] https://www.quora.com/Which-game-does-a-casino-generate-the-most-revenue-from-in-terms-of-quarterly-or-annual-revenue-Im-not-asking-about-odds-per-game-I-have-heard-the-answer-is-slots?share=1
[7] Source: H2 Gaming Consultants (https://h2gc.com)
[8] Source: H2 Gaming Consultants (https://h2gc.com)
[9] https://www.scientiamobile.com/
---
DISCLAIMER:
Nothing in this publication should be considered as personalized financial advice. We are not licensed under securities laws to address your particular financial situation. No communication by our employees to you should be deemed as personalized financial advice. Please consult a licensed financial advisor before making any investment decision. This is a paid advertisement and is neither an offer nor recommendation to buy or sell any security. We hold no investment licenses and are thus neither licensed nor qualified to provide investment advice. The content in this report or email is not provided to any individual with a view toward their individual circumstances. Equity Insider is a wholly-owned subsidiary of Market IQ Media Group, Inc. ("MIQ"). MIQ has been paid a fee for Playgon Games Inc. advertising and digital media from the company directly. There may be 3rd parties who may have shares of Playgon Games Inc., and may liquidate their shares which could have a negative effect on the price of the stock. This compensation constitutes a conflict of interest as to our ability to remain objective in our communication regarding the profiled company. Because of this conflict, individuals are strongly encouraged to not use this publication as the basis for any investment decision. The owner/operator of MIQ own shares of Playgon Games Inc. which were purchased in the open market. MIQ will not buy or sell shares of Playgon Games Inc. for a minimum of 72 hours from the publication date on this website February 5, 2021, but reserve the right to buy and sell, and will buy and sell shares of Playgon Games Inc. at any time thereafter without any further notice. We also expect further compensation as an ongoing digital media effort to increase visibility for the company, no further notice will be given, but let this disclaimer serve as notice that all material disseminated by MIQ has been approved by the above mentioned company; this is a paid advertisement, and we own shares of the mentioned company that we will sell commencing immediately, and we also reserve the right to buy shares of the company in the open market, or through private placements and/or other investment vehicles. While all information is believed to be reliable, it is not guaranteed by us to be accurate. Individuals should assume that all information contained in our newsletter is not trustworthy unless verified by their own independent research. Also, because events and circumstances frequently do not occur as expected, there will likely be differences between any predictions and actual results. Always consult a licensed investment professional before making any investment decision. Be extremely careful, investing in securities carries a high degree of risk; you may likely lose some or all of the investment.