With a Worldwide Lithium Shortage by 2025 and Demand Set to Double by 2030, a World-Class Project in Argentina Developed by Lithium South (TSXV:LIS) (OTC:LISMF) is on Pace to Become Another High-Value Gem in the Lithium Pack
A worldwide battle to secure tomorrow's energy future is underway today, as countries everywhere race to get their hands on a limited supply of lithium.
Not only are analysts sounding the alarm because a worldwide shortage of the metal being predicted by 2025[1], but also that by 2030 lithium demand is set to reach 2.4 million tonnes LCE[2] — Lithium consumption has already nearly quadrupled since 2010[3], and it doesn't look at all like that trend is going to change any time soon.[4]
Experts estimate that meeting this demand will require at least US$42 billion in new investment to accomplish[5], and that by 2028, the global lithium market is expected to reach US$8.2 billion.[6]
However, where and how that money is spent is still up in the air. Right now there are several critics who are concerned with how lithium is produced, and how sustainable the industry is as a whole.[7]
Located next to two major lithium operations in the renowned Lithium Triangle, Lithium South Development Corporation (TSXV:LIS) (OTC:LISMF) recently increased its LCE Resource by 175% at its world-class HMN Li project in the heart of the Lithium Triangle,  LIS is quickly moving form being a lithium explorer to a lithium developer.
With production wells currently being installed at both the Alba Sabrina and Natalia Maria claim blocks on the project, Lithium South is processing test work, and pilot plant construction that would allow the HMN Li Project to have a Feasibility Study in early 2024.
Let's now take a deeper look into why Lithium South Development (TSXV:LIS) (OTC:LISMF) is in a great position to become one of the world's next big lithium producers in the not-so-distant future…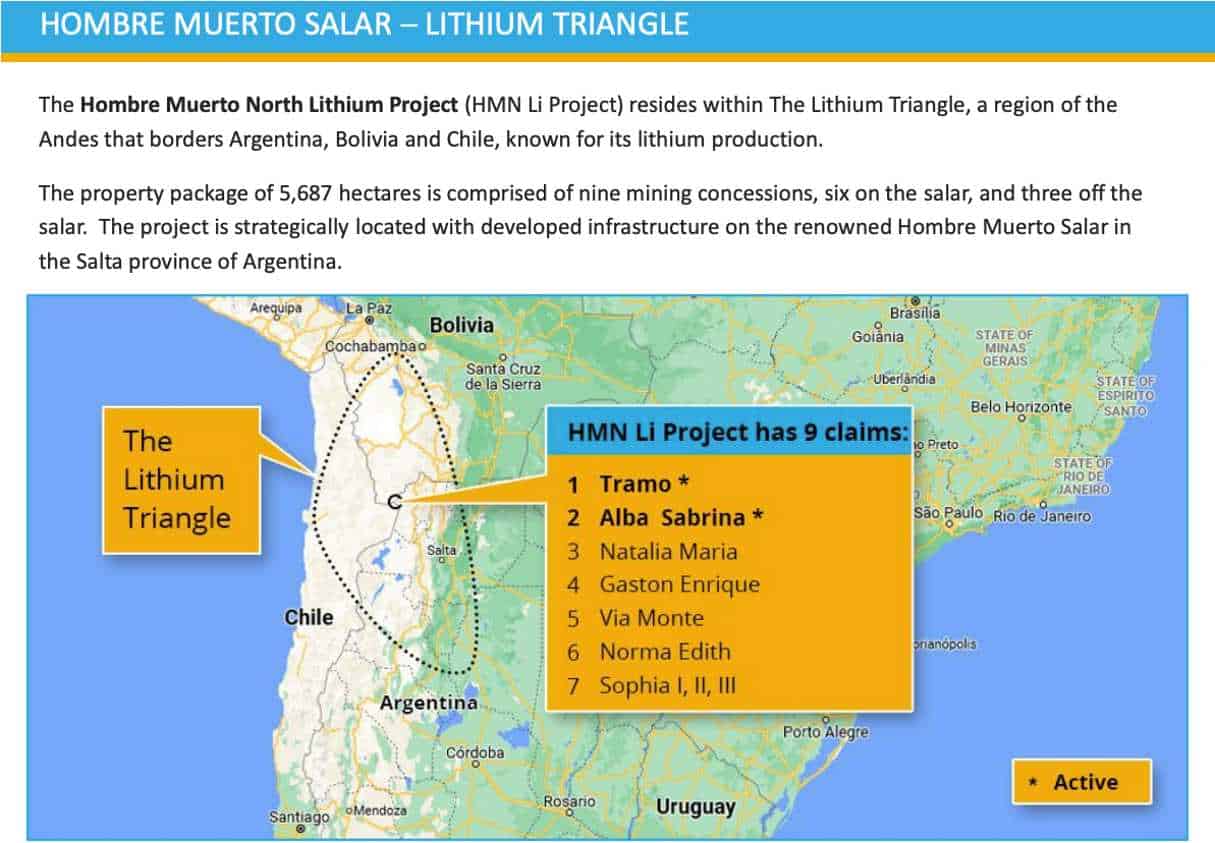 7 Reasons Why Lithium South Development Corporation (TSXV:LIS) (OTC:LISMF) is Primed to Become a Major Contributor in the Lithium Industry
Top-Notch Real Estate: The 100%-owned HMN Li Project is located in Salta Province spanning a package of 5,687 hectares located directly adjacent to a $4-billion project developed by POSCO. The project comes with good weather, an ideal location for evaporation extraction, a potentially sustainable water source, a gas pipeline near the property, and environmental permitting that is nearing completion.
Successful Resource Expansion Track Record: Thanks to a recent drill program, Lithium South succeeded in expanding the LCE resource on the HMN Li Project by 175% to a 1.57 million tonnes lithium carbonate equivalent[14], with 90% of the resource in the Measured category (the highest resource category).
Pilot Plant and Pumping Wells Underway: A well drilling campaign is already underway for pumping/production wells to establish well flow. Evaporation test work is underway to validate this low-cost option. Due to the quality of the brine, recovery rates are anticipated to approach 70% (subject to QP certification) which would be high for this recovery method.[15]
Upcoming Feasibility Study: Once the pumping tests are completed, results will be provided for analysis to deliver key information for the upcoming Feasibility Study which is expected in early 2024.
Potential Revaluation Possibilities: With recent consolidation on the salar, Lithium South has Galan, POSCO, and the new Livent/Allkem merger entity as its neighbors, and with POSCO spending US$4B to develop their lithium production directly adjacent to LIS's claim package, the company could potentially be revalued in relation to its peers.
Proven Extraction Possibilities: Lithium South is evaluating low risk, industry proven evaporation extraction for its HMN Li Project. A network of ponds has been constructed (https://www.lithiumsouth.com) to prove the process. And technical expertise has been brought on board to " optimize " the extraction process to increase recovery to potentially 70%.
How Does
Lithium South Development (TSXV:LIS) (OTC:LISMF)
Stack Up With Its Neighbors?
Lithium South Development's (TSXV:LIS) (OTC:LISMF) HMN Li Project is in great company, and surrounded by several major projects. Where the smart investor will now pay close attention is towards where the company is now, where it's going, and how it will get there.
Lithium South has wasted no time in getting things ready, having already worked to greatly increase the project's resource estimate, and is now in the process of putting in a pilot plant and pumping wells.
As the project advances, it's worth noting the more advanced projects nearby, and how their progress might be able to give of a glimpse of where HMN Li may be headed.
THE POSCO FACTOR
To get an idea of scale, one can look no further than the nearby lithium brine operation of South Korean steelmaking giant POSCO, which in 2022 announced a significant investment of US$4 billion into their project in the same Salar de Hombre Muerto as Lithium South. In June 2023, POSCO made a US$800M investment into the project to move it closer to production[16] and in September 2023, pledged another US$1.7 billion investment in Argentina[17].
At the POSCO project (named Sal de Oro)[18], it's anticipated to initially produce 25,000 tonnes of lithium hydroxide annually, before expanding up to 100,000 tonnes annually—and the company hopes to commence operations in early-to-mid 2024.[19]
Prior to POSCO paying $ US 280 million to Galaxy Resources to acquire the project, the previous owners had named the project Sal de Vida, and had put out an updated 2018 Feasibility Study[20],  when lithium prices were half price compared to today. It provided the following highlights:
NPV of US$1.48 billion at an 8% discount rate
IRR of 26.9% with post-tax payback period of ~3 years from first production
JORC-compliant reserve estimate of 1.1 million tonnes of recoverable lithium carbonate equivalent ("LCE") to support a long initial project life with 25ktpa of lithium carbonate and 94ktpa of potash production respectively
LCE Mineral Resource Estimate of 7.232 Mt LCE (M+Ind+Inf) at average grade of 753 mg/L or ppm

565,000 tonnes LCE in Measured category
119 Mt of potassium at 8,377 mg/L or ppm
Now although Lithium South is still in the process of preparing a Feasibility Study in 2024, in 2019 the company put out a Preliminary Economic Assessment[21] and by piecing that together with recently updated mineral resource estimates[22], we get the following highlights:
Post-Tax NPV of US$217M
IRR of 27.7% with pay-back period of 2.7 years
5831 Mt LCE

90% of resource in Measured category (~1.425Mt LCE)
Average grade 736 mg/L Li
Lithium South is currently working on an updated PEA which will use a much higher forward lithium price than the $ 12,400 per tonne used in 2019, , as well as preparing for a Feasibility Study that is expected to be delivered in 2024.
TECPETROL GOES ALL IN ON ALLI
Another nearby property that's worth consideration is that of Alpha Lithium and its Tolillar property which was developed and grown to its present state of a respectable mineral resource of 2.1 Mt LCE Indicated and another 1.2 Mt LCE Inferred.
The project's potential garnered enough attention to entice Tecpetrol (a subsidiary of the Techint Group) to offer a premium all-cash proposal to acquire Alpha Lithium for a whopping C$273M (~US$199M)[23].
WHAT DOES THIS POTENTIALLY MEAN FOR LIS?
Even if Lithium South Development (TSXV:LIS) (OTC:LISMF) doesn't take the project all the way to production on its own, it's surrounded by stories of major takeout target successes.
According to the company's calculations, the HMN Li Project is near the top tier in terms of grade and chemistry, meaning it not only has a high grade of lithium that's ahead of several other big players and their massive projects, but also that it comes with a favourably low magnesium to lithium ratio.
As of October 2, 2023, some might say that Lithium South Development's (TSXV:LIS) (OTC:LISMF) stock value is undervalued. given that the company's market cap is less than US$30M, and nearby projects acquired were sold for upwards of 9 digits.
The relevance of Lithium South's high lithium grades cannot be overstated.
Even if we're looking at conventional brine evaporation ponds, lithium grade effects the size of the ponds. The higher the grade the smaller the pond. Pond size accounts for nearly 50% of the CAPEX of a brine project.
Meaning, the higher the grade, the lower the CAPEX.
Where does Lithium South's HMN Li stack up amongst its peers?
It's worth putting the HMN Li project together with peers, and to use our own discretion in deciding if the current valuation for Lithium South is fair or not.
Below is a table of peers with similar promising lithium projects:
Company
Symbol
Share Price (USD)
Mkt Cap (USD)
Primary Lithium Assets
Lithium South Development
TSXV:LIS

OTC:LISMF

$0.29
$28.4M
HMN Li

1.58Mt LCE @ 736 mg/L Li

Argentina Lithium & Energy Corp.
TSXV:LIT

OTC:PNXLF

$0.29
$38.3M
Galan Lithium
OTC:GLNLF
$0.45
$155M
Hombre Muerto West and Candelas
7.3Mt LCE @ 852 mg/L Li[24]
Alpha Lithium
NEO:ALLI

OTC:APHLF

$1.02
$188M
Tolillar

2.1Mt LCE Indicated

1.2Mt LCE Inferred

Tested to 504 mg/L Li[25]

POSCO Holdings
NYSE:PKX
$98.26
$29.8B
Sol de Oro

7.2Mt LCE @ 753 mg/L Li
*share price and market cap taken from Yahoo! Finance on September 21, 2023
Strong Leadership Team
In order to properly assess and work with a potentially game-changing technology in one of the world's top lithium production regions, the HMN Li project requires capable hands… Thankfully, Lithium South Development (TSXV:LIS) (OTC:LISMF) is in VERY capable hands.
LIS's leadership team includes:
Adrian F. C. Hobkirk – President and CEO: Hobkirk has 32 years of experience in the mining and venture capital industry, including extensive experience working in Argentina. He is the co-discoverer of the Dublin Gulch Gold Deposit (Yukon) and the Yarnell Gold Mine (Arizona). He's explored for precious metals around the world, with LIS being his first venture into lithium. Hobkirk is the founder of Lithium South Development Corp., having acquired the HMN Lithium Project and managed its development to date.
Christopher P. Cherry – CFO and Director: Cherry has over 20 years of corporate accounting and audit experience. Formerly an auditor with KPMG, he has extensive corporate experience and has held senior-level positions for several public mining companies. Cherry is a certified general accountant and a chartered accountant.
Yi Hua Dai, PhD – Director: Yi Hua (PhD) founded Chemphys in 1998 to focus on battery quality and high purity lithium processing. He's a certified Technical and Economic Expert of Sichuan Province and China Non-ferrous Metals Industry Association Expert. He has a proven record of leading the development of lithium manufacturing techniques with 24 patents valid and under application.
Alison Dai – Director: Dai has 9 years of experience in the lithium industry and is responsible for business development and is a director for Chengdu Chemphys Chemical Industry Co., Ltd. In her role at Chemphys, Dai has been involved in developing strategic partnerships, international markets and procurement. Prior to joining Chemphys, Dai was an investment banking analyst at J.P. Morgan Australia in the mining and metals team.
Fernando E. Villarroel – VP & Director Project Development: Villarroel has 12 years of experience in the mining industry in Argentina with a focus on Lithium process development. From 2009 to 2013 he worked with Lithium Americas Corp. (Minera Exar S.A.) as Project Manager which included construction management and commissioning of the initial pilot evaporation facilities and laboratory at the Cauchari Olaroz Lithium Project. He has also acted as a consultant to Neo Lithium and International Lithium Inc. He holds a degree in Industrial Engineering and has specialized training in Data Modeling & Analysis for Business and Engineering from M.I.T.
Vijay Mehta, PhD. – Technical Consultant and Qualified Person: A recognized expert in lithium mining and processing, Dr. Mehta (PhD) brings almost five decades of experience to LIS. His experience includes evaluating the technological and economic feasibility of lithium brine projects around the world. He was the Product and Process Technology Development Leader of FMC Corporation for 30 years and was one of the founding developers of FMC's lithium plant at the Hombre Muerto Salar, Argentina, which has been in production since 1998. He holds 12 lithium related U.S. patents and has published over 50 technology reports and ten academic papers.
7 Reasons to Put Lithium South Development (TSXV:LIS) (OTC:LISMF) on Your Must-Watch List
1.  Top-Notch Real Estate
2.  The Lithium M&A Market is HOT
3.  Successful Resource Expansion Track Record
4.  Pilot Plant and Pumping Wells Underway
5.  Upcoming Feasibility Study
6.  Potential Revaluation
7.  New and/or Proven Extraction Possibilities
BEFORE YOU GO!
Now that you've digested the fruits of our research, it's time to follow up with some research of your own.
NOW IS THE PERFECT TIME for smart investors to seriously follow the rapidly evolving Lithium South Development (TSXV:LIS) (OTC:LISMF) story.
LIS recently successfully expanded its already impressive resource in one of the world's most sought after lithium jurisdictions. Other lithium assets in the region are being acquired at premium prices, and send a signal that Lithium South could very well be holding a highly-sought-after asset of its own in the very near future.
So, do your own due diligence, and don't forget to click here to sign up for the Lithium South's newsletter to make sure you don't miss out on any news and milestones along the way to becoming the next darling of the lithium sector.
Mr. William Feyerabend, a Consulting Geologist and Qualified Person under NI 43-101, participated in the production of this advertisement and approves of the technical an scientific disclosure contained herein.
USA News Group
Editorial Staff
DISCLAIMER: Nothing in this publication should be considered as personalized financial advice. We are not licensed under securities laws to address your particular financial situation. No communication by our employees to you should be deemed as personalized financial advice. Please consult a licensed financial advisor before making any investment decision. This is a paid advertisement and is neither an offer nor recommendation to buy or sell any security. We hold no investment licenses and are thus neither licensed nor qualified to provide investment advice. The content in this report or email is not provided to any individual with a view toward their individual circumstances. USA News Group is a wholly-owned subsidiary of Market IQ Media Group, Inc. ("MIQ"). MIQ has been paid a fee for Lithium South Development Corporation advertising and digital media from the company directly. There may be 3rd parties who may have shares of Lithium South Development Corporation, and may liquidate their shares which could have a negative effect on the price of the stock. This compensation constitutes a conflict of interest as to our ability to remain objective in our communication regarding the profiled company. Because of this conflict, individuals are strongly encouraged to not use this publication as the basis for any investment decision. The owner/operator of MIQ own shares of Lithium South Development Corporation which were purchased in the open market, and reserve the right to buy and sell, and will buy and sell shares Lithium South Development Corporation at any time without any further notice. We also expect further compensation as an ongoing digital media effort to increase visibility for the company, no further notice will be given, but let this disclaimer serve as notice that all material disseminated by MIQ has been approved by the above mentioned company; this is a paid advertisement, we currently own shares of Lithium South Development Corporation and will buy and sell shares of the company in the open market, or through private placements, and/or other investment vehicles.
While all information is believed to be reliable, it is not guaranteed by us to be accurate. Individuals should assume that all information contained in our newsletter is not trustworthy unless verified by their own independent research. Also, because events and circumstances frequently do not occur as expected, there will likely be differences between the any predictions and actual results. Always consult a licensed investment professional before making any investment decision. Be extremely careful, investing in securities carries a high degree of risk; you may likely lose some or all of the investment.
[1] https://www.cnbc.com/2023/08/29/a-worldwide-lithium-shortage-could-come-as-soon-as-2025.html
[2] https://www.mining.com/global-lithium-production-hits-record-high-on-electric-vehicle-demand/
[3] https://elements.visualcapitalist.com/lithium-consumption-has-nearly-quadrupled-since-2010/
[4] https://www.fastmarkets.com/insights/lithium-demand-to-remain-unchanged
[5] https://www.benchmarkminerals.com/membership/analysis-lithium-industry-needs-42-billion-to-meet-2030-demand/
[6] https://www.globenewswire.com/en/news-release/2022/03/11/2401706/29442/en/Global-Lithium-Market-Expected-to-Reach-8-2-Billion-by-2028-Grand-View-Research-Inc.html
[7] https://www.investopedia.com/investing/lithium-mining-dirty-investment-or-sustainable-business/
[8] https://cassels.com/rep_work/lithium-americas-acquires-millennial-lithium-for-491-million/#:~:text=On%20January%2025%2C%202022%2C%20Lithium,)%2C%20for%20approximately%20%24491%20million.
[9] https://www.torys.com/en/work/2021/10/ac32c619-adf6-4296-948e-c715f7cd7e55
[10] https://www.riotinto.com/news/releases/2022/Rio-Tinto-completes-acquisition-of-Rincon-lithium-project
[11] https://www.reuters.com/markets/deals/chinas-ganfeng-lithium-buy-lithea-inc-962-mln-2022-07-11/
[12] https://www.spglobal.com/marketintelligence/en/news-insights/trending/BMkeaW0fipj15tymy_shQg2
[13] https://www.mining-technology.com/news/lithium-americas-purchase-arena/#:~:text=Lithium%20Americas%20has%20concluded%20the,the%20business%20at%20%24227m.
[14] https://finance.yahoo.com/news/175-increase-lithium-120000123.html
[15] https://www.lithiumsouth.com/projects/
[16] https://thedalesreport.com/trends/south-korean-mining-giant-posco-to-invest-800m-in-its-sal-de-oro-lithium-project-in-argentina/
[17] https://en.mercopress.com/2023/09/04/posco-pledges-us-1.7-bn-investment-in-argentina
[18] http://www.poscoargentina.com/en
[19] https://smallcaps.com.au/posco-invests-developing-project-world-renowned-lithium-triangle/
[20] https://www.miningdataonline.com/reports/Sal_de_Vida_FS_2018.pdf
[21] https://www.lithiumsouth.com/wp-content/uploads/HMN-Final-Report-190808.pdf
[22] https://finance.yahoo.com/news/175-increase-lithium-120000425.html
[23] https://www.prnewswire.com/news-releases/tecpetrol-urges-alpha-lithium-shareholders-to-tender-as-soon-as-possible-following-positive-recommendation-by-the-alpha-board-of-directors-ahead-of-bid-deadline-of-3-october-2023-301942623.html
[24] https://galanlithium.com.au/august-2023-diggers-and-dealers-presentation/