One of the best kept secrets among most seasoned biopharma investors is the lucrative and enticing potential for treating rare diseases with orphan drugs.
PAY ATTENTION: We've identified a rare-disease, orphan-drug company declared by multiple analysts as a STRONG BUY* with price targets in excess of 350%—and that company is Quoin Pharmaceuticals Ltd. (NASDAQ:QNRX). – This company is extremely undervalued, analysts agree as you will see below, and we personally think it is a huge bargain at this price point with major upside potential in the very near future.
Market research firm EvaluatePharma projects that worldwide orphan-drug sales will DOUBLE by 2026 to hit US$268 billion[1], and Prophecy Market Insights projects it will be more than DOUBLE of that, hitting US$547.5 billion by 2030, growing at a RAPID 13.1% CAGR.[2] 
What is an Orphan Drug?


Orphan drugs are medicines developed to help treat, prevent or diagnose rare "orphan" diseases, which are conditions that each affect fewer than 200,000 people in the U.S. Today, about 600 orphan drugs are approved by the U.S. Food and Drug Administration (FDA) to treat these difficult and rare diseases. In order to spur pharmaceutical companies to develop more Orphan Drugs, Congress passed the Orphan Drug Act in 1983. This law encourages drug makers to research and manufacture orphan drugs by giving them tax incentives, subsidies for clinical research. This program has been very successful and very lucrative.
* Sources: [3],[4],[5],[6],[7]
---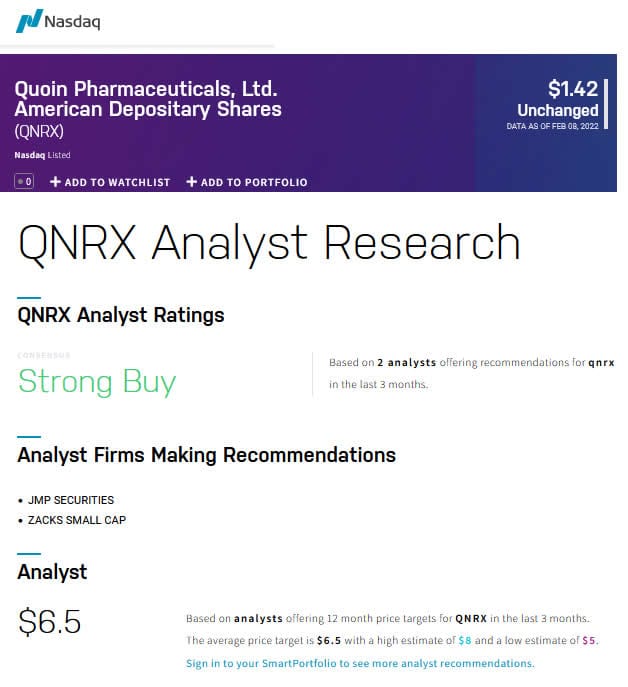 Source: NASDAQ.COM
Source: https://www.marketbeat.com/stocks/NASDAQ/QNRX/price-target/
Analysts are bullish on QNRX and the sector as you can see by the above average price target of $6.50, with a low target of $5.00 and and a high target of $8.00.
So, let's look at some of the major factors behind this rare disease market that has been incentivized from what was once a barren land into totally fertile ground.
Roughly 30 million Americans suffer from 7,000 or so rare diseases.[8]
And to address these patients, the US FDA funds research in rare diseases through programs like the Orphan Products Grants Program, by implementing the Orphan Drug Act, and reviewing and granting designations to Rare Disease Drugs, Rare Pediatric Diseases, and Devices. To sweeten the pot, the FDA also offers seven years for Orphan Drug Exclusivity (ODE), giving two whole years more of market exclusivity than New Chemical Entity Exclusivity (NCE).[9]  
Because of this, biopharma companies are VERY attracted to the orphan-drug market. After decades since the passage of the Orphan Drug Act, the FDA has given orphan status to over 500 drugs[10], while the EU has given orphan designation to over 2,200 medicines.[11] 
As of 2020, the FDA had approved drugs and biologics for over 800 rare disease indications.[12] Rare-disease drugmakers are BIG business, and even mean a lot to BIG Pharma. In 2021, AstraZeneca both acquired rare disease drug makers (Alexion) for US$39 billion[13], and agreed to pay up to $3.6 billion for the rights to a promising drug for another rare disease.[14]
UCB recently bought rare disease Zogenix for up to US$1.9 billion,[15] Italian pharma group Recordati closed out 2021 by signing an agreement to buy UK-based EUSA Pharma for an enterprised value of nearly US$850 million.[16]
---
"Orphans are wicked hot."

– Dr. Tim Coté,
Former FDA official, and CEO of Only Orphans Cote LLC [17]
---
30-Second Intro: A Special Specialty Pharma Co.
Tightly-held share structure, and currently valued at less than $11.5M
Trading at less than $1.35.
Multiple analysts have given QNRX a 'BUY' or 'STRONG BUY' Rating.
Publicly shared analyst price targets avg $6.50 per share and as high as $8 per share.[18]
Rare and Orphan Disease Focused specialty pharmaceutical company.
Innovative Pipeline with three products targeting a broad number of rare and orphan diseases, including Rare Pediatric Designations.
Plans in placeto establish a sales infrastructure to commercialize its products in both the USA and Europe.
Targeting US/EU Approvals in 2024, 2025, and 2026.
Established Strategic licensing partnerships for entry into multiple markets.
Strong Key Opinion Leader (KOL) support.
Experienced Management Team.
---
Capital Structure Statistics
Total Shares Outstanding — 8,350,000
Average Volume — 2.47 Million
Market Cap — $11.2 Million
Institution Ownership — 10.57%
---
QUICK RUNDOWN: THE PIPELINE
Quoin Pharmaceuticals Ltd. (NASDAQ:QNRX) is focused on developing innovative treatments for rare and orphan diseases, and has a pipeline that comprises three unique products (including QRX003, QRX004, and QRX006) that collectively have the potential to target a broad number of indications.
---
**FLAGSHIP** QRX003: Netherton Syndrome
QRX003 is under development as a potential therapy for the treatment of Netherton Syndrome (NS)— a rare, hereditary skin disorder leading to severe skin barrier defects and recurring infections, as well as a pronounced predisposition to allergies, asthma and eczema.
Patients also often suffer from severe dehydration, chronic skin inflammation and stunted growth.
People with Netherton Syndrome have too few layers of their outer skin (stratum corneum) so the skin does not perform its primary function as a protective barrier.
Currently, there is no cure for Netherton Syndrome, nor are there any approved therapeutic treatments.
QRX003 is a once-daily topical lotion that offers a combination of a broad-spectrum serine protease inhibitor, and is formulated with Quoin Pharmaceuticals' (NASDAQ:QNRX) proprietary Invisicare® technology. 
When applied daily to the skin, the active ingredient in QRX003 leads to a more normalized skin shedding process and the formation of a stronger and more effective skin barrier, while also acting as a potent anti-inflammatory and antioxidant.
QRX003 is also being developed to target Peeling Skin Syndrome, SAM Syndrome, and Palmoplantar Keratoderma.
---
QRX004: Epidermolysis Bullosa
QRX004 is also a topical lotion made with Quoin Pharmaceuticals' (NASDAQ:QNRX) proprietary Invisicare® technology, initially under development as a potential treatment for a group of rare and genetic skin disorders, in which the skin is so trauma or friction, which can have devastating results, cause severe pain, blistering, scarring, infection and immobility.
Known as Recessive Dystrophic Epidermolysis Bullosa (RDEB), it's diagnosed at infancy and accompanied by a high mortality rate – 76% do not live beyond their 30s.
The cost of bandaging alone can exceed $10,000 per month. 
Quoin Pharmaceuticals' (NASDAQ:QNRX) QRX004 is designed for the creation of robust and sustained type VII collagen, and for improved wound closure, reduced blistering and stronger skin.
QRX006: Undisclosed Rare Skin Disease
QRX006 is another a topical lotion that Quoin Pharmaceuticals (NASDAQ:QNRX) is developing for an, as of yet, undisclosed rare skin disease.
It contains two separate active ingredients and is designed to be applied directly to the affected site over a prescribed period.
Currently available treatment involves the daily systemic administration (oral and IV) of the same two active ingredients that are in QRX006 over a period of several weeks.
This treatment is both cumbersome and costly for patients and healthcare providers and can lead to significant unpleasant side effects, often resulting in patients discontinuing treatment.
QRX006 is designed to reduce the side effects associated with systemic treatment and enable patients to apply the product directly themselves without the need for daily visits to a hospital or clinic. 
Quoin Pharmaceuticals (NASDAQ:QNRX) applied for a patent for QRX006 in mid-2021.
---
AT THIS POINT we have identified a publicly-traded company with multiple assets in the pipeline and in planning stages of establishing sales infrastructure for the USA and Europe… and that company is
Quoin Pharmaceuticals (NASDAQ:QNRX)
---
Strategic Partnerships
Quoin Pharmaceuticals (NASDAQ:QNRX) has established partnerships with other companies and advocacy organizations.

FIRST was established to help individuals and families affected by ichthyosis. 
The organization educates, inspires, and connects families and individuals affected by Ichthyosis and related skin types. Services include biennial national family conferences, regional meetings, a regional support network, publications, advocacy and a research program.
Quoin Pharmaceuticals (NASDAQ:QNRX)  has in-licensed a bi-functional biologic from QUT for the treatment of Netherton Syndrome.
Quoin Pharmaceuticals (NASDAQ:QNRX) has entered into a licensing and distribution agreement with GenPharm for the Middle East.
AFT is Quoin's licensing and distribution partner for Australia and New Zealand.
---
Feature Company:
Quoin Pharmaceuticals
Trade Symbol – NASDAQ:QNRX
Market Cap – ~$11.3 Million
Shares Outstanding: 8.35M
---
Leaders With Experience
Quoin Pharmaceuticals (NASDAQ:QNRX) is led by a group of seasoned management, board & advisors with particular skill sets and significant wins in the pharmaceutical sector. 
Co-Founder, Chairman, CEO & Director Dr. Michael Myers brings more than 30 years of experience in the drug delivery and specialty pharmaceutical sectors. He's served as CEO of Innocoll, Inc., where he was responsible for taking that company public in 2014, and also served in presidential roles for West Pharmaceutical Services, Fuisz Technologies (Biovai), and executive positions in Flamel Technologies and Elan Corporation. Dr. Myers also serves on the Board of Directors for Sonoran Biosciences as well as on the Advisory Boards for two Penn State startup companies, Cranial Devices and Gradient T.
Co-Founder, COO & Director Denise Carter also has over 30 years of experience in the drug delivery and specialty pharmaceutical industries. Carter and Myers have both worked at Innocoll, Inc., where she served as executive vice president of business development of the drug delivery division. Ms. Carter also held executive positions at Eurand and Fuisz Technologies (Biovail).  
Among the members of the Board is Director Dr. Dennis H. Langer, MD, JD, whose spent over 35 years in the pharmaceutical industry at Eli Lilly, Abbott, Searle, GSK, and served as President at Dr. Reddy's, NA. He's also served as Director at Sirna Therapeutics (acquired by Merck), Ception Therapeutics (acquired by Cephalon), Transkaryotic Therapies (acquired by Shire), Pharmacopeia (acquired by Ligand), Cytogen (acquired by EUSA Pharma) and Delcath Systems. He currently serves as a Director at Myriad Genetics, Dicerna Pharmaceuticals and Pernix Therapeutics.
---
Before You Go…
REMEMBER THESE 5 POINTS
Quoin Pharmaceuticals (NASDAQ:QNRX) and its proprietary Invisicare® technology are

well- positioned to succeed in 2022

.
Analysts currently covering the company are

unanimous

in their

BUY

recommendations.
QNRX is a VERY tightly held stock, with

only 8.35M shares outstanding

, and

10.57% institutional ownership

.
It currently

trades at less than $1.30 per share

, but has an

average price forecast of $6.50

, with

estimates between $5-$8 for 2022

.
Big Pharma is spending BILLIONS to acquire, retain, and develop rare disease/orphan drug treatments.
So putQuoin Pharmaceuticals (NASDAQ:QNRX) on your radar, and do your own research to see why we felt it so necessary to bring it to your attention TODAY.
---
SOURCES CITED:
[1] https://www.pharmaceuticalcommerce.com/view/evaluate-pharma-predicts-a-981-billion-global-pharma-market-for-2021-up-14-3-
[2] https://www.globenewswire.com/news-release/2021/02/24/2181634/0/en/Global-Rare-Disease-Market-is-estimated-to-be-US-547-5-billion-by-2030-with-a-CAGR-of-13-1-during-the-forecast-period-by-PMI.html
[3] https://www.nasdaq.com/market-activity/stocks/qnrx/analyst-research
[4] https://www.wsj.com/market-data/quotes/QNRX/research-ratings
[5] https://www.marketwatch.com/investing/stock/qnrx/analystestimates
[6] https://www.investorsobserver.com/news/stock-update/analyst-rating-will-quoin-pharmaceuticals-ltd-adr-qnrx-stock-do-better-than-the-market
[7] https://biotuesdays.com/2022/01/07/maxim-starts-quoin-pharma-at-buy-pt-5/
[8] https://rarediseases.info.nih.gov/diseases/pages/31/faqs-about-rare-diseases
[9] https://www.fda.gov/drugs/development-approval-process-drugs/frequently-asked-questions-patents-and-exclusivity
[10] https://rarediseases.info.nih.gov/diseases/fda-orphan-drugs
[11] https://www.ema.europa.eu/en/documents/leaflet/leaflet-orphan-medicines-eu_en.pdf
[12] https://www.fda.gov/news-events/fda-voices/rare-disease-day-2020-fda-continues-important-work-treatments-rare-diseases
[13] https://www.fiercepharma.com/pharma/astrazeneca-fresh-from-alexion-deal-repelled-7-6b-buyout-rare-disease-specialist-sobi-report
[14] https://www.standard.co.uk/business/pharmaceuticals/astrazeneca-covid19-ionis-liver-rare-diseases-alexion-soriot-b970433.html
[15] https://www.fiercepharma.com/pharma/ucb-buys-rare-disease-drugmaker-zogenix-for-up-to-1-9b-bolsters-epilepsy-position
[16] https://www.reuters.com/markets/deals/recordati-buy-eusa-pharma-847-mln-boost-rare-disease-offering-2021-12-03/
[17] https://www.npr.org/sections/health-shots/2017/01/17/509506836/drugs-for-rare-diseases-have-become-uncommonly-rich-monopolies
[18] https://www.nasdaq.com/market-activity/stocks/qnrx/analyst-research 
---
DISCLAIMER:
Nothing in this publication should be considered as personalized financial advice. We are not licensed under securities laws to address your particular financial situation. No communication by our employees to you should be deemed as personalized financial advice. Please consult a licensed financial advisor before making any investment decision. This is NOT a paid advertisement and is neither an offer nor recommendation to buy or sell any security. We hold no investment licenses and are thus neither licensed nor qualified to provide investment advice. The content in this report is not provided to any individual with a view toward their individual circumstances. Equity Insider is a wholly-owned subsidiary of Market IQ Media Group, Inc. ("MIQ"). MIQ has not been paid a fee for profiling Quoin Pharmaceuticals on this website or in other market publications, but  . There we doo own shares of Quoin Pharmaceuticals which were purchased in the open market, which we plan to sell immediately and will sell in the immediate future. There may also be 3rd parties who may have purchased shares of Quoin Pharmaceuticals, and may liquidate their shares which could have a negative effect on the price of the stock. The simple fact that we own shares of Quoin Pharmaceuticals constitutes a conflict of interest as to our ability to remain objective in our communication regarding the profiled company. Because of this conflict, individuals are strongly encouraged to not use this publication as the basis for any investment decision. MIQ, our associates, employees and friends also reserve the right to buy and sell, and will buy and sell shares of Quoin Pharmaceuticals at any time hereafter without any further notice. Let this disclaimer serve as notice that all material disseminated by MIQ has not been approved by Quoin Pharmaceuticals; this is not a paid advertisement, but we own shares of the Quoin Pharmaceuticals which were purchased in the open market that we will sell commencing immediately, and we also reserve the right to buy and sell shares of the company in the open market and we will buy and sell shares in the open market commencing immedaitely.
While all information is believed to be reliable, it is not guaranteed by us to be accurate. Individuals should assume that all information contained in our newsletter is not trustworthy unless verified by their own independent research. Also, because events and circumstances frequently do not occur as expected, there will likely be differences between the any predictions and actual results. Always consult a licensed investment professional before making any investment decision. Be extremely careful, investing in securities carries a high degree of risk; you may likely lose some or all of the investment.