It's official, we are now entering 'BULL' territory in the Gold sector! When this happens, and we love when it does, it presents a multitude of opportunities for us, so we wanted to outline one such opportunity for you to take a look at:
Quadro Resources Ltd. (TSXV: QRO / FSE: G4O2) is Developing TWO Potential Breakthrough Precious Metals Projects Targeting Gold, Palladium and Platinum in Safe, Prolific Canadian Mining Zones
Back in March of 2016, the stock of a relatively small Canadian junior mining company called Marathon Gold began a 4-year run on the road to a 10x valuation.
Excitement progressively grew around its Valentine Gold Project in the world leading mining jurisdiction of central Newfoundland.[1]
To date, four gold deposits at Valentine have been delineated, and a 2018 Preliminary Economic Assessment showed it could sustain open pit mining and conventional milling over a 12-year mine life.
In total, the mineral resource on the project comprises 3.09 million ounces Measured & Indicated at 1.75 g/t Au, and another 0.96 million ounces Inferred on a 20km trend.[2]

When Marathon announced step-out drilling in March 2016 that they'd successfully expanded the Valentine deposit's mineralized corridor, the stock began to climb.
The stock's run truly began on March 20th, 2016 at $0.17. By May 10th, 2020, Marathon had more than completed the ten-bagger journey.
Today in 2020, another journey beginning on the other side of the lake… at $0.17.
Just 30km across the lake from Marathon, are two projects located within the very same Cape Ray Fault Zone as the Valentine Lake project— both 100%-controlled by the same company.
The first project is a large package, covering 12 km of the Cape Ray Fault Zone directly between not only Marathon Gold's Valentine Lake deposits, but also Australia-based Matador Mining's Cape Ray deposits.
The other project is a 192-claim unit property located proximal to Marathon's Valentine Lake deposits.
But those are only the company's gold properties.
This company also has interests in a large land position in Ontario, targeting platinum-palladium.
Just last year platinum was being deemed by analysts as the "Most Precious Metal".[3]
Now the company appears to be in the midst of a healthy 2020.
Over that period of time, this company has confirmed its approval to acquire the platinum-palladium property in Ontario, announced work on its two properties in Newfoundland, and also began trading on the Frankfurt Exchange.
It's worth taking a deeper look into why this company is in a healthy position in two of Canada's best mining jurisdictions, with a trio of projects they could build a legacy upon.
Meet Quadro Resources Ltd. (TSXV: QRO / FSE: G4O2)
Meet Quadro Resources Ltd. (TSXV: QRO / FSE: G4O2), a junior Canadian mining company targeting gold in Newfoundland and palladium/platinum group elements (PGE) in Northern Ontario.
In Newfoundland, Quadro is developing its Staghorn and Long Lake projects, both of which are gold-rich systems that have significant work planned for 2020—Staghorn in Q2, and Long Lake in Q3.
In Northern Ontario, Quadro just recently secured a 70% option on the Seagull Lake project, which comes with high-grade intercepts of PGE and targets already identified.
Quadro Resources Ltd. (TSXV: QRO / FSE: G4O2) is backed by an experienced team of mining veterans who have had successes in the junior resource sector.
By establishing its three projects (Staghorn, Long Lake, and Seagull Lake), Quadro is making a case to become a peer to its neighboring miner heavyweights, such as Marathon Gold, and Impala Platinum Holdings. Drilling and field testing to date have suggested results in line with Marathon grades and numbers.
As a Canadian junior mining company, it's also worth noting Quadro's relatively tight capital structure:
50 million shares outstanding
11 million shares held by management and insiders, including two public companies which have a financial interest in the projects

Combined with strategic partners, 40% of Quadro shares are spoken for
A COMPARISON OF NEWFOUNDLAND GOLD PROPERTIES
In terms of the Policy Perception Index (PPI) in 2019, Newfoundland and Labrador placed in the Top 10 jurisdictions in the world (and 2nd highest in Canada)—According to the most recent Annual Survey of Mining Companies put out by the Fraser Institute.[4]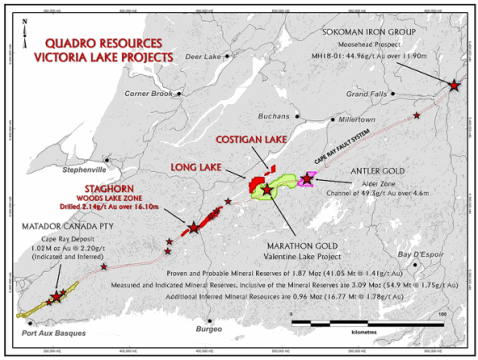 The PPI is a composite index that measures the overall policy attractiveness of all the 76 jurisdictions in the study.
Policy-wise, the jurisdiction offers a clearer path forward as companies plan out their journey to production.
In the case of both Quadro Resources Ltd. (TSXV: QRO / FSE: G4O2) and Marathon Gold Corp., there is a lot to look forward to in terms of development in Newfoundland.
Both of the companies' properties are on strike from each other, and are traversed by the auriferous Cape Ray Fault, and associated Rogerson Lake Conglomerate unit.
They're separated by a 30 km expanse of water—Victoria Lake.
Marathon's property hosts the multi-million ounce Valentine Lake gold trend, which terminates to the southwest at the short of Victoria Lake.
Whereas the northeast (Ryan's Hammer) portion of Quadro's Staghorn property extends to the opposite shore of Victoria Lake, where similar gold mineralization has been located in float and drill holes.
Marathon's gold system consists of a series of stacked Quartz-Tourmaline-Pyrite-Gold veins hosted in a granodiorite unit, proximal to the overthrust Rogerson Lake Conglomerate.
Mineralization at Quadro's Staghorn is generally hosted in Arseonpyrite-Pyrite-Quartz veins within a diorite/granodiorite unit proximal to the Rogerson Lake Conglomerate. Gold is also found in strongly sheared sediments associated with the Cape Ray structure.
Marathon has completed more than 275,000 meters of drilling.
Drilling on Quadro's Staghorn at the Ryan's Hammer, Ryan's Hammer East and Mark's Pond areas' soil anomaly amounts to approximately 1,000 meters. Two new wide auriferous zones have been discovered from this drilling, and now requires step out drilling.
It was the timing of step-out drilling in 2016 on Marathon's Valentine deposit that corresponded with the kickstart of that company's exceptional run from $0.17 to $1.76 today.
THE STAGHORN PROJECT
Quadro Resources Ltd. (TSXV: QRO / FSE: G4O2) owns a 100% interest in the large Staghorn Project land claim package that covers 12 km of the auriferous Cape Ray Fault Zone, located directly between Marathon Gold's Valentine Lake deposits and Matador's Cape Ray deposits.
To date it has completed two drill programs on the project:
In 2017 — 1466m in 9 holes focused on the Woods Lake Zone.

This program confirmed the widespread extent of an auriferous altered grandiorite within a flexure of the Cape Ray fault and will require additional drilling to better define higher grade zones within the package

In 2018 — 887m in 5 holes focused on completing a fence of holes across the Cape Ray structure at Ryan's Hammer.

This drilling combined with previous drilling to the east has partially outlined two wide gold trends with only one drill cut in each trend.
Through compiling these drill results (along with other field work such as prospecting/geophysics and soil sampling), Quadro has outlined three high priority targets in the northeast end of the Staghorn property, 30 km on strike from the Marathon Gold deposits.
In 2020 Quadro is set to embark on a proposed 2500 m drill program focused on discovery and development of deposits in the same style as Marathon Gold's.
The program includes:
Ryan's Hammer

Initially a prospecting discovery consisting of numerous slabs of angular float of mineralization granodiorite with values up to 32.15 g/t Au.

One hole drilled in 2018 as part of a fence across this area intersected 0.145 g/t Au across 50 meters.

100 meter step out holes are recommended.

Ryan's Hammer East

Located 300 to 500 meters across strike from the high grade float, previous drilling intersected 0.184 g/t Au over 71.2 meters in a moderately veined and altered granodiorite.

Additional drilling is required to further test the granodiorite.

Mark's Pond

This target is outlined by a 800 m by 300 m gold-in-soil anomaly with values up to 7,000 ppb gold.

The target is coincident with the northern edge of a diorite intrusive body and the regionally significant Rogerson Lake conglomerate.

Four holes are planned to test this soil anomaly.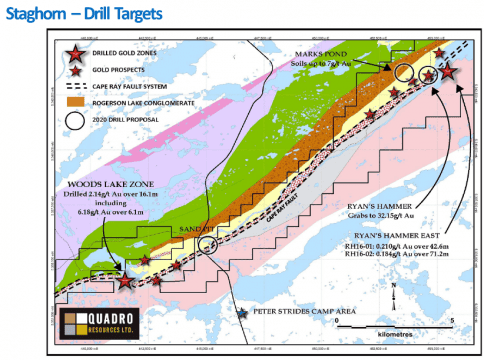 ANOTHER NEWFOUNDLAND GOLD CONTENDER
Further complimenting Staghorn is the Long Lake Property, which Quadro Resources Ltd. (TSXV: QRO / FSE: G4O2) has an option to earn a 100% interest in.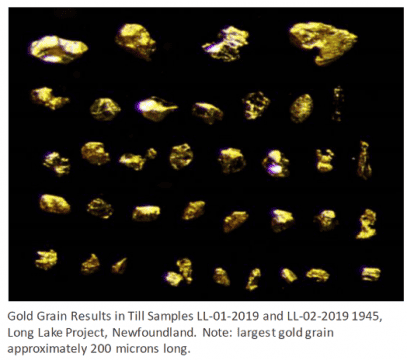 The 192 claim unit property is located proximal to Marathon Gold's Valentine Lake deposits.
Long Lake's property highlights include two areas of strong gold in soil and tills which to date have never been followed up.
Vendors took two till samples from a Tower gold-in-soil anomaly and processed them at Overburden Drilling Management Limited (ODM).
Both samples were highly anomalous as follows:
According to Don Holmes, P.Geo of ODM in late 2019, the No. 01 sample was collected at the site of a historical gold soil geochemical anomaly, and No. 02 was collected several meters adjacent.
A program of excavator trenching, prospecting and additional geochemistry is planned in 2020.
Quadro plans to drill high grade zones that have been identified by soil testing. With approximately 200 Sq. Kms over the two assets, there is more than enough running room to replicate the size and scope of Marathons Victoria Lake project.
CHASING PLATINUM-PALLADIUM IN ONTARIO
In 2019, the lesser talked about palladium took off to become the hottest precious metal in the world.
Among experts, it even opened this year being labeled as "more precious than gold".[5]
Primarily mined in Russia and South Africa, 85% of palladium ends up in catalytic converters in car exhausts to reduce air pollution. However usage started increasing as governments (especially China's) started raising standards on pollution from vehicles.[6]
Now there are supply concerns over the obscure metal as it traded above gold for most of the past year.
Earlier this year in February, Quadro Resources Ltd. (TSXV: QRO / FSE: G4O2) announced an option to acquire a 70% interest in the platinum-palladium prospective Seagull Lake Property from White Metal Resources Corp.
Located an hour north of the port city of Thunder By, and 50km south of Impala Canada's Lac des Iles Mine (previously North American Palladium), the Seagull Lake property comes with excellent infrastructure—including paved and gravel roads, natural gas pipeline and power lines in the area.
Impala Canada recently paid $1.0 billion to acquire North American Palladium's Lac des Ile Mine—Canada's only primary PGE mine.
Quadro's Seagull asset is comprised of 492 single cell mining claims totaling 10,390 hectares. Historic holes on the property targeted semi massive to massive sulphides at +800m depths.
Drill intersections include grades of up to 3.6 g/t PGE, 0 34% Cu, 0.21% Ni over 21 m, and 1.04 g/t PGE, 0.14% Cu, and 0.16% Ni over 16 m.
Three styles of PGE mineralization have been identified in the Seagull Intrusion: PGE rich detrital "black sands", magnetite PGE rich layered "reef type", and "Norilsk type" basal Cu Ni PGE rich sulphide bearing cumulates.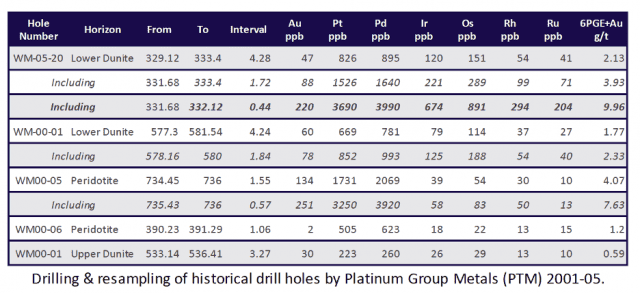 The company believes there is potential for the discovery of a Norilisk (Siberia) type PGE Cu Ni and contact type PGE sulphide mineralization.
Judging by other plays in the area this could be plausible.
The tremendous potential of the Thunder Bay North region is evidenced by Rio Tinto's Escape Lake property (recently consolidated by Clean Air Metals Inc.), and Impala Canada's Sunday Lake Property, which has had the following results:
35.8 m of 4.5 g/t Pt+Pd+Au ("3E")
41.2 m of 3.22 g/t Pt, 2.08 g/t Pd, 0.21 g/t Au.
PGE zones at Seagull are wide open for expansion and drill permitting is underway.
Quadro's work program will comprise of follow-up drilling on the high-grade intercepts identified by PTM and testing the PEM OFF HOLE geophysical anomaly that was never properly tested by PTM due to deviation of the previous drill holes.
The company will also test a magnetic anomaly considered to be the feeder zone for the Seagull Intrusion and a possible source of the copper, nickel, PGE mineralization.
Additional targets include the up-dip potential of the Lower Dunite Reef Zone PGE mineralization. Compilation of the existing data base accumulated by the previous operators is in progress and additional PGE targets have been defined from the 3D Mag inversion data.
VETERAN MINING MANAGEMENT TEAM AND BOARD
T. Barry Coughlan, BA – President & Chief Executive Officer, Chairman
Vancouver based businessman and financier Coughlan has been involved for more than 30 years in the financing of publicly traded companies. He's presently a director of five publicly traded companies and was previously a director of Taseko Mines Ltd., Great Basin Gold Ltd., Farallon Mining Ltd., and Continental Minerals Corp. Over his career he has been involved in the financing of +30 private companies and their subsequent listings on North American Stock Markets. He is currently the Executive Chairman of Mineral Mountain Resources Ltd.
Wayne Reid, P.Geo – Vice-President Exploration
Spanning a variety of Canadian geological terrane, from Newfoundland to Northern B.C. and Alaska, Reid has +35 years of experience in exploration and mining geology, involving gold, base metal and uranium exploration in most geological environments in North America. He was part of the team in the discovery of the Brewery Creek Gold Deposit in the Yukon Territory and the Boundary Massive Sulphide Deposit / Duck Pond Mine in Central Newfoundland.
Tom Wilson, CPA-CA – Chief Financial Officer
Wilson has more than 35 years of corporate experience in all areas of financial management and administration including corporate governance, government and securities compliance and financial administration, for both public and private companies. Within the mining sector, he's been CFO for the following companies: Quadro Corp., ICN Resources Ltd., Paragon Minerals Corporation. Previously, Mr. Wilson was the VP/Treasurer of Cellfor Inc.; the CFO for Quest University; Corporate Controller for MDSI; and Senior Manager at MacMillan Bloedel Limited.
Gordon Fretwell, B.Comm., LL.B. – Corporate Secretary
Formerly a partner in a large Vancouver law firm, Fretwell has, since 1991, been practicing primarily in the areas of corporate and securities law. He currently serves on the board of several public companies engaged in mineral exploration including: Asanko Gold Inc., Quartz Mountain Resources Ltd., Canada Rare Earth Corp, and Coro Mining Corp.
Brian Corrall, CA – Director
Corrall is the former President of CWA Consultants Inc. and Chief Financial Officer of GB Energy Holdings Inc. He's held various financial positions at MacMillan Bloedel/Weyerhaeuser, BC Coastal Region for 30 years and served as a Director of Finance until November 2005. He's been a Director of Quadro Resources Ltd. since January 2005 and served as an Independent Director of ICN Resources Ltd (formerly Icon Industries Ltd.) until September 2009. Corrall has been a Chartered Accountant and Financial Consultant since December 2005.
Trevor Thomas, LL.B. – Director
Thomas has practiced in the areas of corporate commercial, corporate finance, securities, and mining law since 1995, both in the private practice environment as well as in-house positions and is currently general counsel for Hunter Dickinson Inc. Prior to joining Hunter Dickinson Inc. he served as in-house legal counsel with Placer Dome Inc.
Nelson Baker, P.Eng. – Director
Baker has been active in the mineral exploration industry for over 50 years. He has been the President and CEO of Mineral Mountain Resources Ltd. since July 2010. Over the years he has served on several boards particularly in the junior resource sector. He was one of the founding principles of Rainy River Resources Ltd., and served as a director, President and CEO of Rainy River from March 2005 to June 2009. During that period, he and his team successfully expanded the Rainy River gold deposit from 450,000 ounces to 5 million ounces of gold.
Stephen Stares – Advisor to the Board
President and CEO of Benton Resources, Stephen Stares is a successful mining entrepreneur with +25 years' experience in mineral exploration. With Noranda exploration he spent 7 years on projects including the Hemlo gold mines, Eagle River gold deposit and the Geco and Mattabi base metal camps. He also spent 10 years managing the operations of Stares Contracting Corp., a successful mineral exploration services company based in Thunder Bay, Ontario. In March 2007, Stephen and brother Michael, were the proud recipients of Prospectors and Developers Association (PDAC) Bill Dennis Prospector of the Year Award. This award was given to recognize the family's contributions to the industry of the past 40 years.
Alexander "Sandy" Stares – Advisor to the Board
President and CEO of Metals Creek Resources, "Sandy" Stares has +18 years' experience in mineral exploration, spanning a variety of Canadian geological terranes, from Newfoundland to Yukon. Prior to forming his own Contracting Company – Stares Prospecting Ltd. – he worked with IndoMetals, Rubicon Minerals Corporation, Freewest Resources of Canada, New Millenium, Lac Des Isle Mines and Noranda. He was instrumental in the discovery of the H-Pond Gold Prospect and the Lost Pond Uranium Prospect. He has discovered numerous major mineral occurrences in Canada and abroad which have been the subject of extensive exploration programs. He was also one of the recipients of the PDAC's Bill Dennis Prospector of the Year Award" in March 2007, which was awarded to members of the Stares/Keats family.
---
5 Key Highlights to Remember for Quadro Resources Ltd. (TSXV: QRO / FSE: G4O2)
Promising Newfoundland Real Estate over two propertiesincluding the Staghorn Gold project near Marathon Gold's ~4.2 million oz Valentine Lake Deposits, and the Long Lake Gold property immediately north of Marathon Gold's Valentine Lake property.
Seagull Lake Property in Ontario within an hour of the city of Thunder Bay, and 28km north of new copper, nickel, platinum, palladium discoveries of Rio Tinto and Magma Metals, and 50km southeast of the North American Palladium mine.
Extensive Exploration Programs planned in 2020 on all three projects, with the goal of step-out drilling to expand the deposits.
Tight Share Structure with 50 million shares trading. Strategic partners and management have approximately 40% interest of the shares I/O.
Proven Management Team and advisor board, with plenty of Canadian mining experience in a variety of terrane.
---
[1] https://www.gov.nl.ca/nr/files/pdf-wf-mining-2018.pdf
[2] https://www.marathon-gold.com/projects/flagship-project/valentine-lake/project-highlights/
[3] https://www.bloomberg.com/news/articles/2019-10-28/why-palladium-is-suddenly-a-more-precious-metal-quicktake-k2ap4ryc
[4] https://www.fraserinstitute.org/sites/default/files/annual-survey-of-mining-companies-2019.pdf
[5] https://www.bbc.com/news/business-51171391
[6] https://www.bloomberg.com/news/articles/2020-01-20/why-palladium-is-suddenly-a-more-precious-metal-quicktake-k5n00l9z
---
Disclaimer
Nothing in this publication should be considered as personalized financial advice. We are not licensed under securities laws to address your particular financial situation. No communication by our employees to you should be deemed as personalized financial advice. Please consult a licensed financial advisor before making any investment decision. This is a paid advertisement and is neither an offer nor recommendation to buy or sell any security. We hold no investment licenses and are thus neither licensed nor qualified to provide investment advice. The content in this report or email is not provided to any individual with a view toward their individual circumstances. Equity Insider is a wholly-owned subsidiary of Market IQ Media Group, Inc. ("MIQ"). MIQ has been paid a fee for Quadro Resources Ltd. advertising and digital media from the company directly. There may be 3rd parties who may have shares of Quadro Resources Ltd., and may liquidate their shares which could have a negative effect on the price of the stock. This compensation constitutes a conflict of interest as to our ability to remain objective in our communication regarding the profiled company. Because of this conflict, individuals are strongly encouraged to not use this publication as the basis for any investment decision. The owner/operator of MIQ own 1,090,476 restricted shares of Quadro Resources Ltd. and 545,238 restricted warrants exercisable at $0.25 which were purchased as a part of a private placement that was entered into on June 24, 2020. These shares and warrants will have their restriction lifted on October 24, 2020 at which point MIQ fully expects to sell/exercise them all. MIQ will not buy or sell shares of Quadro Resources Ltd. for a minimum of 72 hours from the date this report was posted (July 20, 2020), but reserve the right to buy and sell, and will buy and sell shares of Quadro Resources Ltd. at any time thereafter without any further notice. We also expect further compensation as an ongoing digital media effort to increase visibility for the company, no further notice will be given, but let this disclaimer serve as notice that all material disseminated by MIQ has been approved by Quadro Resources Ltd.; this is a paid advertisement, and we own shares of the mentioned company that we will sell, and we also reserve the right to buy shares of the company in the open market, or through further private placements.
While all information is believed to be reliable, it is not guaranteed by us to be accurate. Individuals should assume that all information contained in our newsletter is not trustworthy unless verified by their own independent research. Also, because events and circumstances frequently do not occur as expected, there will likely be differences between the any predictions and actual results. Always consult a licensed investment professional before making any investment decision. Be extremely careful, investing in securities carries a high degree of risk; you may likely lose some or all of the investment.