Scientists in Peru have found tree species that thrive in land poisoned by gold miners; now they have started planting
Flying above the Tambopata River in a single-engine Cessna turboprop, the panorama is desolate. Jungle rivers are ripped open into a delta of sand dunes and stagnant, discoloured ponds. Ant-sized bulldozers roll down mud paths on the soggy moonscape dotted with glinting corrugated iron rooftops.
Amid the roar of the propellers, Cesar Ascorra eagerly points to a cluster of newly planted saplings in the sand. They are evenly spaced, like a polka dot pattern, but the area they cover is dwarfed by the swathe of destruction carved by illegal gold miners.
"It's a start," says Ascorra. "We've reforested 42 hectares (104 acres) of land deforested by illegal gold mining," he says.
The amount, so far, may seem like a proverbial grain of sand in a desert of carnage. In this region of south-eastern Peru, there was more deforestation last year than ever: 9,860 hectares or 38% of the total amount. Since 1985, the uncontrolled alluvial mining has destroyed nearly 100,000 hectares of rainforest, according to the CINCIA Amazon research institution.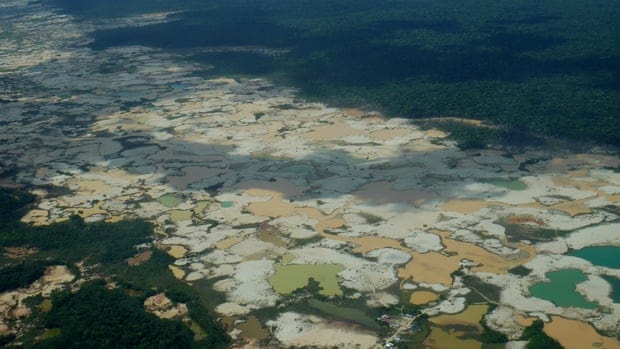 But the damage goes beyond felling trees. Around 180 tonnes of mercury are dumped every year into the rivers, lakes and soils of the biodiversity hotspot which was visited by Pope Francis in January, according to studies by Peru's Artisanal Gold Council.
As part of the reforestation experiment, scientists are trying out tree species which can survive in the sand left behind by mining. They are also using bio-char compost, made from locally grown Brazil nut shells, to block the absorption of mercury from the soil into the trees and to regenerate the topsoil.
Among the saplings planted is the mighty shihuahuaco which could grow to be one of the tallest trees in the forest and is the preferred nesting place for the rare harpy eagle.
Miles Silman, head of the Wake Forest Centre for Energy, Environment and Sustainability which partners with CINCIA, says these are by far the largest trials of restoration on mined lands in the lowland tropics.
The practice is not confined to Peru but is common in the forests of Brazil, Colombia and increasingly Venezuela, driven by its economic crisis.
"Mining is about as destructive a land use as you could think of short of nuclear annihilation," he tells the Guardian. "But, there are trajectories where it is a tragedy, full stop, and there are trajectories where you are left with a landscape that can heal for future uses."
At this experimental stage, the scientists are "looking at methods and technologies to address the problem at scale," he explains. The next step, he says, is to work with the miners and communities to "implement them at scale".
The gold fever, which exploded after the 2008 global economic crisis and the metal's vertiginous price rise, has brought tens of thousands of fortune-seeking migrants to the jungle from poor Andean regions nearby.
While the use of mercury is cavalier and commonplace, some miners have been persuaded to try out new machinery which uses gravity separation and bypasses the use of the toxic heavy metal to bind with the gold.
"They get more gold," says Walter Torres, engineer with Peru's innovation and technology institute CITE, in Madre de Dios. "At the moment they (the miners) are getting around 50%, with these machines they can increase their yield to 80%. That's guaranteed."
The mining corridor stretches like a festering wound along the basin of the Madre de Dios river, and has spread to other rivers. But there are still provinces untouched by mining, such as Tahuamanu, at the intersection of Peru, Bolivia and Brazil, which has become a model for sustainable forestry.
Some 70% of the province is made up of logging operations approved by the Forestry Stewardship Council, says Nelson Kroll, manager of the 220,000-hectare Maderacre concession, which supplies sustainable timber, mainly to Europe.
"The way to go forward has to do with science and technology," says Kurt Holle, the new director of WWF Peru who for two decades ran Rainforest Expeditions, an eco-tourism business in Madre de Dios.
"You have to form citizens who want to do, rather than have to do, what is right for nature," he says, citing his experience in engaging an indigenous community in nature tourism and creating a natural buffer against mining.
Mining's get-rich-quick appeal makes its spread seem inexorable, but some local people are fighting to secure their region's long term survival.
"We bring the science closer to the people to help them solve everyday problems," says Ascorra.
"There's still a lot of green and the green is hope."