Precision Diagnostics Developers Navidea Biopharmaceuticals Inc. (NYSE:NAVB) Leveraging FDA-Approved Proprietary Tech to Target Several Costly Diseases
Before we get into what Navidea Biopharmaceuticals Inc. (NYSE:NAVB) does, and why we think it's a good play, we wanted to point something out.

One of the best indicators that something is about to happen with any particular stock is when INSIDERS start buying up the stock. In this case, you need to know a few facts, facts that will undoubtedly show you that your timing is near perfect with this trade:

Navidea Biopharmaceuticals Inc. (NYSE:NAVB) has seen significant Insider buying lately: John Scott, a 10%+ holder of Navidea just purchased an additional 2,373,529 shares on February 13, 2020, which brings his total ownership up to 8,052,301
Navidea has 40 different institutional investors, which is very impressive for a NYSE company priced so low, and you can bet there's a reason for this.
More impressive is the amount of shares that are held by insiders. We added up the insider roster found at Fintel.io and calculated a total of 16,354,087 shares that are held by insiders, which is HUGE because according to the Wall Street Journal, the company only has 22.58M shares outstanding. By our calculations, that means 72.4% is held by insiders!
What does all this mean? Put simply, any significant, or even semi-significant market activity will push the stock price of this company through the roof, and in our opinion, it's just a matter of time, probably sooner than later.
---
Let's take a look at what Navidea Biopharmaceuticals Inc. (NYSE:NAVB) does, because we want to outline why we think it's a good buy right now
"A stitch in time saves nine", is a very popular proverb warning about the dangers of procrastination. But in the case of healthcare and precision diagnostics, that early stitch could save BILLIONS. One clear example of this is the growing problem of Rheumatoid Arthritis (RA), which is being increasingly diagnosed in the population, due to an ever-aging populace.[1]
Some estimates place the direct and indirect burden cost of arthritis and related rheumatic conditions on the economy at around $353 billion.[2] The societal burden on the US economy is greater than $39 billion annually.[3]. Not only is the Global Rheumatoid Arthritis Drugs Market projected to be worth $50.5 Billion by 2025[4], but the amount of lost work hours and productivity attributed to RA also make a significant dent on society.
Despite having no cure, doctors recommend that patients adhere to suggested treatments early in diagnosis to decrease the severity of symptoms[5]—the earlier the better. Across many of the most prominent and costly diseases in the world, early detection is incredibly important, when it comes to predicting success.
Not only for patients with rheumatoid arthritis, but also with cancer, and cardiovascular disease (CVD). But rheumatoid arthritis can be difficult to diagnose in its early stages because the early signs and symptoms mimic those of many other diseases. According to the Mayo Clinic, there is no one blood test or physical finding to confirm the diagnosis.
There is no cure for rheumatoid arthritis, but clinical studies indicate that remission of symptoms is more likely when treatment begins early with medications known as disease-modifying antirheumatic drugs (DMARDs), steroids, or Nonsteroidal anti-inflammatory drugs (NSAIDs). In order to obtain early detection of these symptoms (not only in RA, but in cancer, CVDs and other auto-immune disorders), one under-the-radar NYSE company is developing a platform that has wide ranging potential in the field of immuno-diagnostics and immuno-therapeutics.
This company has developed a proprietary FDA- and EMEA-approved delivery system that targets a receptor found associated with several diseases, called activated macrophages. With Phase II and Phase III studies ongoing across conditions, this advanced precision diagnostics platform has extreme game-changing potential for many of healthcare's biggest problems.
Meet Navidea Biopharmaceuticals, Inc. (NYSE:NAVB), a still lesser known innovator, that's developed the ManoceptTM Precision Targeting Platform.
In-Depth Look:
Navidea Biopharmaceuticals, Inc. (NYSE:NAVB)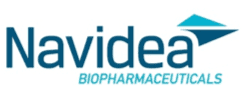 ANALYST OVERVIEW:
Company – Navidea Biopharmaceuticals, Inc.
Rating – STRONG BUY
Navidea's analyst coverage includes:
Meet Navidea Biopharmaceuticals, Inc. (NYSE:NAVB)—a still under-the-radar precision medicine leader with immuno-targeted products designed to help identify the sites and pathways of undetected disease and enable better diagnostic accuracy, clinical decision-making, targeted treatment, and ultimately, patient care.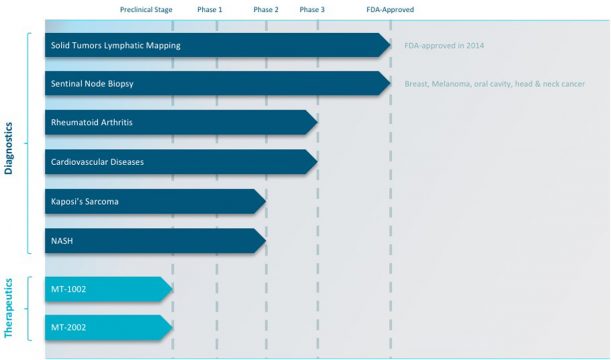 The Company focuses on the development of innovative immunodiagnostic agents and immunotherapeutics that can and will make a difference for individuals, as well as their families, physicians and care givers, touched by devastating conditions like cancer, autoimmune, infectious and inflammatory diseases.
Through its Manocept™ technology, Navidea seeks to develop next-generation targeted diagnostics and therapies for cancer, autoimmune conditions, and other inflammatory diseases. The company is developing a pipeline of immunodiagnostic applications beginning with rheumatoid arthritis, Kaposi's sarcoma and cardiovascular disease with an addressable market that is substantial.
Navidea's strategy is to deliver superior growth and shareholder return by bringing to market novel products and advancing the Company's pipeline through global partnering and commercialization efforts.
Meet the ManoceptTM Precision Targeting Platform
Navidea Biopharmaceuticals, Inc. (NYSE:NAVB) is developing multiple precision-targeted products based on its ManoceptTM platform. This state-of-the-art platform enhances patient care by identifying the sites and pathways of disease, enabling diagnostic accuracy, clinical decision-making, and targeted treatment.
Navidea's Manocept™ platform is predicated on the ability to specifically target the CD206 mannose receptor expressed on macrophages. Macrophages play important roles in many disease states and are an emerging target in many disorders. This flexible and versatile Manocept platform acts as an engine for purpose-built molecules that may enhance diagnostic accuracy, clinical decision-making, targeted treatments and ultimately patient care. As an immunodiagnostic tool, the Manocept technology has the potential to utilize a breadth of imaging modalities, including SPECT, PET, intra-operative and/or optical-fluorescence detection. By adding a therapeutic agent on the Manocept molecular backbone, there is the potential to develop novel, targeted immunotherapies specifically designed to selectively deliver a drug that can kill or alter disease-associated macrophages.
Through expanding its focus on developing its innovative ManoceptTM platform, Navidea presents an interesting investment opportunity in a growing diagnostics market. The Manocept platform is protected by issued patents and has been FDA- and EMEA-approved.
These approvals confirm that the product is:
effective at targeting its receptor
safe when dosed at a dose that is effective at targeting its receptor and
the manufacturing stability and related concerns have been successfully addressed with at least one compound.
The Manocept platform serves as the molecular backbone of Tc99m tilmanocept—the first product developed and commercialized by Navidea based on the platform. Not only has the company worked on the platform for diagnostics, but Navidea has also demonstrated in numerous animal models that they can:
Selectively deplete or convert the disease-causing macrophages with a short acting agent to comprehensively treat the disease by eliminating all the disease-causing agents but in a highly selective manner so that we do not
Suppress or in any way diminish the immune system from reacting as needed to normal immunological stimuli.
The activated macrophage is critical to both fighting disease and, when improperly activated, causes and/or potentiates many of the most important diseases such as many forms of cancer or autoimmune diseases.
Cancer – potentiating the immune system's support of the tumor via production of VEGF, numerous checkpoint inhibitor ligands, proteases crucial for metastasis etc.
Autoimmune diseases – via production of TNF alpha, superoxide's, IL-12, increase T1's and many other pro-inflammatory chemokines and cytokines)
Growth in Immuno-Diagnostics Market
There is a steady growth being predicted and witnessed in the Global Immunodiagnostics Market which is projected to reach $17.8 billion by 2022 with CAGR of 7.3%[6] and $22.7 billion by the end of 2025.[7]
For Navidea Biopharmaceuticals, Inc. (NYSE:NAVB) there is an opportunity to capitalize on the growing performances of its diagnostics stock peers, while also targeting the precision medicine market as well.
The Precision Medicine Market is projected to be worth $85.5 Billion by 2025, growing at a CAGR of 9.9%.[8]
Diagnostics Peer Stocks
Envisioning a World Where Disease can be Precisely Identified and Treated
Beyond Rheumatoid Arthritis, Navidea Biopharmaceuticals, Inc. (NYSE:NAVB) is also developing other prospects in its diagnostics pipeline, including:
Cardiovascular Disease (CVD)

92 million Americans living with CVD

Leading cause of death in the US

Kaposi Sarcoa (KS)

Orphan Disease that is highly life threatening in a minority of patients
Developing Drug Delivery Model with World-Class Partnerships
Navidea Biopharmaceuticals, Inc. (NYSE:NAVB) is also pursuing the drug delivery model, meaning the company will continue to develop the core technology and focus its efforts on providing potential partners, who will fund and manage the commercialization efforts for specific applications of interest to them, with products designed to maximize the performance and value for specific indications.
Navidea's plan is to partner the existing imaging agents and to continue to develop new indications using existing funds, grants and partner payments.
For example, oral or topical formulations for chronic inflammatory conditions; for CNS indications, products that cross the blood brain barrier; for cancer, longer-acting more-powerful agents; and for therapeutics, they have plans to spin out Macrophage Therapeutics and raise venture capital funding to enable expanded IP and product development for acute indications and orphan diseases while continuing to expand partnering discussions for larger indications.
On March 3, 2017 Navidea Biopharmaceuticals, Inc. (NYSE:NAVB) completed the sale of the North American rights to Lymphoseek® to Cardinal Health 414, receiving approximately $82 million at closing. Navidea will have the opportunity to earn up to $227 million of additional consideration through 2026, with $17.1 million guaranteed over the next three years.
Impressive Management Team and Board Leading the Way
The Management Team and Board of Directors of Navidea Biopharmaceuticals, Inc. (NYSE:NAVB) are leaders in research, development, and commercialization of precision diagnostic and radiopharmaceutical imaging agents.
The company is led by CEO, CFO and COO Jed A. Latkin, a former Portfolio Manager at Nagel Avenue Capital, ING Investment Management, and Morgan Stanley Investment banking.Latkin previously served as CFO of Viper Powersports, CEO of End of Life Petroleum Holdings, CEO of Black Elk Energy, Portfolio Manager of Precious Capital and CFO of West Ventures. He currently serves on the boards of the Renewable Fuels Association and Buffalo Lake Advanced Biofuels
He's joined by Chief Compliance Officer, William Regan, who served as Principal of Regan Advisory Services (RAS) consulting on all aspects of regulatory affairs within pharma, biotech and diagnostic imaging business, including PET, contrast agents and radiopharmaceuticals. Prior to RAS, Regan managed radiopharmaceutical manufacturing, quality assurance, pharmaceutical technology and regulatory affairs at Bristol-Myers Squibb (BMS), also serving as global regulatory head for BMS' Medical Imaging business
Chief Medical Officer, Dr. Michael Rosol brings training and experience in the fields of biophysics, physiology, and biological/medical imaging, with work focused on cardiovascular imaging, preclinical and clinical imaging instrumentation and applications, animal models of human disease, pathophysiology, biomarkers, and imaging in toxicological and clinical trials.
Prior to joining Navidea, Dr. Rosol has served as Associate Director in the Clinical and Translational Imaging Group at Novartis Institutes for BioMedical Research, Senior Director of Business Development at Elucid Bioimaging, Inc., Chief Scientific Officer of MediLumine, Inc., and the Head of the Translational Imaging Group at Novartis Pharmaceuticals Group.
The Navidea Board of Directors includes Michael Rice, Dr. Claudine Bruck, Dr. Kathy Rouan,and Adam Cutler.
Rice is a founding partner of LifeSci Advisors, LLC and LifeSci Capital, LLC, companies which he co-founded in March 2010. Prior to co-founding LifeSci Advisors and LifeSci Capital, Mr. Rice was the co-head of health care investment banking at Canaccord Adams, and a Managing Director at JPMorgan/Hambrecht & Quist. Mr. Rice currently serves on the board of directors of RDD Pharma, a specialty pharmaceuticals company.
Dr. Bruck is co-founder and has served as Chief Executive Officer of Prolifagen LLC, and is a member of the board of directors of QRPharma. In 1985, Dr. Bruck joined GlaxoSmithKline ("GSK") to build GSK's HIV vaccine program. In her role in GSK's vaccine group, Dr. Bruck was instrumental in the development of GSK's HPV vaccine (Cervarix), and headed their cancer vaccine program from inception to Phase 2 before joining the drug discovery group of GSK
Also with a GSK connection is Dr. Rouan who was appointed SVP and Head of Projects, Clinical Platforms and Sciences for the pharma giant. The PCPS organization within GSK encompasses the Global Clinical Operations, Statistics and Programming, Clinical Pharmacology, GCP Quality, Third Party Resourcing and Project Management functions and includes approximately 1,800 staff in 20 countries.
Adam Cutler currently serves on the Board of Directors for Inmed Pharmaceuticals, and joined Molecular Templates, Inc. as its Chief Financial Officer in November 2017. Prior, he was Senior Vice President of Corporate Affairs for Arbutus Biopharma Corporation, where he was responsible for investor relations and contributed to the company's business development and corporate finance efforts. Mr. Cutler has also worked as a biotechnology equity research analyst with Credit Suisse, Canaccord Genuity, JMP Securities, and Bank of America Securities.
—
8 Reasons to Further Examine
Navidea Biopharmaceuticals, Inc. (NYSE:NAVB)
Insider buying / holdings: With recent major insider buying activity, and the fact that insiders account for over 72% of the outstanding share structure, makes Navidea very attractive to us.
Focus on Rheumatoid Arthritis because it involves over 1M patients in the US, creating a $39B drag to the US Economy, and servicing the 2nd largest drug category globally.
FDA/EMA-approved diagnostic product, the ManoceptTM platform is effective at targeting its receptor, with safe dosage and manufacturing stability.
Non-invasive imaging targeting CD206 receptors on Activated Macrophages offers potential for effective treatment.
Experienced management team and board with successes in portfolio management and drug development with major pharmaceutical companies, including GSK.
Proprietary FDA- and EMEA-approved delivery system that targets a receptor expressed only on activated macrophages.
Overcoming lack of biomarkers in the market to guide treatment selection and/or monitor response.
Allows physicians an inside look at their patients' developments, including early indication of treatment effectiveness.
As any investment in the stock market, investing in any security can be risky. Investors should do their reasonable due diligence by reading the risks and uncertainties as detailed in the company's most recent 10-Q and 10-K filings with the SEC.
The Editors
USA News Group
---
Sources:
[1] https://www.ncbi.nlm.nih.gov/pmc/articles/PMC4845363/
[2] https://www.healthline.com/health-news/rheumatoid-arthritis-heavy-cost-to-patients-economy#1
[3] https://www.ncbi.nlm.nih.gov/pubmed/30589626
[4] https://www.ihealthcareanalyst.com/global-rheumatoid-arthritis-drugs-market/
[5] https://www.rheumatoidarthritis.org/treatment/
[6] https://www.alliedmarketresearch.com/immunodiagnostics-market
[7] https://www.fortunebusinessinsights.com/industry-reports/immunodiagnostics-market-100444
[8] https://www.grandviewresearch.com/press-release/global-precision-medicine-diagnostics-therapeutics-market
---
DISCLAIMER
Nothing in this publication should be considered as personalized financial advice. We are not licensed under securities laws to address your particular financial situation. No communication by our employees to you should be deemed as personalized financial advice. Please consult a licensed financial advisor before making any investment decision. The information contained in this report has not been paid for by the profile company, Navidea Biopharmaceuticals, Inc., and is neither an offer nor recommendation to buy or sell any security. We hold no investment licenses and are thus neither licensed nor qualified to provide investment advice. The content in this report is not provided to any individual with a view toward their individual circumstances. USA News Group is a wholly-owned subsidiary of Market IQ Media Group, Inc. ("MIQ"). MIQ has not paid a fee for Navidea Biopharmaceuticals, Inc. advertising, digital media, content creation. There may be 3rd parties who may have shares of Navidea Biopharmaceuticals, Inc., and may liquidate their shares which could have a negative effect on the price of the stock. The owner/operator of MIQ have purchased 85,000 shares in the open market prior to the dissemination of this report and will sell these shares in the open market commencing immediately. The fact that we own shares of Navidea Biopharmaceuticals, Inc. constitutes a conflict of interest as to our ability to remain objective in our communication regarding the profiled company. Because of this conflict, individuals are strongly encouraged to not use this publication as the basis for any investment decision. The owner/operators of MIQ reserve the right to buy and sell, and will buy and sell shares of Navidea Biopharmaceuticals, Inc. at any time commencing immediately without any further notice. Let this disclaimer serve as notice that all material disseminated by MIQ has not been approved by Navidea Biopharmaceuticals, Inc.; this is not a paid advertisement, we are not licensed under any securities laws to provide investment advice, this publication is not investment advice, nor is this publication any sort of personalized financial advice, and we own shares of Navidea Biopharmaceuticals, Inc. that we will sell immediately, and we also reserve the right to buy shares of the company in the open market.
While all information is believed to be reliable, it is not guaranteed by us to be accurate. Individuals should assume that all information contained in our newsletter is not trustworthy unless verified by their own independent research. Also, because events and circumstances frequently do not occur as expected, there will likely be differences between the any predictions and actual results. Always consult a licensed investment professional before making any investment decision. Be extremely careful, investing in securities carries a high degree of risk; you may likely lose some or all of the investment.