Dovish Fed Drives Equities Higher
Domestic equity markets posted a strong performance this week with each of the main indices recording gains. A series of statements from Federal Reserve Chairman Jerome Powell, which the market understood to be dovish, propelled stocks higher on Thursday. It is likely not all investors were convinced by the recent bout of equity strength and remain on the sidelines until the conclusion of the G20 summit in Buenos Aires. Still, the three largest broad index tracking exchange traded funds (ETF) saw substantial inflows and the S&P 500 notched its best weekly performance since December 2011.
S&P 500 Price Chart Daily, Year-to-Date (Chart 1)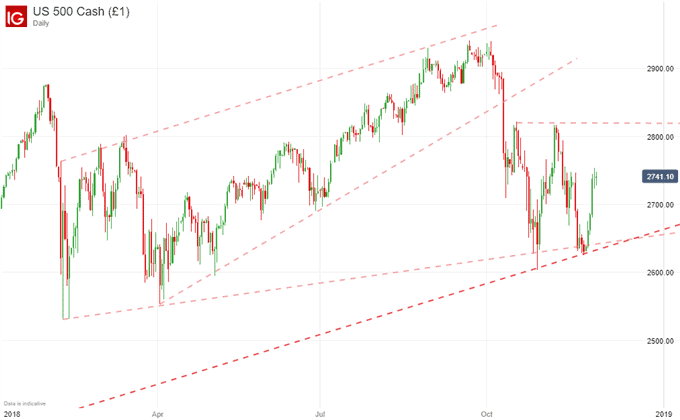 The ETF mega-cap trio of SPY, IVV and VOO posted aggregate inflows totaling $7.5 billion this week. The inflows are the largest weekly increase since late September where the funds saw their assets under management increase by $11.5 billion. It seems many investors were able to capture the strong performance of the indices this week but some shied away from the volatility and favored more conservative funds.
Aggregate Fund Flows for Broad Market ETFs versus S&P 500 Performance (Chart 2)
Short-Term Government Bonds see Consistent Demand
The funds BIL and SHY, which track the return of short-term government bonds, saw substantial inflows this week and recorded the highest single-day inflow in the last year. Together, the two funds have seen $3.7 billion in fresh funds in the month of November. The broad bid likely comes from the attractive risk-return profile they offer. Their effectively risk-free return around 2.25-2.50% is proving hard to pass up for many investors given the recent volatility and uncertainty. The demand for a relatively low-risk positions was echoed by flows into the healthcare sector.
BIL and SHY ETF Fund Flows (Chart 3)
Healthcare ETF Exposure Climbs
Exchange traded funds that provide exposure to healthcare stocks (XLV, VHT, XBI) also saw notable inflows this week. Seen as a non-cyclical and thus defensive industry, many investors dive to healthcare shares in times of uncertainty or broad market underperformance. The three funds saw $325 million in fresh capital this past week alone. Their inflows suggest some investors are still weary of equity performance or perhaps stability which is unsurprising given the huge event risk this weekend.
XLV, XBI, VHT ETF Aggregate Fund Flows (Chart 4)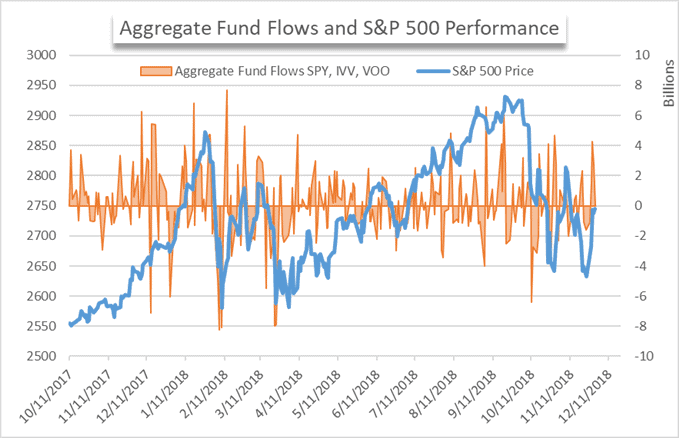 As for the week ahead, the headline event will be the conclusion of the G20 summit this weekend and subsequent trade deals or escalations which will play a significant role in the performance of equities next week.
As for data releases, US manufacturing will be a figure to watch on Monday as well as Fed Chairman Powell's address to the Joint Economic Committee on Wednesday. Later in the week, unemployment data from the US and Canada is due along with a Bank of Canada rate decision.