Italy's populist government has come to an agreement over spending as it tries to "end poverty" with its first budget.
The ruling Five Star and League parties said late on Thursday that they had agreed to set the budget deficit at 2.4% of GDP. They will press ahead with a minimum income for the unemployed.
The decision defies Brussels' demand for Italy to rein in its debt.
It is also a defeat for technocrat economy minister Giovanni Tria, who was pushing for lower spending.
Mr Tria had sought to limit the budget deficit to below 2% of GDP, to avoid adding to Italy's €2.3tn ($2.7tn; £2tn) debt.
But his political colleagues were determined to free up more money to fulfil election promises, which include a basic income, tax cuts and scrapping planned higher retirement ages.
Amid reports that Italy's president had urged Mr Tria not to resign, the budget decision prompted strong criticism from EU Economic Commissioner Pierre Moscovici.
The overnight news hit Italian borrowing costs – with the yield on 10-year government bonds rising above 3%. Meanwhile, the Milan stock exchange fell more than 2% on Friday morning, with several banks seeing a decline of at least 5%.
All eyes were on the "spread" – the gap between Italian and German bond yields – which was at its widest for three weeks.
How is Italy defying the EU?
The budget decision is well short of the EU's deficit limit of 3% of GDP.
But Italy, the third-biggest economy in the eurozone, had promised to cut its debt decisively. The debt stands at 131% of national output, second only to Greece.
Before the populist parties came to power this year, the centre-left government was aiming for a 0.8% budget deficit with a view to balancing its books by 2020.
By appointing a technocrat as finance minister, the League and Five Star had sought to reassure both the financial markets and Brussels.
The 2.4% budget deficit is set for 2019 and the following two years as well. The budget will have to be submitted to the European Commission by mid-October.
Mr Moscovici said the European Commission had "no interest" in triggering a crisis with Italy but added: "We don't have any interest either in Italy flouting the rules and not reducing its debt, which remains explosive".
Servicing such a large debt meant that every euro spent on it was "one euro less on roads, one euro less on education and one euro less on social justice".
League leader Matteo Salvini has questioned why Italy should be shackled by European limits, hampering what he sees as vital reform projects.
What are the populists promising?
They swept to power pledging a series of tax cuts, new social welfare policies and better pensions – all expensive programmes. A minimum basic income for the unemployed is set to cost €10bn alone.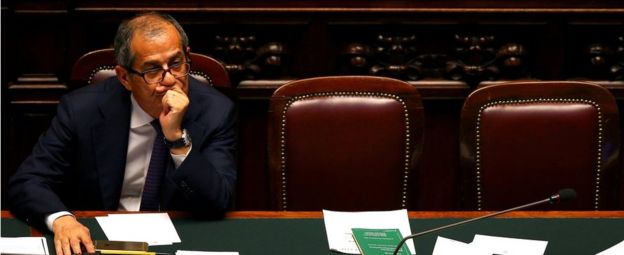 "We, in a decisive manner, with this budget law, will have abolished poverty," Luigi Di Maio, deputy prime minister and leader of the Five Star party, said ahead of Thursday's crunch meeting.
The plans must be approved by the parliament in October.
Among the ambitious plans at election time were:
A guaranteed basic income for poor families of about €780 a month
Tax reform for rates of just 15% and 20%, down from 23%-43%, which could cost up to €50bn
Abolishing plans to raise retirement age over several years, and setting minimum pensions

What will Tria do next?
Mr Tria, who has to implement the budget, is an independent economist. He was appointed as part of the complicated negotiations to form the government (in which the prime minister, Giuseppe Conte, is also an independent).
He believes the debt ratio should be far below the EU 3% limit – initially proposing just 1.6%, which would have somewhat crippled the government's big spending plans.