U.S. manufacturing activity accelerated to more than a 14-year high in August, boosted by a surge in new orders, but growing concerns over rising raw material costs as a result of import tariffs could restrain further growth.
The Institute for Supply Management (ISM) said on Tuesday its index of national factory activity jumped to 61.3 last month, the best reading since May 2004, from 58.1 in July. A reading above 50 indicates growth in manufacturing, which accounts for about 12 percent of the U.S. economy.
The ISM described demand as remaining "robust," but cautioned that "the nation's employment resources and supply chains continue to struggle." According to the ISM, respondents to the survey were "again overwhelmingly concerned about tariff-related activity, including how reciprocal tariffs will impact company revenue and current manufacturing locations."
The ISM's new orders sub-index increased to a reading of 65.1 last month from 60.2 in July. Factories reported hiring more workers last month, with production increasing sharply.
The survey's supplier deliveries index jumped to a reading of 64.5 last month, highlighting the rising bottlenecks in the supply chain, from 62.1 in July. It hit a 14-year high of 68.2 in June.
U.S. stocks were trading lower while yields of U.S. Treasuries were higher. The dollar was stronger against a basket of currencies.
Construction spending is tepid
In a separate report on Tuesday, the Commerce Department said construction spending barely rose in July as increases in homebuilding and investment in public projects were overshadowed by a sharp drop in private nonresidential outlays.
Construction spending edged up 0.1 percent. Data for June was revised up to show construction outlays declining 0.8 percent instead of the previously reported 1.1 percent drop.
Economists polled by Reuters had forecast construction spending increasing 0.5 percent in July. Construction spending increased 5.8 percent on a year-on-year basis.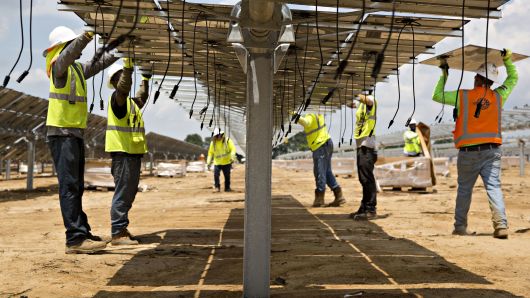 Spending on private residential projects rebounded 0.6 percent in July following two straight months of declines.
While homebuilding rose in July, the overall trend has slowed, with builders continuing to complain about rising material costs as well as persistent land and labor shortages. Residential investment contracted in the first half of the year.
Spending on private nonresidential structures, which includes manufacturing and power plants, dropped 1.0 percent in July. That was the biggest decline since August 2017 and followed a 0.1 percent gain in June.
Overall, spending on private construction projects slipped 0.1 percent in July after decreasing 0.5 percent in June.
Investment in public construction projects increased 0.7 percent after tumbling 1.7 percent in June. Spending on federal government construction projects rebounded 2.5 percent. That followed a 3.0 percent drop in June.
State and local government construction outlays advanced 0.6 percent in July after falling 1.6 percent in the prior month.