South Korea – Technological advantages over China rivals fuel growing demand for high-end vessels
After years of struggling to stay afloat, the South Korean shipbuilding industry is preparing for the return of growth.
As signs of a global recovery emerge, the country's big three shipbuilders — Hyundai Heavy Industries, Daewoo Shipbuilding & Marine Engineering and Samsung Heavy Industries — have also cleaned up their balance sheets through tough restructuring.
Although Hyundai Heavy's plan to lay off another 2,000 people at its offshore energy platform business is a reminder that the industry is not out of the woods yet, the sector is slowly recovering from a slump that saw billions of dollars in losses and cost tens of thousands of jobs.
"The worst seems over for them and they are at the beginning of the industry's long-overdue recovery," said Choi Jae-hyung, an analyst at Nomura.
Following a trough in new orders in 2016, most South Korean shipbuilders are still feeling the pinch, reporting operating losses this year, but analysts expect them to turn profitable next year.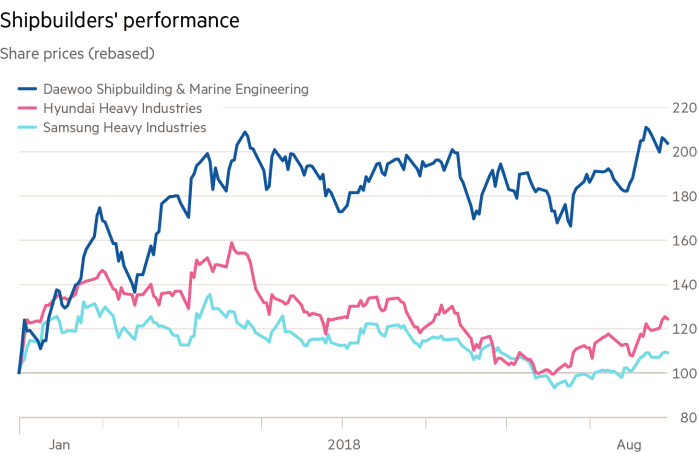 Helped by growing demand for high-end vessels such as large container ships, oil tankers and vessels used to transport liquefied natural gas, South Korean shipbuilders have increased new orders 30 per cent in the first seven months of this year, according to Nomura.
They won 42 per cent of new commercial ship orders in the first seven months of this year, with China and Japan taking 32.8 per cent and 10.5 per cent respectively, according to market researcher Clarksons.
"The industry has clearly bottomed out with reduced overcapacity, although the heyday of the 2000s is unlikely to come back," said Chung Sung-yop, an analyst at Daiwa Securities.
The outlook for the offshore energy platform business, which has caused big losses for Korean shipbuilders since 2014, is also improving, helped by oil prices rallying to $80 a barrel for the first time in four years.
"Through the shipping downturn, the Korean shipbuilders adapted and became more resilient to difficult market conditions," said Matthew Blumberg, an analyst at Hayberry Global Fund.
"We see 2019 as an opportunity for the Korean shipbuilders, where profitability will start to return as the ships ordered from 2017 are built and the backlog of orders grows to a level where pricing power is strong," he added.
But increasing competition from China remains the biggest concern. Although Korean shipbuilders are still the leading makers of high-end vessels, they have been undercut by lower-cost Chinese rivals on more basic ships such as carriers of bulk commodities including coal and foodstuffs.
After a decade of rapid expansion backed by the government, Chinese shipyards have been left with excess capacity, which has depressed profit margins, but they are enhancing their technological prowess.
"China has become a big threat to us," said Chang Kwang-pil, vice-president at Hyundai Heavy. "They are catching up faster than expected, but they still lack technology on eco-friendly and energy-efficient ships, which will drive growth in the future."
China has a stronger order backlog with 28.2m in compensated gross tonnage, an indicator of the amount of work necessary to build a ship, as at July 31. This compares with South Korea's tonnage figure of 18.4m and Japan's 13.7m, according to Clarksons.
Still, analysts think the Korean shipbuilders are five to 10 years ahead of their Chinese rivals in terms of their technological capability. "For ships like LNG carriers, which cost about $200m each, Korea will remain the first choice shipbuilder," said Mr Blumberg.
Industry officials also say more stringent global environmental standards to be adopted in 2020 will help Korean shipbuilders stay ahead. They expect higher demand for LNG-fuelled ships, which use oil that will be hit by regulations aimed to reduce its sulphur content. "It will be the biggest market catalyst [to] benefit Korean shipbuilders," said Mr Choi.
Additionally, Hyundai Heavy and other South Korean shipbuilders are trying to boost productivity by increasing automation and digitalisation in the production process, although they admit that might be insufficient to offset the gap in labour costs between Korea and China.
Hyundai Heavy is developing technology for self-sailing ships, producing software packages that help ships find the safest, shortest and most fuel-efficient routes. It also plans to equip its new vessels next year with anti-collision software.
"Shipbuilding is a labour-intensive industry so it is difficult to compete with China on price," said Mr Chang. "So differentiation through technology has become more essential for us. We may lose to China on volume but we will never lose our hegemony in the higher end of the market."