European stocks slumped on Monday, reacting after a three-day hiatus to increased U.S.-China trade tensions and a downbeat U.S. technology outlook.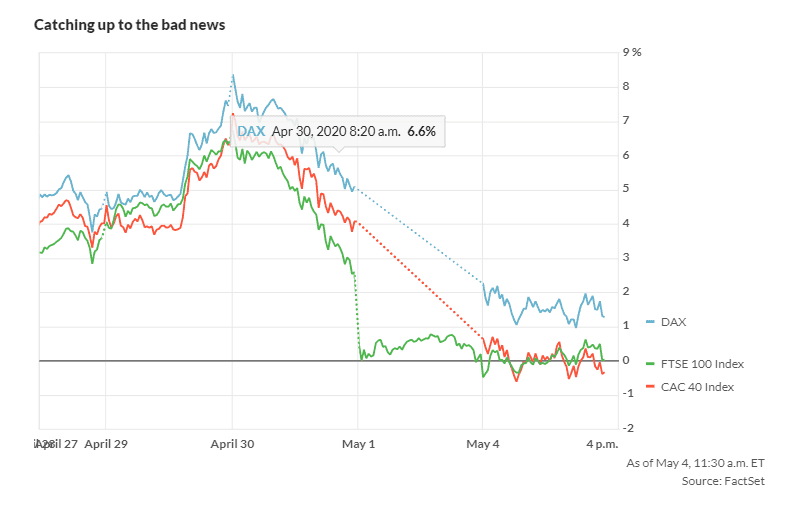 The German DAX DX:DAX dropped 3.5% and the French CAC 40 FR:PX1 fell 4.1%.
The U.K. FTSE 100 UK:UKX eased 0.4%, as the London Stock Exchange was open on Friday.
The action came as the U.S. threatened to put tariffs on China or take other measures in response to the coronavirus outbreak. Secretary of State Mike Pompeo on Sunday said there was "enormous evidence" the virus originated from a laboratory as opposed to being transmitted from animals.
Data released on Monday showed how damaging the coronavirus lockdowns have been to the economy. The Italian manufacturing purchasing managers index fell to a record low of 31.1 in April, and Spain's manufacturing PMI dropped to 30.8, on scales where any reading below 50 indicates deteriorating conditions.
Professional forecasters expect a 5.5% downturn in eurozone gross domestic product this year, according to a European Central Bank-compiled estimate, followed by a 4.3% recovery in 2021.
"In the big picture, the V-shaped recovery that is now implied by stock valuations seems unrealistic and investors may be underplaying the depth and length of this crisis. Think of how many smaller businesses will shut down permanently or will operate at reduced capacity for months, the long-term impact on spending from exploding unemployment, the lasting behavioral shock to some consumers, and what crumbling U.S.-China relations mean for (de)globalization," said Marios Hadjikyriacos, investment analyst at XM.
Of stocks on the move, shares of Thyssenkrupp DE:TKA slumped 16% as the Financial Times reported that Cinven and Advent are seeking other investors for the €17.2 billion deal for Thyseenkrupp's elevators business, which was the biggest European buyout deal in a decade.
Telefónica ES:TEF shares rose 3% after saying it is in talks with Liberty Global US:LBTYA on merging their U.K. telecoms arms, O2 U.K. and Virgin Media.
Lonza CH:LONN rose 3% as the Swiss chemicals and biotech company said it would manufacture Moderna's mRNA-1273 vaccine against coronavirus.
Futures on the Dow Jones Industrial Average US:YM00 fell 304 points, with the caution displayed by Berkshire Hathaway Chairman and Chief Executive Warren Buffett weighing on sentiment.