---
Gaming/Ad-Tech Experts Versus Systems Inc. (CSE:VS) (OTC:VRSSF)
Have Taken Captive-Audience Advertising to the Next Level
---
Spending on digital ads continues to rise across the globe, with an expected $333.25 billion to be spent this year, and projected to hit $517.51 billion by 2023.[[1]]
However, while they continue to increase their budgets, online marketers are becoming increasingly frustrated with declining engagement, and the delivery of their ads to audiences.
We've identified one platform whose ads are blowing away all other forms of digital ads! (And could potentially disrupt even the majors such as Facebook, Google, and Twitter)
That platform is ONLINE GAMING
There's only ONE company who is taking in-game advertising to the next level, and delivering EXPLOSIVE returns for their clients, with transaction rates 3,500% above industry average:
That company is Versus Systems Inc. (CSE:VS) (OTC:VRSSF)
Versus Systems has CRACKED THE CODE to make gamers CHOOSE to interact directly with a brand for almost 15 minutes per campaign—These levels of engagement are completely unheard of in mainstream advertising.
In 2019, most consumers and audiences have grown wise to skipping ads on YouTube videos, blocking ads with ad-blockers on Google, or just outright missing and ignoring ads on Facebook and Twitter.
Versus Systems Inc. (CSE:VS) (OTC:VRSSF) has found a way to captivate attention, turning advertising into a playable, enjoyable event with REAL-WORLD RESULTS.
---
REAL-WORLD RESULTS IN WINFINITE-ENABLED GAMES
The flagship Winfinite gamingplatform from Versus Systems Inc. (CSE:VS) (OTC:VRSSF) continues to shatter expectations, by innovating a way to captivate and capitalize upon players' attention.
In terms of impressions, each player on Winfinite's platform spends MULTIPLE MINUTES interacting with a brand's logo/prizes embedded within the game.
Ad engagement on the major social media is WOEFULLY LOW.[[2]]
For example, Facebook's average engagement rate is currently less than 0.09%, Twitter even worse at 0.048%, and Instagram only slightly better than both at 1.60%.[[3]]
In contrast, players on Winfinite are exposed to a brand's logo throughout their playing experience. To make the experience even more positive, they're playing for a prize associated with the brand (free items, gift cards etc).
Winfinite players interact directly with the brand/prize for an average of 14.8 minutes per session.
Compared to YouTube ads which viewers watch only for an average of 5-15 seconds, getting nearly 15 minutes of exposure through the Versus Systems Inc. (CSE:VS) (OTC:VRSSF) platform is a monumental improvement for advertisers.
Players have also shown their excitement to take part in the interaction after playing, by delivering Versus with email open rates of 54%—more than 300% the industry average[[4]].
THE ONLINE ADVERTISING SCENE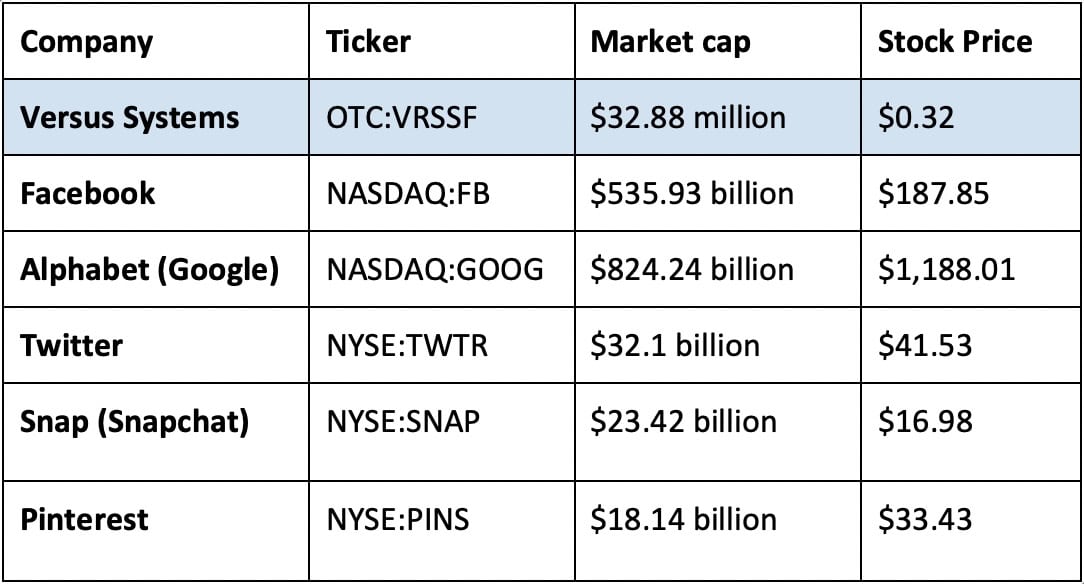 While there's little reason to believe that groups like Facebook and Google will lose their top billing among online advertising platforms—chinks are appearing in their armors.
Facebook has especially been having some major problems as of late, including:
Twitter has had its own recent issues, including its own privacy concerns over data sharing with third parties.
Google has finally admitted its flagship social media site YouTube might "never be 100% brand-safe".
Yet, despite issues among social media platforms, internet advertising spending is expected to grow 15% annually, and to overtake TV as the largest medium by 2020.
Among the variety of ad campaigns, growing attention is being given to the gaming market. Brands are injecting more ad dollars into mobile games to reach younger audiences, who are mostly shunning traditional mediums such as TV and print.
Versus Systems Inc. (CSE:VS) (OTC:VRSSF) has filed over 40 USPTO and PCT claims surrounding its magic formula for customer engagement—conditional prizing in games, TV, and streaming media.
Brands pay Versus Systems to deliver customer engagement, which it's absolutely dominating in terms of transaction rates (35x the industry average), direct interaction, email open rates (300% that of the industry average), through having already awarded over 250,000 prizes.
PLAYERS, PARTNERS, ADVERTISERS: EVERYONE WINS
Many parties benefit from the proprietary Winfinite platform, especially the consumers (players, viewers, fans), content developers, and brand partners.
Gamers have expressed their delight with this gaming environment, due to its real-world rewards. Having something to play for makes every game, broadcast, or show more fun, and more engaging.
Much more engaging than just being served ads, players and fans are given a choice of prizes—all while delivering an easy way to discover affiliated products and other, similar games and experiences.
Content developers for the Winfinite platform are looking to benefit from Versus Systems Inc. (CSE:VS) (OTC:VRSSF) through exposure to an established audience of gamers/viewers, as well as increased advertising revenue for themselves.
Winfinite works as a simple new way to work across divisions, licensors, and external parties. All-in-all, the platform helps content developers with a decreased cost of player/viewer retention, and enhanced rich player data (know your customer-KYC).
But for sponsors and potential investors of Versus Systems Inc. (CSE:VS) (OTC:VRSSF) alike, the potential for Winfinite is enormous. Not only are players spending multiple MINUTES with each brand, but they're being encouraged to interact with brands, driving online and in-store activation.
Winfinite transaction rates are 3,500% above the industry average.
A Rapidly Growing Gaming Industry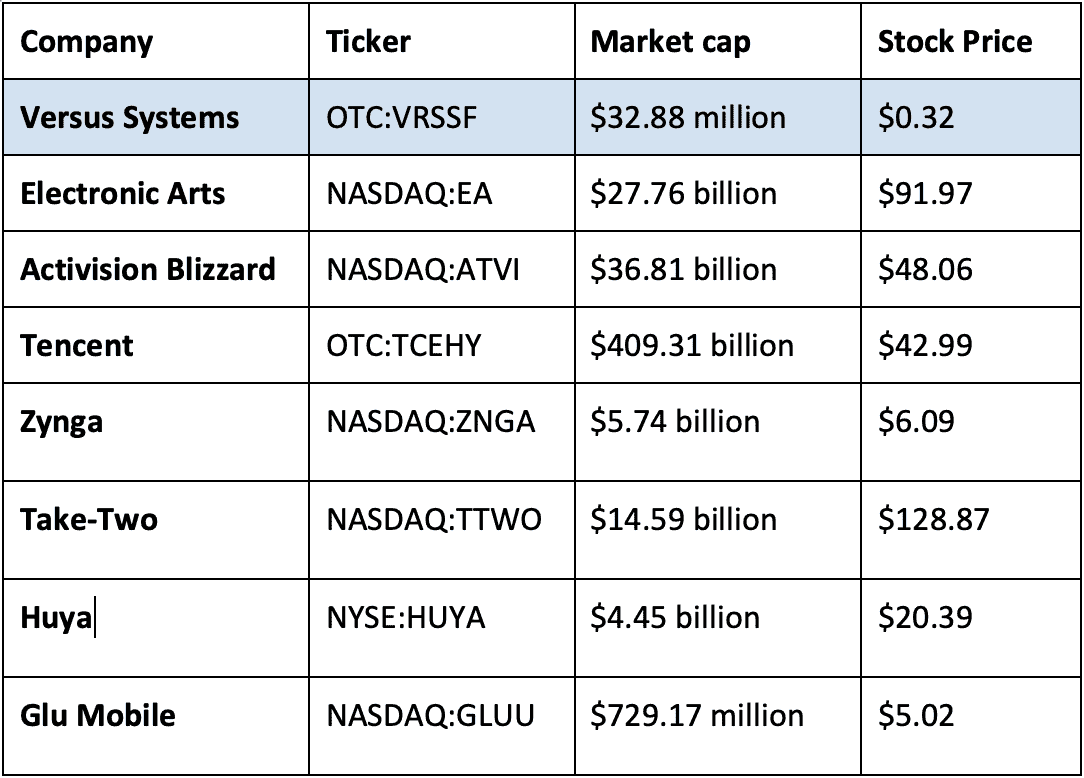 The online gaming industry is growing at an extremely impressive rate. The video games market could be a $300 billion industry by 2025.[[5]]
While this growth is global, the growth in the US has been perhaps the most astounding. It's been projected that the US will overtake China as the world's No. 1 gaming market in 2019[[6]], leading to a new wave of games from China coming overseas to compete[[7]].
Through its Winfinite platform, Versus Systems Inc. (CSE:VS) (OTC:VRSSF) has designed a method to best capitalize on this growing wave of gaming enthusiasts—It just makes games more fun.
From an August 2018 Media Survey from UCLA, 97% of Versus users who have played and won either "agree" or "strongly agree" that adding prizes through the Winfinite platform makes games more fun.
"Winning real prizes for in game achievements" was the #1 answer for "What would make you more interested in playing games?"
– August 2018 UCLA MEMES Media Survey
---
PROPRIETARY, EFFECTIVE TECHNOLOGY IN FULL COMPLIANCE
Versus Systems Inc. (CSE:VS) (OTC:VRSSF) has filed over 40 United States Patent and Trade Office (USPTO) and Patent Cooperation Treaty (PCT) claims around player identification, dynamic regulatory compliance, and conditional prizing in games, TV, and streaming media.
The Winfinite system determines and verifies participants, viewers, and players using their location, age, and other factors.
Once this data has been determined, Versus and its partners can establish and verify prize eligibility across multiple jurisdictions.
Based on this eligibility, they can then assess and distribute conditional prizes to individual participants.
Winfinite removes elements of chance from video game tournaments or matches at the tournament level, while delivering skill-based matches, sweepstakes, and tournaments that work with changing federal, state, local, and international laws.
Partners can create campaigns and promotions of physical goods inside of games (or other content types). They're then given complete campaign control over prizes and rewards.
Cost-wise, Winfinite is ultra-competitive.
Brands pay on a per-session basis to reach targeted, engaged audiences.
Partners are billed with the following formula:
$/Session x Daily Active Users x Sessions/Day/DAU
The current price of $0.50 USD Cost Per Session (CPS) is less than Facebook average Cost Per Click (CPC) with much higher engagement and purchase intent.
---
Innovative Development and Leadership Team
Leading the way for Versus Systems Inc. (CSE:VS) (OTC:VRSSF) are a management team and board built upon innovation in both tech and media.
Founder, CEO and Director Matthew Pierce brings more than 15 years of experience in both entertainment and technology. Pierce is also the founder and CEO of OLabs, a firm that creates, funds, and develops technology companies, of which Versus Systems is a portfolio company. OLabs is a joint-venture between Manatt and Originate, the latter which Pierce was VP of Strategy, working with early-stage tech companies. He's also worked in media and academia, with Warner Bros. and UCLA, where he teaches entrepreneurship.
Pierce is joined by CTO Alex Peachey who leads the architecture efforts for the company's Elixir-based platforms. Utilizing his more than two decades of data-driven software systems experience, Peachey leads a group of highly talented software engineers in developing the Versus Systems Winfinite challenge platform.
At the beginning of the year, Versus Systems Inc. (CSE:VS) (OTC:VRSSF) added the veteran senior executive and thought leader Keyvan Peymani as its Executive Chairman. Known for his work at the intersection of technology, media, and venture capital, Peymani serves as the Head of Startup Marketing for Amazon Web Services and is responsible for global marketing strategy. He has also served as Managing Director, Digital Strategy Division at ICM Partners, one of the world's largest talent and literary agencies, and also VP of Direct to Consumer Business Planning and Operations at Warner Bros. He's also served in important roles with Netflix, and Disney.
The team is filled out with a vibrant group of diverse experts in tech, media, digital marketing, and finance. Through its expertise, and its vast connections, there's no question that Versus Systems Inc. (CSE:VS) (OTC:VRSSF) will continue to grow and thrive.
—
10-POINTS RECAP OF
Versus Systems Inc. (CSE:VS) (OTC:VRSSF)
Versus Systems is a leading developer with a proprietary gaming/content prize platform
Generating ~15-minute interactions with gamers/viewers for clients
Transaction rates that are 35x industry average
Email open rates of 54%—more than 300% of the industry average
US$0.50 Cost-Per-Session is lower than Facebook's average Cost-Per-Click (CPC)
Regulatory compliance across multiple jurisdictions
Gaming industry growing at a rate that could be $300 billion by 2025
Delivers high engagement and KYC data for clients and developer partners
Filed over 40 USPTO and PCT claims for proprietary platform Winfinite
To-date has already awarded over 250,000 prizes on behalf of clients

Sincerely,

Editorial Team @ Equity Insider.
---
[1] https://www.emarketer.com/content/global-digital-ad-spending-2019
[2] https://www.socialmediatoday.com/news/new-report-looks-at-social-platform-performance-benchmarks-by-industry/548946/
[3] https://www.rivaliq.com/blog/2019-social-media-benchmark-report/
[4] https://www.campaignmonitor.com/resources/guides/email-marketing-benchmarks/
[5] https://variety.com/2019/gaming/news/video-games-300-billion-industry-2025-report-1203202672/
[6] https://venturebeat.com/2019/06/18/newzoo-u-s-will-overtake-china-as-no-1-gaming-market-in-2019/
[7] https://venturebeat.com/2019/08/04/asias-mobile-games-make-themselves-at-home-in-the-u-s/
---
Nothing in this publication should be considered as personalized financial advice. We are not licensed under securities laws to address your particular financial situation. No communication by our employees to you should be deemed as personalized financial advice. Please consult a licensed financial advisor before making any investment decision. This is a paid advertisement and is neither an offer nor recommendation to buy or sell any security. We hold no investment licenses and are thus neither licensed nor qualified to provide investment advice. The content in this report or email is not provided to any individual with a view toward their individual circumstances. Equity Insider is a wholly-owned subsidiary of Market IQ Media Group, Inc. ("MIQ"). MIQ has been paid a fee for Versus Systems, Inc. advertising and digital media from the company directly. There may be 3rd parties who may have shares of Versus Systems, Inc., and may liquidate their shares which could have a negative effect on the price of the stock. This compensation constitutes a conflict of interest as to our ability to remain objective in our communication regarding the profiled company. Because of this conflict, individuals are strongly encouraged to not use this publication as the basis for any investment decision. The owner/operator of MIQ own shares of Versus Systems, Inc. which were purchased as a part of a private placement. MIQ will not buy or sell shares of Versus Systems, Inc. for a minimum of 72 hours August 26, 2019, but reserve the right to buy and sell, and will buy and sell shares of Versus Systems, Inc. at any time thereafter without any further notice. We also expect further compensation as an ongoing digital media effort to increase visibility for the company, no further notice will be given, but let this disclaimer serve as notice that all material disseminated by MIQ has been approved by the above mentioned company; this is a paid advertisement, and we own shares of the mentioned company that we will sell, and we also reserve the right to buy shares of the company in the open market, or through further private placements.
While all information is believed to be reliable, it is not guaranteed by us to be accurate. Individuals should assume that all information contained in our newsletter is not trustworthy unless verified by their own independent research. Also, because events and circumstances frequently do not occur as expected, there will likely be differences between the any predictions and actual results. Always consult a licensed investment professional before making any investment decision. Be extremely careful, investing in securities carries a high degree of risk; you may likely lose some or all of the investment.