Nike led the Dow Jones Industrial Average lower as bond investors sent a clear signal they expect the economic expansion to end
Only one day after crystal-clear dovish signals by the Federal Reserve helped push stocks higher, fear of a recession sent bond prices soaring and stock prices tumbling.
The Dow Jones Industrial Average DJIA, -1.77% sank 460 points, or 1.8%, to close at 25,502.32 Friday, while the S&P 500 SPX, -1.90% slumped 1.9% and the Nasdaq Composite Index COMP, -2.50% fared even worse, sliding 2.5%.
While it can never say it expects a recession, the Federal Open Market Committee's two policy announcements on Wednesday — to leave the federal-funds rate unchanged while planning to stop the shrinkage of the Federal Reserve's bond portfolio at the end of September — seemed to spook investors. But Thursday, those same announcements and the lower interest rates they implied had helped lift stock prices.
The bond market sent a prerecession signal on Friday, as the yield on 10-year U.S. Treasury notes TMUBMUSD10Y, +0.00% skidded 10 basis points to 2.44%. That put it lower than the 2.46% yield on 3-month Treasury bills TMUBMUSD03M, +0.00% — the first time since 2007.
Dow losers: 26 out of 30
Here's how all 30 components of the Dow Jones Industrial Average performed on Friday, sorted from worst to best: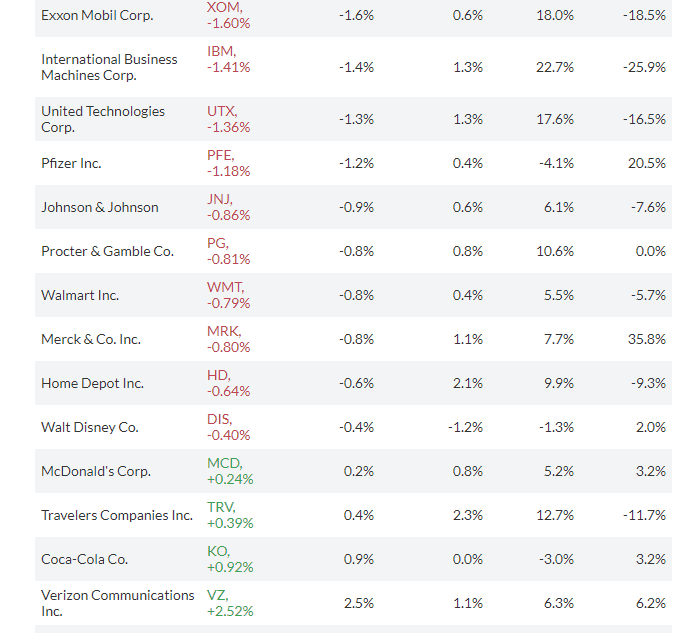 Worst performing S&P 500 stocks
Among S&P 500 companies, 85% saw their shares decline on Friday. Here are the day's 10 worst performers:
Big Nasdaq losers
Here are the day's 10 worst performers among the Nasdaq-100 NDX, -2.23% :