It's become painfully obvious to everyone that missed out on the initial push that cannabis represents a massive opportunity. It's not farmers and distributors that are delivering the biggest gains.
The most connected people in this industry say you're more likely to see life-changing profits from cannabis technology companies.
Legalization of both recreational and medical use has created a market for an ever-increasing number of new products and services around this booming industry.
Now, as legalization comes about and broad adoption becomes less stigmatized, the customer pool continues to grow, demand continues to outpace supply and sales are exceeding all projections.
Our research and due diligence indicates the following company: The Yield Growth Corp. (CSE: BOSS) – (OTC: BOSQF), is a major new participant and brand incubator for the growing cannabis beauty and well being sectors, with a significant portfolio of innovative products for legal jurisdictions and those growth areas with legalization pending.
Legalization is coming to a number of new countries and territories rapidly. In regions where only THC or CBD is illegal, however, some companies are still able to bide their time and are ramping up production in anticipation of legalization.
In some areas, like Australia, this means setting up an export business. In others, it may mean developing products that produce results using parts of the cannabis plant considered legal nearly everywhere in the world. Then, once the products have been established and legalization takes place, that product can be adapted to containing THC or CBD. [1]
A Focus on Wellness: The Yield Growth Corp. (CSE: BOSS) – (OTC: BOSQF)
The wellness market is even bigger than the cannabis market is going to be any time soon. At present, this means that the wellness industry is worth about $4.2 trillion worldwide. The Yield Growth Corp aims to take advantage of both opportunities. Their branding plan is strong, they are capitalizing on a number of growing wellness trends, and they are planning ahead in a way that leaves their company flexible and able to adapt to the frequent and rapid developments of the cannabis industry. [2]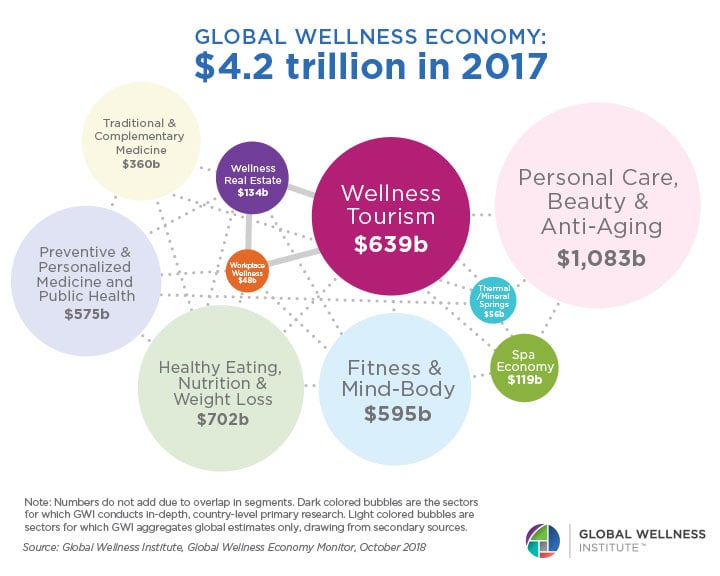 Anti-aging and beauty make up the largest share of the wellness market. Right now, that means that this part of the market is worth just under $1 trillion – just about as much as the global pharmaceutical market. The Yield Growth Corp. (CSE: BOSS) – (OTC: BOSQF) is a company that is taking advantage of a time-tested ingredient added to modern formulas that hold up against even the most popular beauty products. Further, they are all formulated to allow the addition of THC or CBD, if that would provide an additional incentive or benefit to the customer- and if it's legal. [3] [4]
Strong Branding, Lifestyle Knowledge, and an International Plan
Right now, the cannabis market is growing at an exceptional rate. Growth of at least 20% per year for half a decade is expected. Right now, the leaders in certain areas may look decided, however, there is still room for a number of new companies to stand out from the rest.
Edibles and topicals, for example, have no clear leader. Many of these products are still being developed and going through the approval process. Once they have been approved and launched, it will still be some time before true leaders are established- and strong branding, as well as timing, will be a key factor. This is where TYGC looks to stand out with their brand of wellness products and the support system behind them.
With Urban Juve, The Yield Growth Corp. (CSE: BOSS) – (OTC: BOSQF) is targeting an audience that knows what it wants. Their products are thoughtfully branded and marketed "honestly". Further, these are products anyone can obtain and use now (prior to CBD/THC legalization) and, as they are consumable, these are products anyone who uses them may choose to move "up" to a more expensive, THC or CBD "enhanced" version as these ingredients are approved and the product lines expand. [5]
Distinct Product: Urban Juve Provisions, Inc.
A wholly owned subsidiary of The Yield Growth Corp. (CSE: BOSS) – (OTC: BOSQF), Urban Juve is the essence of their beauty brand. These are the products TYGC is extremely proud of, and rightfully so. They each incorporate some element of what is being branded as intrinsically "Urban Juve"- either capitalizing on cannabis root oil or taking advantage of the ability to incorporate CBD or THC into a therapeutic wellness product. This brand makes the most of the patents TYGC holds, most of which involve cannabis root oil extraction and use.
As far as branding itself goes, Urban Juve has got it right. As mentioned, this is a brand that is under the leadership of people who have experience branding successful products and product lines in the beauty industry. If that alone goes well, and their products are as effective as they claim, Urban Juve should itself succeed as a luxury, stand alone skincare brand. [6]

Urban Juve currently has a set of nearly 50 products that launch in 2019. They have already completed 26 Health Canada registrations. The initial launch will consist of base products only. All of these products may offer CBD infused or THC infused versions in the future.
Roots as An Untapped Resource and Superior Carrier Oil
What can you do with cannabis roots? For most, these go into a compost bin or are otherwise disposed of. However, The Yield Growth Corp. (CSE: BOSS) – (OTC: BOSQF) has other ideas. In what some might consider ancient history, cannabis roots were used to treat and cure dozens of ailments. They were popularly used in ancient Chinese medicine and Ayurveda.
The Yield Growth Corp. (CSE: BOSS) – (OTC: BOSQF) and, by extension, Urban Juve, saw an opportunity here. If cannabis seed oil is used in both common and luxury beauty products the world over, why not go back to using the roots? After analyzing the oil produced from these roots, it was discovered that this is, in fact, a superior oil- if you can extract it well. Further, it uses a part of the plant that could have otherwise gone to waste. And, if a product is made with this oil, it's only natural that it would work well as a CBD or THC infused product. [7]
Historically Proven Remedies and Compounds
Cannabis seed oil is currently used in tens of thousands of cosmetics and wellness products sold throughout the world. It contains no THC or CBD. The properties it does have, however, are a shelf life double that of comparable oils, the ability to repair cell walls and increases the elasticity of skin and hair, and it also happens to be one of the most widely used oils for those with sensitive skin as it is so soothing and highly noncomedogenic.
Oil extracted from the cannabis roots is very similar. The two oils have similar properties and compounds, however, this oil, the one Urban Juve has patented some effective extraction methods of, does come with a few unique benefits. There is also the possibility that the roots of different strains may have different, beneficial effects. Based on well-known fact and additional research underway, these will prove to be effective products. Combined with experience and branding, there's no doubt that this "first of its kind" product line will bring a new type of cannabis-based experience to the table.[8]
Thrive – Another Pathway to Success
Thrive is, currently, the other opportunity being developed by The Yield Growth Corp. (CSE: BOSS) – (OTC: BOSQF) Thrive is a set of digital products and tools meant to help businesses process and generate sales. It is also being set up as the perfect solution for any business that sells or wants to sell any of the Urban Juve branded products. This is an ideal support leg matched to the growing portfolio being acquired and expanded by The Yield Growth Corp.
CROP – Setting the Pace as a Licensee
CROP has been granted exclusive rights to distribute Urban Juve products in Italy. CROP Infrastructure Corp. (OTC: CRXPF) grows, produces, and sells cannabis products. They currently have a foothold in California, Nevada, and Washington State. They have also recently expanded into Jamaica (acquiring over 200,000 square feet of fertile cropland), looking to capitalize on the ideal growing conditions there. CROP is rapidly expanding, including the capacity of their production facilities in Italy. [9] [10]
---
Featured Company for Comparison:
The Yield Growth Corp. (CSE: BOSS) – (OTC: BOSQF)
TYGC has developed a line of wellness and beauty products that make the most of what the hemp plant can legally offer in almost any country, as well as offering the opportunity to infuse those products with THC or CBD as these products are made legal. This offers anyone the chance to sell these products and expand their business as legalization continues worldwide. Given this unique position, it's hard to find a company that directly compares. However, the following companies have also invested in making the most of the oils produced by the cannabis plant, though these oils are not from the roots.
---
Comparables for The Yield Growth Corp.
Village Farms International Inc. ( OTC: VFFIF )
Market Cap: $180M

Village Farms is a company that traditionally produces and sells greenhouse-grown produce throughout North America. They have recently announced that they are going to begin growing cannabis in a number of their Canada-based greenhouses with the intent of harvesting and selling cannabis flower and oils.

Supreme Cannabis Company Inc. ( OTC: SPRWF )
Market Cap: $319M

The Supreme Cannabis Company is a large producer of cannabis that aims to create some of the highest quality cannabis oils in the world. However, these oils are exclusively of the CBD and THC containing variety and not those you might find in cosmetics products currently sold worldwide.
Aphria Inc. ( NYSE: APHA )
Market Cap: $2.9B

Another company invested in producing medical-grade cannabis oils containing CBD and THC as well as some for recreational use and product creation. They currently produce a range of oils that vary in active ingredient or formulation, strength, and overall quality.
Medicine Man Technologies ( OTC: MDCL )
Market Cap: $40.8M
Though not in the beauty business, Medicine Man Technologies is in the business of providing consulting, support, and branded products to businesses that are interested in selling or partnering with a company that sells cannabis-based products- including oils.
---
A Smart Strategy for Creating a Foothold in Emerging Cannabis Markets
The Yield Growth Corp. (CSE: BOSS) – (OTC: BOSQF) can grow its global footprint through the use of Thrive and its licensing agreements. It can sell its base products nearly anywhere in the world and then capitalize on any market that has legalized recreational use of THC or CBD as they come about.
Reasons We Think The Yield Growth Corp. Is A Potential Early Leader in the Space:
Proven management – the team behind this innovative company has deep experience in both the capital markets and in international branding.
Regulatory Expertise – TYGC has on-call consultants working to help navigate the regulatory environment for consumer products and dealing with Health Canada.
International Licensing – The company launches with a revenue creation model developed by its team from international brands like Pepsi, Aritzia and Sketchers.
Robust Platform Design – TYGC's brands incorporate innovative product visuals and package design.
Unique, Proprietary Formulations – Several provisional patent applications are pending on TYGC products and their methods.
Signed Transaction Rights – TYGC has licensed the rights to Urban Juve in North America and in Italy.
Production Underway – The first line of products is already being manufactured and will be available for sale in Canada this quarter.
Impressive E-Commerce Platform – the product and marketing team behind TYGC is highly experienced in the web build-out of the company's primary sales channel.
The Yield Growth Corp. (CSE: BOSS) – (OTC: BOSQF) products are as natural as they come and their branding is built on existing and upcoming trends in the wellness industry. Their clean formulations will also help to insulate them from any changes in allowed ingredients worldwide. Additionally, by using parts of the plant that may have otherwise gone to waste or been underutilized, they increase the value of every plant they and their subsidiaries, licensees, and suppliers produce. This enhanced efficiency from the start will help expand their opportunities.
You can follow their progress and learn more about their products at https://yeildgrowth.com
Equity Insider
News Editors
---
Sources:
1 – https://www.grandviewresearch.com/press-release/global-legal-marijuana-market
2 – https://globalwellnessinstitute.org/press-room/press-releases/global-wellness-institute-study-34-trillion-global-wellness-market-is-now-three-times-larger-than-worldwide-pharmaceutical-industry/
3 – https://www.cosmeticsdesign.com/Article/2017/02/02/Beauty-and-anti-aging-is-by-far-the-largest-sector-in-the-3.7-trillion-wellness-economy
5 – https://yieldgrowth.com/in-the-media/3-questions-the-yield-growth-corp-ceo-penny-green-on-cannabis-infused-sex-pot-stocks-and-lifestyle-brands/
6 – https://yieldgrowth.com/wp-content/uploads/corporate/Yield%20Growth%20-%20Product%20Lookbook.pdf
7 – https://www.green-flower.com/articles/154/10-things-you-never-knew-about-cannabis-roots
8 – https://yieldgrowth.com/wp-content/uploads/corporate/Yield%20Growth%20-%20Corporate%20Presentation.pdf
9 – https://yieldgrowth.com/articles/caribbean-cannabis-opportunities/
10 – https://yieldgrowth.com/licensees-and-partners/
---
Disclaimer
While all information is believed to be reliable, it is not guaranteed by us to be accurate. Individuals should assume that all information contained in our newsletter/report/commentary piece/article is not trustworthy unless verified by their own independent research. Also, because events and circumstances frequently do not occur as expected, there will likely be differences between the any predictions and actual results. Always consult a licensed investment professional before making any investment decision. Be extremely careful, investing in securities carries a high degree of risk; you may likely lose some or all of the investment.
Furthermore, it is certainly possible for errors or omissions to take place regarding the profiled company, in communications, writing and/or editing.
Nothing in this publication should be considered as personalized financial advice. We are not licensed under any securities laws to address your particular financial situation. No communication by our employees to you should be deemed as personalized financial advice. Please consult a licensed financial advisor before making any investment decision. This is a paid advertisement and is neither an offer nor recommendation to buy or sell any security. We hold no investment licenses and are thus neither licensed nor qualified to provide investment advice. The content in this report or email is not provided to any individual with a view toward their individual circumstances. Equity Insider is a wholly-owned subsidiary of Market IQ Media Group, Inc. ("MIQ"). MIQ has been paid a fee for The Yield Growth Company ("TYGC") advertising and digital media from the company. There may be 3rd parties who may have shares of BOSS and may liquidate their shares which could have a negative effect on the price of the stock. This compensation constitutes a conflict of interest as to our ability to remain objective in our communication regarding the profiled company. Because of this conflict, individuals are strongly encouraged to not use this newsletter as the basis for any investment decision. The owner/operator of MIQ has purchased shares of BOSS through a private placement and does not intend on selling any shares within 72 hours of this updated publication date (December 6, 2018) after such point we reserve the right to buy and sell shares in the open market, no further notice will be given. We also expect further compensation from the company and will partake in future private placements of BOSS as an ongoing effort to gain exposure for the company. No further notice will be given, but let this serve as notice that we are not independent in our opinion and this is a major conflict of interest as to our ability to remain objective in our communication. Always consult a licensed financial advisor before making any sort of investment decision. Due to the volatility of the capital markets, and especially those that are thinly traded at lower prices, it is very easy to lose some, if not all, of your investment. Caution needs to be taken when making any sort of investment decision.
By reading this communication, you agree to the terms of this disclaimer, including, but not limited to: releasing MIQ, its affiliates, assigns and successors from any and all liability, damages, and injury from the information contained in this communication. You further warrant that you are solely responsible for any financial outcome that may come from your investment decisions.