Northern California's air quality has become the worst in the world, according to monitoring groups, as the state battles devastating fires.
Air quality network Purple Air said on Thursday the air is now worse than smoggy cities in India and China.
Schools have cancelled classes, flights have been delayed, and internet searches for smoke masks are soaring.
At least 63 people have died in the Camp Fire – the state's deadliest and most destructive blaze.
The number of missing people has jumped to more than 600, local authorities said, doubling the size of the list in a day.
Three more people have also died in the Woolsey Fire, further south.
President Donald Trump will travel to California on Saturday to survey the damage and meet those affected.
The Camp Fire – which broke out eight days ago – swept through a swathe of the north at high speed, leaving residents little time to escape.
How bad is the air?
The AirNow website ranks the air around San Francisco and Oakland as "very unhealthy", meaning everyone in the area could experience more serious health effects.
Around Elk Grove and Sacramento, it is classed as "hazardous" – the whole population is likely to be affected, their website states.
A San Francisco Chronicle reporter tweeted that breathing in San Francisco was equivalent to smoking nearly a dozen cigarettes. In Paradise, which was destroyed by the wildfire, it is closer to smoking 22 cigarettes.
Internet searches for smoke masks have reportedly skyrocketed, while schools and universities have cancelled classes and held recesses for students inside.
Flights have also been affected.
What's the latest on the firefighting operation?
The California Fire Department says it has now contained about 45% of the Camp Fire blaze.
Officials say they do not expect to fully contain the blaze – which has razed 145,000 acres (56,600 ha) – until the end of the month.
They are also battling several other fires, including the Morgan Fire in Contra Costa County, near San Francisco, the Woolsey Fire in Ventura County near Los Angeles and the smaller Hill Fire, also in Ventura County.
The worst-hit area is the town of Paradise, with officials saying it will need a "total rebuild" job that will take several years.
Brock Long, administrator of Federal Emergency Management Agency (Fema), said the damage to Paradise was "one of the worst disasters" he had ever seen.
Military troops are assisting forensics teams and cadaver dogs as they continue to search for human remains.
Officials have warned the search operation could take weeks.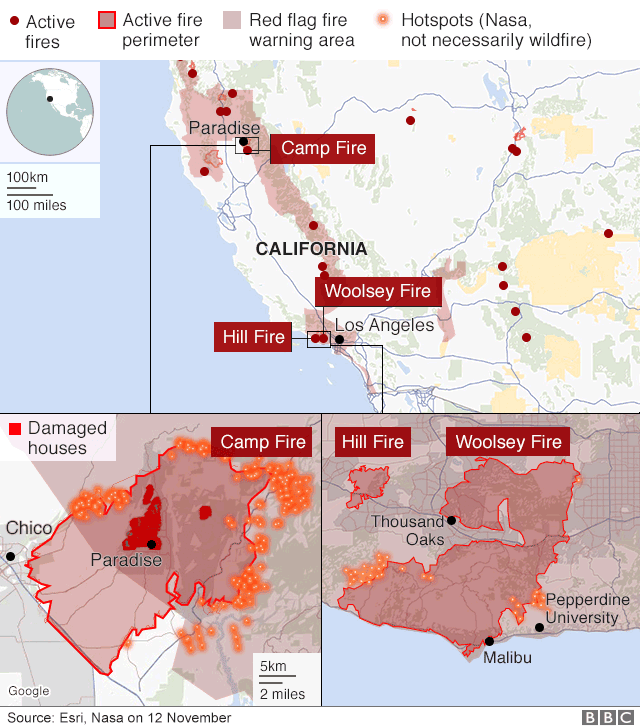 Globally, the length of the wildfire season has already increased by nearly 19% between 1978 and 2013.
"By around 2050, fires may burn two to three times more area than they have historically."
As fire seasons worsen worldwide, all the carbon released as smoke into the atmosphere could have a serious impact on climate change, according to the National Aeronautics and Space Administration (NASA).