For early investors a new symbiotic relationship between cannabis and sports medicine is blossoming, and those who have been following the Cannabis space from the sidelines, now have a unique opportunity with an investment into a hybrid of the sector that is at its infancy.
Orion Nutraceuticals, which is publicly traded under the symbol: (CSE: ORI) is a Cannabis Life Science company producing and developing innovative sports medicine products. By targeting two sectors currently with extreme growth projected over the next 5 years, Orion stands out as a unique investment in both cannabis life science and in sports medicine.
Since the World Anti-Doping Agency (WADA) removed hemp-derived cannabidiol (CBD) from its List of Prohibited Substances last year, athletes in the world's largest international athletic associations are seeking innovative cannabinoid-infused treatments.    
Everybody knows how impressive thee gains have been in the Cannabis sector so far, and this sector is just getting started. If you're looking for a company that is forward thinking, with a team that has a proven track record, that is also brand new to trading (Very attractive PP for investors), look no further than: Orion Nutraceuticals (CSE: ORI),
We are very impressed with projected growth of Orion Nutraceuticals (CSE: ORI), and like we said above, by pairing Sports Medicine with Cannabis, we feel this brand new listing has a ways to grow and could potentially show us some very serious percentage gains in the near future.
Continue reading below:
The natural pairing of cannabis life science and sports medicine is becoming clearer each year.
Through the development of new products such as transdermal patches, topical gels, salves, sublingual and buccal delivery medication, translingual sprays, aerosols, creams, and capsules, new selections are steadily becoming available, from companies such as Orion Nutraceuticals (CSE: ORI)—satisfying a market that's rapidly growing in acceptance and profitability.
 Over the next 10 years, the legal cannabis industry is set to steadily grow around the globe. The projected estimate is that spending on legal cannabis worldwide is expected to hit $57 billion by 2027.1
Within the cannabis sector, however, there is an emerging star in the form of cannabidiol (CBD) which is growing at a rate that's faster than the rest of cannabis sector in the US. This year the CBD market is expected to hit $591 million, but is predicted to explode in growth to 40 times this size and become a $22 billion industry by 2022.2
CBD's use as an anti-inflammatory and pain reliever widens its market appeal beyond the recreational market. The drug's potential is far reaching, especially into the field of sports medicine.
Sitting on the sidelines and watching other investors flourish from this sector is no longer an option, Orion Nutraceuticals (CSE: ORI) is positioned very well, and hasn't yet had any sort of bull run because it's a brand new listing to the public arena.
The the Global Orthopedic Soft Tissue Repair and Sports Medicine Market Size is forecast to grow at a CAGR of 7.9%, to hit $12.8 billion by 2024.3 North America has the largest market share of 39% in global sports medicines market.4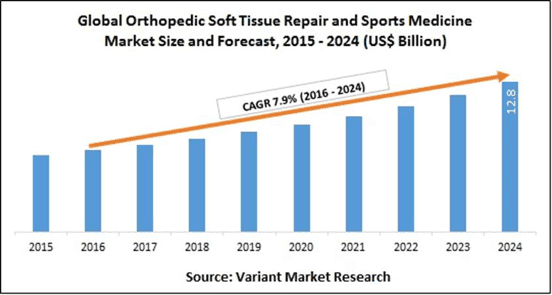 When cannabinoids are infused with nutrition products and what are known as nutraceuticals, is where the prospect of CBD as a sports medicine breakthrough gets intriguing.
The global medical nutrition market is predicted to reach $52 billion by 2022, boasting a CAGR of 8.5% from 2018.5 With a similarly high growth rate, the global nutraceutical ingredients market is projected to reach $49.02 billion by 2023, with a CAGR of 7.5% from 2018.6
In conjunction with its professional sports strategic alliances, we believe Orion Nutraceuticals (CSE: ORI) is poised to advance research and development in the plant science sector, and deliver science-based products and services more effective than anything else that is currently in market, while marketing CBD therapies to the mainstream, with proprietary brands and products.
GROWING MAINSTREAM ACCEPTANCE—ESPECIALLY FOR ATHLETES
Part of the reasoning for CBD's explosive growth rate, is its growing mainstream appeal as a non-psychoactive pain reliever—Which explains its growth in use within the athletic community.
The benefits of cannabinoids, especially CBD, have begun to gain respect throughout the sporting world. In the fall of 2017, the World Anti-Doping Agency removed CBD from its prohibited substance list, which went into effect on January 1, 2018.7
Later in the year, the Federal Government lent some support to the CBD cause as well. Effective September 28, 2018, the US Drug Enforcement Administration (DEA), rescheduled a drug with CBD down from a Schedule I drug to Schedule V, opening the door for future FDA-approved drugs to contain the cannabinoid.8
These developments have all been great news for the athletic world—Especially for athletes already openly using cannabinoids to help heal injuries and improve their training regimes.
Professional leagues and organizations large and small are beginning to allow their athletes to use CBD freely for their sports medicine needs, including the FIFA, the UFC, and the Olympics.
High-profile athletes such as UFC fighter Nate Diaz and NFL linebacker Derrick Morgan use CBD hemp oil to improve their athletic performance and overall health.9 Pro skateboarder Matt Miller not only uses CBD through sports salve and patches as his primary medicine, but went on to start his own CBD brand.10 But the benefits don't just end with the athletes at the highest levels, nor those who are still competing.
Featured company Orion Nutraceuticals (CSE: ORI) has stated its mission is to set a new standard in Cannabis Life Science by producing and developing innovative products with key, strategic partners in the industry—including leagues and sporting organizations, as well as developers and researchers.
THE EFFECTIVENESS OF CANNABINOIDS—CBD IMPROVING FITNESS RESULTS
World class athletes are exposed to several risks, including lingering injuries, high stress, and potential for drug abuse including opioid addictions. What legal cannabinoid-infused treatments can provide is an opioid-free solution to long-term pain issues.
Cannabis can not only help treat pain, and reduce the initial need for opioids, but it can also be effective at easing opioid withdrawal symptoms. It already is used in this capacity for cancer patients, ill from chemotherapy side effects. On top of these benefits, the compounds found in cannabis can help break the cycle of addiction that plagues many athletes at the highest level.
There are myriad ways in which CBD can potentially help athletes and their performance. Due to the research-backed benefits which it provides, more athletes have started using CBD use—a number that continues to grow as more sports officials allow its use.
CBD's benefits go beyond the obvious selling point of inflammation reduction. The cannabinoid also boosts the immune system to fight off illnesses such as cold and flu—thus decreasing recovery time after intense sports sessions. CBD brings lasting pain relief without the side-effects that come with painkillers such as grogginess, or risk of addiction. 
While the CBD market continues to evolve, and expand through new products and research, nutraceutical science is becoming a heavier focus. With the latest development and infusion of CBD-based products and nutraceuticals using cannabinoids, science is opening the door to a new level of high quality products for consumers.
Changing lifestyles, and the growing demand for nutraceutical products in emerging economies are paving the way for new opportunities in the global nutraceuticals sector.
Due to the rising global awareness with regard to the side-effects of chemical ingredients utilized in food processing, consumers are demanding nutraceuticals that utilize natural ingredients. This trend has resulted in a tremendous demand for phytochemical & plant extract ingredients in the nutraceutical industry.
---
FEATURE COMPANY: FOR COMPARISON

Orion Nutraceuticals
CSE: ORI
Market Cap:  ~$23 Million
Orion Nutraceuticals is poised for the development of formulations and proprietary delivery systems in the Cannabis industry, including sports medicine therapy products and recreational, medical and beauty products
---
Major Cannabis Comparables: However, ORION is Unique in its Focus on Sports Medicine
Orion Nutraceuticals is entering a market space that is experiencing some of the fastest growth of any sector in history. There are now multiple cannabis companies worth more than a billion dollars. It is anticipated that the cannabis sector will continue to grow, and valuations will continue to climb upwards. Orion, having just gone through its Initial Public Offering, is now at the beginning stages of its own path to explosive growth in this promising sector.
Tilray, Inc.
NASDAQ: TLRY
Market Cap: $12.742 billion
Shares in Tilray Inc. skyrocketed in September upon receiving approval from the US Government to participate in a clinical trial.  Tilray's role in the trial is to involve the import of a medical cannabis study drug for a clinical trial at the University of California San Diego Center for Medicinal Cannabis Research. Researchers are now able to test an investigational drug product containing two main ingredients extracted from the cannabis plant, namely CBD and tetrahydrocannabinol (THC). The sent the company's valuation on a hyperbolic path to where it is now—the most expensive cannabis company in the world. Tilray has since also expanded into Latin America, by acquiring a distribution company to produce and market medical cannabis-based products in Chile and for the rest of Latin America.
Canopy Growth Corporation
NYSE: CGC, TSX: WEED
Market Cap: $11 billion
Through its subsidiaries, Canopy produces and sells medical marijuana products in Canada, including dried, oil, and softgels. The company recently expanded into the Latin American market through a potentially US$150-million-plus project to enter the emerging medical marijuana market. Through the announcement, Canopy announced its new subsidiary Canopy LATAM Corp., which began with an acquisition of Spectrum Cannabis Colombia S.A.S., for a deal potentially worth US$96 million in stock. Canopy Growth also recently completed a legal transfer of cannabis products to a research partner in the United States, with an import permit issued by the US Drug Enforcement Administration (DEA), and for the sole purpose of supporting medical research and development.
GW Pharmaceuticals plc
NASDAQ: GWPH
Market Cap: $4.47 billion
When the US Drug Enforcement Agency (DEA) rescheduled the drug Epidiolex from Schedule I to Schedule V, developer GW Pharmaceuticals made huge strides for the CBD sector at large. As well, the Food and Drug Administration (FDA) has signaled its approval of Epidiolex. Headquartered in the UK, biopharmaceutical company GW is focused on discovering, developing and marketing therapeutics based on proprietary cannabinoid compounds. The company has seen early success with Epidiolex, which is an oral medical product which aims to treat patients with Dravet syndrome or Lennox-Gastaut syndrome.
---
 DUAL MARKETS – DUAL CONTINENTS
The market possibilities for cannabinoid-based medicine products are wide. For Orion Nutraceuticals (CSE: ORI), a vast array of products will be promoted through the mass market, homeopathic sales channel, and pharmaceutical sales channel, with a specific focus on sports medicine distribution specialists.
On deck as part of the company's post-IPO platform will be the production and development of several products including transdermal patches, topicals, nutraceuticals and plant nutrients.
In order to successfully reach and engage the right markets, Orion has positioned itself with a steady stream of processed oils coming from a low-cost production hub set to be centered in Colombia, while its distribution hub will headquartered in Canada, where products will be effectively spread to further markets including Europe and Australia.
For production, Colombia has a competitive edge over growing operations in North America and Europe. With its equatorial climate that has a predictable and bountiful daylight cycle, as well as one of the world's top ranks for water availability and precipitation, Colombia offers possibly the best place on earth to grow cannabis at scale. The result is an incredibly low cost of production that's less than $0.05/gram of dried flower.
Colombia is great for growing nearly everything, as it is top-ranked nation in the world for flora species/square mile, and is ranked second for biodiversity. With elevations ranging from 0 to 13,125 ft above sea level, the sky is truly the limit for growers in the medical-marijuana-friendly country.
Orion's production will come through a strategic JV partnership with FCM Global S.A.S.—a pioneer within Colombia in the use of cannabinoids and terpenes for medicinal purposes, which became Colombia's first licensed producer to offer a premium quality full spectrum cannabis extract for distribution to legal markets worldwide.
FCM's operations in Colombia include 400 hectares, or 64,000 acres under cultivation. FCM's VerdeCann Full Spectrum extract is rich in CBD, low in THC, and contains all the active cannabinoids, terpenes, fatty acids, flavonoids, vitamins, and minerals from the natural plant.
In Canada, Orion's production headquarters is in Quebec, where it acquired company Medic Oasis, which has filed all necessary documentation and is pending its Health Canada distribution license. From this hub, Orion is set to go on and obtain an import/export license, allowing the company to bring product up from Colombia or to export product out to countries in Europe and to Australia.
Through Medic Oasis, Orion is building out its first growing facility. Completion for the 20,000 sq ft facility is expected by Q2 2019. The distribution license is expected by Q3 2019, and the import/export license expected either by late 2019 or Q1 2020.
POTENTIAL PRODUCTS
Among Orion's product line will be a vast array of selections that will target different markets, from medicinal, to a sports medicine focus. For many athletes and patients alike, a variety of delivery methods are preferred to cater to the tastes and needs of the consumer.
Transdermal cannabis patches provide a unique method of cannabinoid consumption. A patch with a special adhesive is applied to a venous area of the body so the cannabinoids can enter the bloodstream for an effective and long-lasting response.
These patches can be used for sports medicine in particular—for pain and inflammation management and for sleep management amongst other medical benefits. Transdermal applications are also an alternative option for users who do not want, or cannot, consume cannabis by inhaling or ingesting the medication.
Orion plans to develop transdermal patches with formulations that will include CBD, THC, THC-A, CBG, CBN and/or other desired blends of cannabinoids, with a focus on sports medicine.
Orion's transdermal patches and topical gels are advisable solutions for the following conditions:
Fibromyalgia
Peripheral Neuropathic Pain
Inflammation
Parkinson's Disease
Schizophrenia
Autism
Post-Traumatic Stress Disorder ("PTSD")
Epilepsy (99.9% CBD formulation)
Multiple Sclerosis
Dravet Syndrome
Beyond the transdermal patch and topical gel options, Orion Nutraceuticals (CSE: ORI) is also developing sublingual and buccal delivery systems, specially customized for athletes.
Sublingual application involves placing precisely decarboxylated cannabis under the tongue, allowing the cannabinoids to immediately enter the bloodstream through the vessel-rich tissues within the sublingual cavity. Similarly, direct buccal application involves placing the medication between the gums and cheek to initiate a response. Much like transdermal and topical applications, sublingual and buccal delivery administration serves as an alternative method of cannabis consumption when oral consumption is undesired or not possible. Buccal mucosa offers the potential of rapid absorption of cannabis medications into the circulatory system.
In addition to transdermal and topical solutions for use with sports medication, Orion will distribute cannabis (THC and CBD) infused aromatherapy sprays, lip balm and other make-up, pain relief creams and lotions for general medicine use, and dietary supplement category items such as oils, tinctures and capsules for oral cannabis consumption.
Summary: ORION (CSE: ORI) Presents an SPORTS MEDICINE Niche Within an Explosive New Market
Here's what stands out for ORION:
Diversified, high-margin revenue streams (products & oils).
Access to low-cost production of dried flower in Colombia lower than $0.05/gram.
Multiple distribution channels, including North America, the EU, and Latin America.
Senior management team, with a pipeline of relationships and acquisition targets.
Large-scale cultivation and extraction
Wide array of future products including more than 40 potentially patentable formulations.
Portfolio of unique sports medicine products.
Advancements in new ingestion methods.
Industrial-scale, high-quality production and global distribution from both Canada and Colombia.
We believe that Orion Nutraceuticals (CSE: ORI) has wisely chosen a strategy that combines the blooming sports medicine sector, with the explosive potential of cannabinoids and nutraceuticals. The company is in the process of acquiring Health Canada production, distribution, and import/export licenses.
As the CBD market continues to evolve and expand through increased awareness and advances in research, nutraceutical science is becoming heavily involved. Orion is helping open the door to a new range of CBD-based and CBD-infused products which offer potentially better
solutions for pain management, reduced inflammation, faster recovery times, and the offsetting of brain injuries.
Orion has an aggressive strategy, in partnership with leading research organizations, professional athletes, and sports leagues, to introduce and promote an innovative line of sports medicine therapies and related wellness products.
If you want more information on Orion or just to stay on top of the company's advances, you can subscribe to the company newsletter at https:// www.orionnutra.ca
Equity Insider
Editorial Staff
Sources:
1 – https://www.forbes.com/sites/thomaspellechia/2018/03/01/double-digit-billions-puts-north-america-in-the-worldwide-cannabis-market-lead/#5616a4ec6510
2 – https://www.cannabisbusinesstimes.com/article/hemp-cbd-22-billion-brightfield-report-data/
3 – https://www.variantmarketresearch.com/report-categories/pharmaceuticals/orthopedic-soft-tissue-repair-and-sports-medicine-market
4 – https://www.marketresearchfuture.com/reports/sports-medicine-market-3503
5 – https://globenewswire.com/news-release/2018/02/20/1361686/0/en/Global-Medical-Nutrition-Market-Overview-2018-Asia-Pacific-Leads-Medical-Nutrition-Market-Growth-with-8-5-CAGR-through-to-2022-Reaching-52-Billion-Globally.html
6 – https://www.reportlinker.com/p04477043/Nutraceutical-Ingredients-Market-by-Type-Application-Form-Health-Benefit-and-Region-Global-Forecast-to.html
7 – https://www.washingtonpost.com/news/early-lead/wp/2017/10/05/while-marijuana-remains-banned-wada-reverses-course-on-hemp-derived-compound-cbd/?noredirect=on&utm_term=.539905b18255
8 – https://www.federalregister.gov/documents/2018/09/28/2018-21121/schedules-of-controlled-substances-placement-in-schedule-v-of-certain-fda-approved-drugs-containing
9 – https://moneymorning.com/2018/09/13/why-pepsi-and-coca-cola-have-to-enter-the-cannabis-market/
10 – https://www.usatoday.com/story/life/wellness/2018/10/05/cbd-cannabis-marijuana-therapy-wellness-food-pets/1459285002/
---
Disclaimer
While all information is believed to be reliable, it is not guaranteed by us to be accurate. Individuals should assume that all information contained in our newsletter/report/commentary piece/article is not trustworthy unless verified by their own independent research. Also, because events and circumstances frequently do not occur as expected, there will likely be differences between the any predictions and actual results. Always consult a licensed investment professional before making any investment decision. Be extremely careful, investing in securities carries a high degree of risk; you may likely lose some or all of the investment.
Furthermore, it is certainly possible for errors or omissions to take place regarding the profiled company, in communications, writing and/or editing.
Nothing in this publication should be considered as personalized financial advice. We are not licensed under any securities laws to address your particular financial situation. No communication by our employees to you should be deemed as personalized financial advice. Please consult a licensed financial advisor before making any investment decision. This is a paid advertisement and is neither an offer nor recommendation to buy or sell any security. We hold no investment licenses and are thus neither licensed nor qualified to provide investment advice. The content in this report or email is not provided to any individual with a view toward their individual circumstances. Equity Insider is a wholly-owned subsidiary of Market IQ Media Group, Inc. ("MIQ"). MIQ has been paid a fee for Orion Nutraceuticals advertising and digital media from the company. There may be 3rd parties who may have shares of ORI and may liquidate their shares which could have a negative effect on the price of the stock. This compensation constitutes a conflict of interest as to our ability to remain objective in our communication regarding the profiled company. Because of this conflict, individuals are strongly encouraged to not use this newsletter as the basis for any investment decision. The owner/operator of MIQ has purchased shares of ORI through a private placement and does not intend on selling any shares within 72 hours of this updated publication date (October 30, 2018) after such point we reserve the right to buy and sell shares in the open market, no further notice will be given. We also expect further compensation from the company and will partake in future private placements of ORI as an ongoing effort to gain exposure for the company. No further notice will be given, but let this serve as notice that we are not independent in our opinion and this is a major conflict of interest as to our ability to remain objective in our communication. Always consult a licensed financial advisor before making any sort of investment decision. Due to the volatility of thee capital markets, and especially those that are thinly traded at lower prices, it is very easy to lose some, if not all, of your investment. Caution needs to be taken when making any sort of investment decision.
By reading this communication, you agree to the terms of this disclaimer, including, but not limited to: releasing MIQ, its affiliates, assigns and successors from any and all liability, damages, and injury from the information contained in this communication. You further warrant that you are solely responsible for any financial outcome that may come from your investment decisions.