A major opportunity is arising in Food, Pharma, and Cannabis logistics, due to a need for real-time traceability of supply chains.
There is a dire need to streamline operations in food, pharma, and cannabis. 23% of the world's annual food production is lost due to poor logistics, food safety, and lack of training. Over 65% of the cannabis industry still relies on paper or non-universal barcoded recording. Current logistics solutions are challenging to implement, due to poor software compatibility and high integration costs—These industries desperately need innovation.
---
One such company we are keeping a very close eye on is: TrackLoop Analytics (CSE: TOOL).
TrackLoop Analytics (CSE: TOOL) is an AI, Blockchain, IoT, Coldchain tracking and logistics company providing real-time solutions for the food, pharma, and cannabis industries. By tackling each of these sectors, TrackLoop aims to be an industry leader through providing a low-cost platform with seamless integration. The company is the only end-to-end integrated API, with up to 70% reduction in integration cost and lowest operational down-time.
TrackLoop is providing one of the first fully integrated Supply Chain Mapping (SCM) platforms for these emerging industries in need of innovation. TrackLoop's turnkey, real-time tracking solutions offer the very latest in IoT and AI, providing valuable data and business intelligence to some of the world's leading brands.
Approximately 40% of the world's annual food production is lost due to poor logistics, food safety, and lack of training,1 fueling immediate demand for "regulated" real-time traceability along the food, bio-pharma and cannabis supply chains. In the case of Cannabis, a large portion of the industry (growers, processors, logistics) still relies on paper or non-universal barcoded recording.
In the developed world, a full 30% of all perishable produce and products never make it all the way from the farm to the table.2 The result is a crushing case of waste, while creating an opportunity to apply high tech to improve upon streamlining transportation to growing populations and areas where food insecurity runs high.
With all the bull runs in the Cannabis space in the past 12 months, we're seeing just how big this sector is becoming, and new sectors are popping up around it, Trackloop Analytics (CSE: TOOL) is brand new to the public market, and hasn't had a bull run yet, placing it perfectly at the moment to take advantage of all the market hype surrounding the Cannabis sector, not to mention the fact that they are very unique in their sector (See more below)
Food waste is incredibly costly, with producers and retailers wanting to reduce their losses as much as possible. Food waste in the United States alone represents $218 billion in losses, with $18.2 billion lost by grocery retailers in wasted retail space.3
Major cannabis giants have already grumbled about supply chain issues prior to legalization of recreational marijuana. Current production levels of all the licensed producers combined are projected to meet only 30-60% of total demand.4
One method used to protect against losses across multiple biomass markets (food, cannabis, medications) is cold chain management—namely, temperature controlled production, storage and distribution activities.
This is maintained globally, through cold chain logistics, of which demand is on the rise. Refrigerated boxes make up 7% of total container volumes, but over the past five years demand increased by 5% to 6% annually, compared with 2-3% for regular containers that move almost all of the world's manufactured goods.5
As these demands grow, so too does the overall value of cold chain logistics. The global cold chain market is projected to be worth more than $450 billion by 2025.6
In order to monitor operations from seed to consumer, requires a complex network of monitored data, and real-time tracking. Backed by a team of senior executives and engineers with extensive experience in data analytics, supply chain management, AI, and IoT, TrackLoop Analytics (CSE: TOOL) is capable of successfully integrating disruptive technology into the operations of producers and distributors of all sizes. The team possesses a deep understanding of local, national, and global markets and hands-on experience with digital assets for processing and logistics.
CANNABIS LOGISTICS MARKET EXPLODING — WITH FEW PUBLICLY TRADED OPTIONS
With the explosive emergence of new legal cannabis markets, there is a growing demand for "regulated" real-time traceability in cannabis supply chain, as with the supply chains for food and bio-pharma.
The cannabis sector is unique, in its shocking reliance upon paper or non-universal barcoded recording, which lacks traceability and proper control along the supply chain. An estimated 65% of cannabis operators are still using antiquated logistics strategies.
This gap is especially alarming, given that within the cannabis supply chain, the processing and logistics nodes are the most critical in terms of security and traceability.
Which is where innovators such as TrackLoop are direly needed. Many current options for enterprise resource planning (ERP) and internet of things (IoT) multi-platform integration make real-time tracking difficult and highly expensive—reaching up to a $500,000 multi-year increment cost.
TrackLoop (CSE: TOOL) is presenting a platform that involves IoT and Supply Chain Mapping (SCM) that enables processors to more effectively buy and sell equipment, improve their production cycle, and ship to retailers. For logistics companies, IoT and SCM enable delivery verification and cold chain tracking, and improved pickup and drop off transactions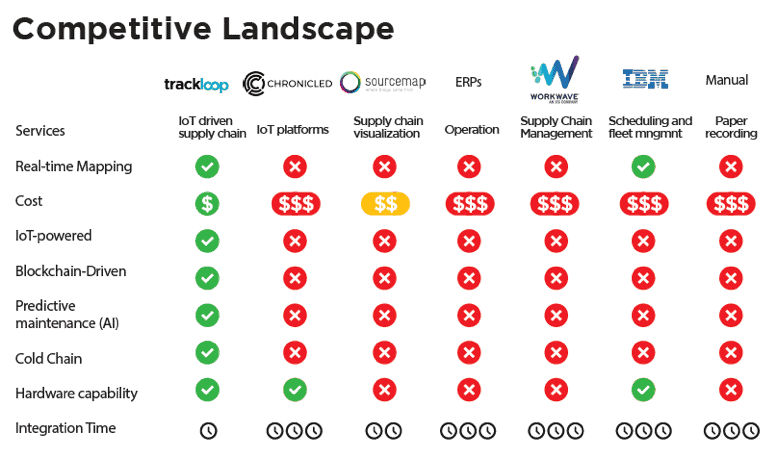 Among its peers, TrackLoop presents a rare opportunity, in that many of the companies jostling for position in this space remain privately held.
Among the competitive landscape of its peers, TrackLoop (CSE: TOOL) stands out for its ability to provide real-time mapping, low-cost setup and operation, IoT-powered, Blockchain-driven, predictive maintenance (AI), cold chain solutions, with hardware capability, and the lowest integration times.
However, the market is not ignoring the potential in these fields, with a flurry of recent financings for private companies, including a whopping $243 million for C3IoT which deals in sensors tracking and AI software logistics.
FEATURE COMPANY: FOR COMPARISON

TrackLoop Analytics Corp.
TRADING SYMBOL: CSE: TOOL
Market Cap: 6.27 million
TrackLoop Analytics is providing one of the first fully integrated Supply Chain Management (SCM) platforms for the emerging Cannabis, Food & Pharma logistics industry. TL's turnkey real-time tracking solutions offer the very latest in IoT and AI, providing valuable data and business intelligence to some of world's leading brands.
Part of the difficulty of finding comparables for a unique opportunity like TrackLoop, is in the fact that much of the emerging companies in the space are private. However, since the logistics sector is so large, it's not surprising that many of the companies involved have grown to be quite large.
Supply Chain, Logistics, IoT, and AI Comparables: TRACKLOOP Uniquely Combines ALL THREE
XPO Logistics, Inc.
NYSE: XPO
Market Cap: $12.942 billion
XPO provides logistics services (as well as transportation) in North America, Europe, Asia, and internationally. Its Logistics segment offers a range of contract logistics services, including engineered and customized solutions, value-added warehousing and distribution, cold chain solutions and other inventory management solutions; and performs e-commerce fulfillment, order personalization, warehousing, reverse logistics, storage, factory support, aftermarket support, manufacturing, distribution, packaging, and labeling, as well as supply chain optimization services, such as production flow management. The company offers its services to customers in various industries, such as retail, e-commerce, food and beverage, manufacturing, technology and telecommunications, aerospace and defense, life sciences, healthcare, medical equipment, and agriculture.
United Parcel Service, Inc.
NYSE: UPS
Market Cap: $99.241 billion
Beyond providing letter and package delivery, UPS also provides logistics, and financial services. The company also offers shipping, visibility, and billing technologies; and insurance, financing, and payment services. It operates a fleet of approximately 119,000 package cars, vans, tractors, and motorcycles; and owns 45,000 containers that are used to transport cargo in its aircraft. UPS is ramping up its focus on global logistics, recently announcing a massive expansion to its UPS My Choice Service.
International Business Machines Corporation
NYSE: IBM
Market Cap: $129.084 billion
IBM recently announced growing adoption of its food supply chain network, IBM Food Trust. The blockchain-based cloud network offers participating retailers, suppliers, growers and food industry providers with data from across the food ecosystem to enable greater traceability, transparency and efficiency. The ecosystem of network participants continues to grow. Recently, leading global retailer Carrefour announced it will use the IBM Food Trust's blockchain network to strengthen their food excellence actions.
TAKING ADVANTAGE OF A TIMELY AND UNIQUE STRATEGY
Already, TrackLoop (CSE: TOOL) has been able to cultivate relationships with several organizations large and small. Within the food sector, TrackLoop has successfully aligned itself for cold chain tracking with major grocery retailers such as SaveOn Foods and Walmart, as well as independent distributors Food-X and Spud.ca.
Where TrackLoop has also helped is with major organizations such as Canadian Blood Services and BC Ferries with IoT based cold chain management.
Where TrackLoop is designed to truly succeed is in the cannabis market. Beginning with an initial focus on three jurisdictions in particular (Canada, USA, EU), the company is targeting major potential. The company estimates each jurisdiction to be capable of yielding 10,000 producers and 13,000 distributors—each at $25,000 ARR per enterprise.
The company assumes its initial penetration rate of IoT-based track and trace software to be 2% by 2021. Already, TrackLoop has secured an early partnership with one cannabis licensed producer (LP), and 3-5 top ERPs.
The strategy is to leverage recreational early market penetration, leading to specializing in medical marijuana markets later. The company has already performed its initial traction and testing with pharma and food processors.
UTILIZING INNOVATION THROUGH IoT+API+Blockchain+Coldchain
Seeking a significant competitive advantage through tech innovation, TrackLoop is the first Supply Chain Mapping (SCM) platform dedicated to the cannabis industry and powered by IoT+API+Blockchain+Coldchain.
What sets TrackLoop (CSE: TOOL) ahead of its competitors in the space are a pair of differentiators. It is one of the only fully vertically integrated, end-to-end platform solutions on the market for clients today. The company brings its own hardware/software expertise, which has been built, and is exclusively owned by TrackLoop, for real-time cold chain tracking.
Where TrackLoop excels is in its ability to visualize, trace, and map the entire cannabis logistics and fleet management in real-time. The company can seamlessly integrate its platform at a much lower cost than its competitors, all while reducing down-time by up to 90%.
TrackLoop's platform also benefits its clients by streamlining key operating conditions along the supply chain at 30% of the industry standard cost, and 20% of the time compared to the current control systems.
The main product offered by TrackLoop is ChainTrack, which features numerous integration modules, including:
API
Fleet Management
Reporting
Cooling
ERP
Work Scheduling and Dispatching
Compliance and Regulations
Packaging
TrackLoop's platform presents a significant industry advantage through its cold-chain tracking system specialized for cannabis. The platform utilizes cutting-edge IoT technology delivered through the web and mobile entry points. The user is given real-time monitoring of temperature, location, door opening, lab data, and scheduling. Companies can oversee power performance, and execute predictive maintenance with the data it receives through TrackLoop's logistic management tools. The data is easily integrated using API, and transferred to the user through event-based notifications via SMS or email, combined with an alarm management system.
By using Blockchain technology, TrackLoop offers its users a trusted data ledger, with automated, real-time tracking and tracing. By decentralizing the barcode system, TrackLoop's users can seamlessly integrate their inventory with a setup cost much lower than competitors, all while meeting regulatory requirements.
WHO IS THE TRACKLOOP USER?
Growers: Buy supplies and equipment; during harvesting; post harvesting; packing; shipping; and monitoring lab samples.
Dispensaries: Delivery verification; inventory management; entry control; sales.
Processors: Buy supplies and equipment; production cycle; lab ID received; shipping to retails.
Logistics: Delivery verification; pick up; cold chain tracking; drop off.
Lab Testing: Non-GMO; organic; indica
TrackLoop's revenue model is based on a pay-per-module strategy, with modules that include:
API
Fleet Management
Reporting
Cooling
ERP
Work Scheduling & dispatching
Compliance and regulation
Packaging
At the moment, the company's current advantage comes from immediate revenue being generated from its Cold Chain tracking module. Their prices are quite reasonable, starting at $1,500 per year, per device, per module (up to a maximum of $12,000 per year). TrackLoop receives revenue from its hardware (in-house and off-the-shelf gadgets at 45% margin). Customers can request customization and integration with on-site services.
TrackLoop's proposed revenue streams come from Set-Up Fees, Hardware, Monthly Subscribers, and Service Contracts:
Set-up Fees: Initial hardware installation; Integration; Ongoing support.
Hardware: Data logger hardware; Sensors; Cellulars.
Monthly Subscriptions: Billed annually; Pay-per-module; Includes extended hardware warranty.
Service Contracts: End-to-end full integration; Software/hardware; Ongoing dedicated support.
What TrackLoop does for its clients:
Optimize savings by understanding patterns of utilization
Spot trends and competitive responses with other units
Create secured ledgers including transactions, locations, alarm settings and more
Take care of potential maintenance issues as soon as possible
Increase the safety of your drivers and your products
Receive notifications of real-time vulnerabilities and disruptions
See suggestions for replacements to dodge expensive repercussions
Customize your system configuration and dashboard
Summary: TRACKLOOP Seizing Upon CANNABIS LOGISTICS Niche in Explosive New Market
Here's what stands out for TrackLoop Analytics (CSE: TOOL):
Targeting the $250 billion food logistics market with an end-to-end real-time monitoring solution.
Disrupting the massively underserved $6 billion cannabis logistics market in the USA, Canada, and EU.
Competitive advantage through strong barriers to entry for new players.
Strategic focus on the urban delivery market, already attracting major players such as Canadian Blood Services, SPUD and BYD and multiple commercial agreements.
One of the few publicly traded end-to-end supply chain tracking companies.
The only end-to-end integrated API, with up to 70% reduction in integration cost and lowest operational down-time.
Proven revenue traction and customer validation from Fortune 100 companies.
We believe that TrackLoop Analytics (CSE: TOOL) has wisely chosen a strategy to provide state-of-the-art logistics and Supply Chain Management (SCM) through Blockchain ledgers and cold chain tracking modules. Logistics are evolving again, and TrackLoop is at the forefront of that evolution.
Timing is everything, and by leading the way for the emerging cannabis industry that requires organization and streamlining, TrackLoop is onto something big. By targeting food, pharma, and cannabis monitoring, the company is targeting a $500 billion opportunity.
By using cutting-edge artificial intelligence (AI) and internet of things (IoT) technology through proprietary hardware and software, and a Supply Chain Monitoring platform powered by IoT and Blockchain, TrackLoop is poised to capture a large segment of a massively overlooked portion of three major sectors.
If you want more information on TrackLoop Analytics or just to stay on top of the company's advances, you can subscribe to the company newsletter at www.TrackLoop.com.
Equity Insider
Editorial Staff
Sources:
1 – https://www.eco-business.com/news/fixing-food-loss-with-disruptive-tech/
2 – https://www.forbes.com/sites/insights-inteliot/2018/06/14/logistics-4-0-how-iot-is-transforming-the-supply-chain/#761b88d3880f
3 – https://www.refed.com/content-hub/refed-analysis-reveals-food-waste-represents-18-2-billion-profit-opportunity-for-grocery-retailers
4 – https://business.financialpost.com/cannabis/cannabis-business/supply-chain-issues-contributing-to-early-cannabis-shortfall-aphria-ceo-says
5 – https://www.wsj.com/articles/cold-shipping-in-hot-demand-as-the-world-craves-more-fresh-food-1525003200
6 – https://thetacticalbusiness.com/586257/global-cold-chain-market-worth-451-5-billion-usd-by-2025/
---
Disclaimer
The assembled information disseminated by Equity Insider is for information purposes only, and is neither a solicitation to buy nor an offer to sell securities. Equity Insider does expect that investors will buy and sell securities based on information assembled and presented in Equity Insider. PLEASE always do your own due diligence, and consult your financial advisor.
All assembled information within Equity Insider is subject to change without notice. The assembled information within Equity Insider is based on information supplied by the company, press releases, company filings, or from other sources believed to be reliable as of the date of the report on the featured companies, but no representation, expressed or implied, is made as to its accuracy, completeness or correctness. Equity Insider and its affiliates and authors are not brokers, broker-dealers, market makers, investment bankers, analysts or underwriters.
Forward Looking Statements
Information in our emails and on Equity Insider will contain "forward looking statements" as defined under Section 27A of the Securities Act of 1933 and Section 21B of the Securities Exchange Act of 1934. An example of forward-looking information are statements relating to the future anticipated direction of the industry, plans for future expansion, various business development activities, planned capital expenditures, future funding sources, anticipated sales growth and potential contracts. These and similar forward statements are subject to a number of known and unknown risks and uncertainties outside our control that could cause actual operations or results to differ materially from those anticipated.
The cautionary statements made in this document should be read as being applicable to all related forward-looking statements wherever they appear on Financials Trend or in other communications.
Compensation
In order to be in full compliance with the Securities Act of 1933, Section 17(b),Equity Insider and its management will fully disclose if they receive fees from profiled companies or agents representing the profiled companies. These fees may be paid in cash, securities of profiled companies, or both, and will be completely disclosed in each profile.
Since Equity Insider receives compensation from the companies that it profiles or other third party agencies and its employees, affiliates, or members of their families could hold stock in the profiled companies, there is an inherent conflict of interest in the statements and opinions, and such statements and opinions are not independent.
Nothing in this publication should be considered as personalized financial advice. We are not licensed under securities laws to address your particular financial situation. No communication by our employees to you should be deemed as personalized financial advice. Please consult a licensed financial advisor before making any investment decision. This is a paid advertisement and is neither an offer nor recommendation to buy or sell any security. We hold no investment licenses and are thus neither licensed nor qualified to provide investment advice. The content in this report or email is not provided to any individual with a view toward their individual circumstances. Equity Insider is a wholly-owned subsidiary of Market IQ Media Group, Inc. ("MIQ"). MIQ has been paid a fee for Trackloop Analytics advertising and digital media from the company directly. There may be 3rd parties who may have shares of Trackloop Analytics, and may liquidate their shares which could have a negative effect on the price of the stock. This compensation constitutes a conflict of interest as to our ability to remain objective in our communication regarding the profiled company. Because of this conflict, individuals are strongly encouraged to not use this publication as the basis for any investment decision. The owner/operator of MIQ own shares of Trackloop Analytics which were purchased as a part of a private placement. MIQ will not buy or sell shares of Trackloop Analytics for a minimum of 72 hours of the publication date (October 30, 2018), but reserve the right to buy and sell, and will buy and sell shares Trackloop Analytics at any time thereafter without any further notice. We also expect further compensation as an ongoing digital media effort to increase visibility for the company, no further notice will be given, but let this disclaimer serve as notice that all material disseminated by MIQ has been approved by the above mentioned company; this is a paid advertisement, and we own shares of the mentioned company that we will sell, and we also reserve the right to buy shares of the company in the open market, or through further private placements.
While all information is believed to be reliable, it is not guaranteed by us to be accurate. Individuals should assume that all information contained in our newsletter is not trustworthy unless verified by their own independent research. Also, because events and circumstances frequently do not occur as expected, there will likely be differences between the any predictions and actual results. Always consult a licensed investment professional before making any investment decision. Be extremely careful, investing in securities carries a high degree of risk; you may likely lose some or all of the investment.