Markets were lower as higher rate expectations weigh on equities, and Q3 earnings season continues with big business reporting numbers this week, writes Ian Slattery.
Equity markets were sharply lower last week as interest rate expectations continued to weigh on markets. US treasuries, most notably the 10 year bond, have broken through key levels of resistance. US stocks saw their worst weekly performance since March, with the tech sector under pressure.
Early in the week the IMF dialled down its global growth expectations, noting the risks that the US/China trade tensions pose to the world economy. Within the eurozone, Italian bond prices were hit as the government proceeded with a deficit widening budget plan.
Oil saw some volatile trading as tensions rose between Saudi Arabia and a number of Western governments over the disappearance of journalist Jamal Khashoggi.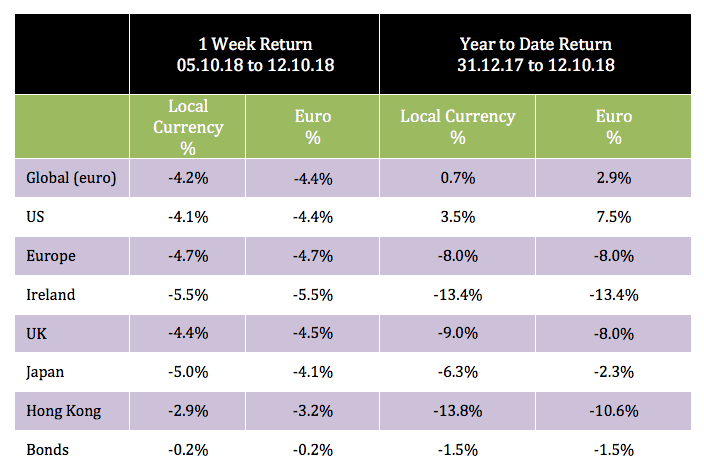 The global index was down over 4% last week, with all the major markets in negative territory.
Oil was lower over the course of the week, and closed at $71/barrel. Gold closed higher at $1218 per troy ounce, as risk aversion rose in markets.
The 10 year US bond yield finished at 3.16%, having started the year at 2.41%. The German equivalent also closed higher at 0.50, with spreads between German and Italian debt also widening.
The EUR/USD rate finished the week at 1.16 with the EUR/GBP rate at 0.88.