Plans Hong Kong debut
Bitmain Technologies, the largest digital currency mining company in the world, released its first public financial statements to the Hong Kong Stock Exchange, confirming its intention to go public.
The document is the first look into the company's financial situation and showed the Beijing-based giant racked up $2.8 billion in revenue in the six months ending June 2018, a 10-fold increase from the same period in 2017.
For the six months ending June 2018, the company reported a profit of more than $700 million, an 800% increase over the same period the previous year.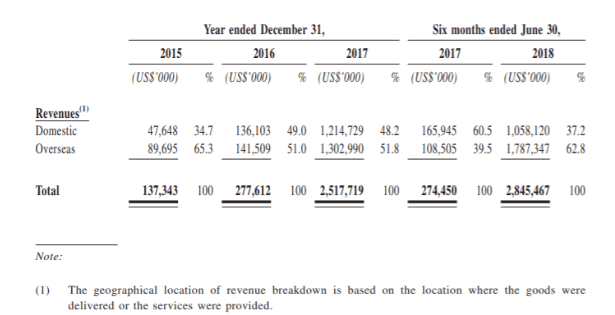 Founded in 2013 by Jihan Wu and Micree Zhan, speculation of an initial public offering, or IPO, by Bitmain had been circulating for a while, but the spectacular fall in the price of bitcoin BTCUSD, -0.31% and other digital currencies had many in the industry hypothesizing such a move had been put on hold. From its peak in January, the total value of all digital currencies is down by more than $600 billion and the price of a single bitcoin is down more than 70% from its peak of nearly $20,000.
Bitmain's dominance in the industry has seen its collection of digital currencies reach $886.9 million in value as of June 30, up from $56.3 million at the end of 2016, and $12.3 million at the end of 2015. And according to a Forbes article, the company had 85% market share of the Antminer rigs, the hardware servers that are filled with chips known as ASICs that perform the mining. In the virtual currency world, mining consists of using computers to solve complex mathematical equations to verify crypto transactions, releasing new coins.
"During the year ended December 31, 2015, 2016 and 2017, we recorded revenue from mining hardware sales in the amount of US$107.7 million, US$214.7 million and US$2,263.2 million, representing 78.6%, 77.3% and 89.9% of our total revenue respectively," the company said.
The document lists, among others, Maples and Calder (Hong Kong), KPMG, and Frost & Sullivan as underwriters of the potential IPO.